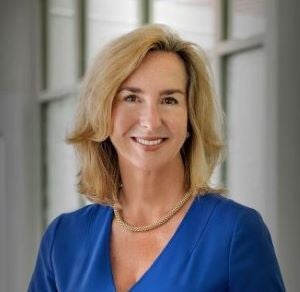 Western Governors University (WGU) today announced the appointment of Kerry Healey to its board of trustees to serve a two-year term. Healey is a leader in higher education and public policy and brings skills and determination to advise WGU as it fulfills its mission of creating pathways to opportunity and economic mobility for all. 
Healey serves as the inaugural president of the Milken Center for Advancing the American Dream, a nonpartisan, mission-driven organization dedicated to making the American dream a more attainable reality.
The center was founded with the belief no matter who you are or where you come from, you should have equal opportunity to succeed. Additionally, having previously served as the first female president of Babson College for six years and before that serving as lieutenant governor in Massachusetts, Healey is uniquely positioned to serve on the WGU Board of Trustees to help expand access to higher education and develop the inherent talents in those seeking opportunity. 
"Potential exists in every human, yet far too many are left behind or don't believe they deserve or can afford education as a means to social and economic mobility," said Scott Pulsipher, president of WGU. "Kerry has a shared mission and purpose to change the lives of individuals and families and her expertise and passion will be catalysts to further our mission."

WGU was founded 25 years ago, using the internet and an innovative competency-based education model, to bring higher education to populations that were underserved by traditional place-based models. With a belief in the inherent worth of every individual and that education is a means to a better life, 19 bipartisan governors broke tradition and founded nonprofit WGU. Today more than 131,000 students are enrolled and are on their way to joining the network of more than 288,000 alumni from every state in America.  
"I am honored to serve on the board of trustees of Western Governors University," said Healey. "WGU has created a groundbreaking approach to skills-based online education and access to affordable higher education at a moment when it is needed the most. I look forward to advancing our shared commitment of creating pathways to opportunity and ensuring everyone has the ability to achieve their dreams."
WGU continues to receive support from its founding governors and member states and works across the country to build relationships with elected officials, policy makers, educators, and industry leaders to reinvigorate the promise that higher education can be affordable and lead to a better life. The members of the board of trustees are instrumental in helping WGU transform the higher education system for every learner and the university welcomes Healey to its board to contribute to this important work.