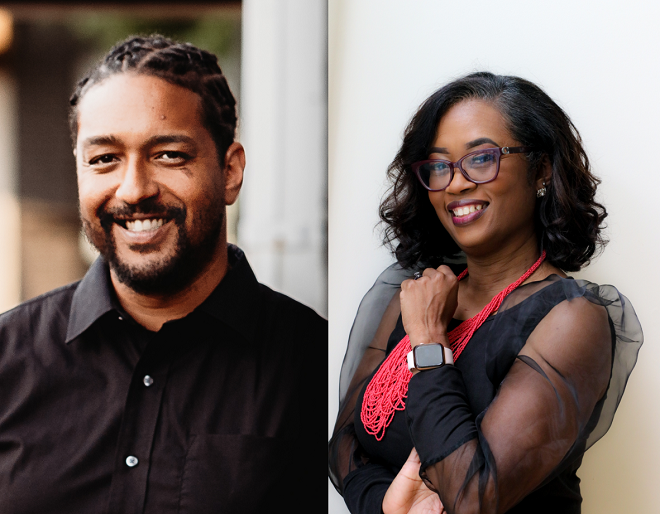 WGU Distinguished Graduates Taamir Ransome and Tonya Daniel
DURHAM, N.C. – Western Governors University, an accredited online university with more than 7,600 graduates in North Carolina, has named Taamir Ransome and Tonya Daniel as recipients of the school's Distinguished Graduate Awards. Each is one of only 15 alumni selected this year to receive the award.
Ransome lives in Raeford, North Carolina, and is a Senior AI Solutions Architect for O-Labs. While serving as an active-duty Special Operations soldier, parent, and mentor, he finished his Master of Science degree in data analytics in 12 months. He has mentored more than 20 individuals through various IT programs and certifications, and founded the Vet-Dev Institute, an organization designed to assists veterans with entering the technology field.
Ransome has been an invaluable contributor to the open source intelligence (OSINT) community, assisting businesses such as Echo Analytics Group, the Hetherington Group, Circle Security, and Skull Games in optimizing their operations. He also volunteered his expertise to All Things Possible and Skull Games to assist in the recovery of victims of human sex trafficking.
"This award is the start of what I want to accomplish in my professional career post-military service," said Ransome. "I am planning to pursue another master's degree. I am also starting a nonprofit that will develop applications for the veteran community, in hopes of giving vets the platform needed to feel like they still have their tribe and aren't alone."
Daniel, from Creedmoor, North Carolina, is the NC Healthy Start Baby Love Plus Program Supervisor for the N.C. Department of Health and Human Services, and an adjunct professor at Johnson C. Smith University. She earned her master's degree in healthcare leadership from WGU with a concentration in program innovation. Daniel says her life calling is to hold space for mothers and babies, particularly in Black and Brown families. As a survivor of a traumatic birth experience, she believes that every birthing person has value and should be treated as such.
Daniel has trained healthcare staff and community workers in the United States, Kenya, and Kuwait to improve birth outcomes. Most recently, she worked with University of North Carolina leadership to create innovative birth-professional programs to train lay community health workers to help families with shared decision-making and create more person-centered practices.
"Receiving this award exemplifies the recognition of my fellow WGU colleagues and further affirms my standing within the professional community," said Daniel. "My graduate degree provided more options for employment, but more so, it provided me with context of how to innovate, create, and manage programs to serve the populations to which I am called."
"Being selected as a WGU Distinguished Graduate is truly a high honor, and I congratulate Taamir and Tonya on this major accomplishment," said Kimberly K. Estep, Regional Vice President for WGU. "To put it in context, they were selected from among nearly 300 nominations this year from our more than 334,000 alumni nationwide. That is truly a remarkable achievement."
For more information about Western Governors University, visit wgu.edu.