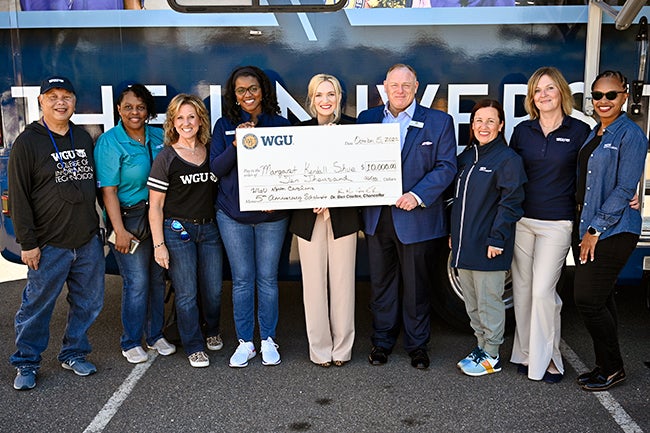 WGU North Carolina staff presented student Kendall Shue with a $10,000 scholarship in celebration of WGU North Carolina's 5th anniversary during a stop in Charlotte.
DURHAM, N.C. – WGU North Carolina has awarded five current students with WGU North Carolina 5th Anniversary Scholarships. The scholarships, valued at up to $10,000, represent the largest to date for an in-state scholarship from the university. WGU North Carolina celebrated its fifth anniversary as a state affiliate of online nonprofit Western Governors University in October of 2022, and the following recipients were selected and notified up until December.
Kendall Hill Shue, China Grove

La'Shari Ames Bailey, Raleigh
Timothy Pounds, Goldsboro
Kevin Hatcher, Jackson Springs
Amy Lynn Griffey, Stella
The WGU North Carolina 5th Anniversary Scholarships were awarded based on applicants' academic records, readiness for online study, and demonstrated financial need, as well as other considerations. In 2022, WGU awarded more than $630,000 in scholarships to students in North Carolina.
"These fifth-anniversary scholarship recipients have demonstrated resilience, determination, and academic excellence," said Ben Coulter, Ed.D., Chancellor of WGU North Carolina. "I was honored to notify and congratulate each of them personally, and we are thrilled that they are furthering their education at WGU, putting them on a path to continued career success."
Designed for working adults, WGU is a fully accredited nonprofit online university offering more than 80 bachelor's and master's degree programs in healthcare, IT, business, and K-12 education. Flat-rate tuition is around $4,000 per six-month term for most undergraduate degree programs, and WGU's competency-based education model allows students to accelerate at their own pace. Each student is assigned a mentor from their degree field who will work with them all the way through to their graduation.
Since its launch five years ago, WGU North Carolina has more than tripled its enrollment from 1,100 to more than 4,200. More than 6,800 WGU alumni live across all 100 counties in the state. For more information about WGU North Carolina, visit nc.wgu.edu.