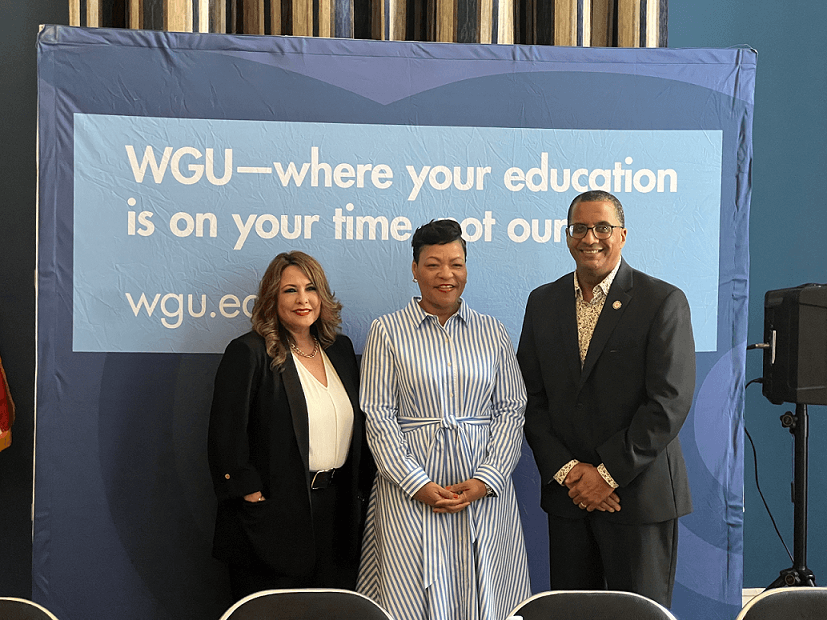 WGU Texas Regional Chancellor standing with New Orleans Mayor LaToya Cantrell and WGU Texas SPM Rod Henderson
City of New Orleans, Western Governors University Sign Collaborative Agreement to Make Higher Education More Accessible
Partnership streamlines the process for City employees to pursue bachelor's and master's degrees
NEW ORLEANS – (MAY 10, 2023) The City of New Orleans and Western Governors University (WGU) today signed a partnership to support students seeking bachelor's and master's degrees. The partnership creates pathways for over 4,000 city employees to work toward a bachelor's or master's degree and further their education at WGU.
"My administration is excited to develop pathways for City employees to further pursue higher education without having to relocate or rearrange their work schedule," said City of New Orleans Mayor LaToya Cantrell. "Choosing to continue their education through online programs like WGU offers a flexible choice for many who are faced with balancing work, family, and school commitments and is in line with our mission of meeting people where they are. This convenient access helps make working for the City a more attractive option for our residents. We're grateful to all our hard-working City employees who have chosen this life of public service, and it is our pleasure to help foster this educational and economic opportunity for them."
This agreement between the City of New Orleans and WGU streamlines the process for employees pursuing a bachelor's or master's degree at WGU. Through the agreement, City employees also receive unique benefits, including:
·       Eligibility to apply for the Collaborative Agreement Scholarship, valued at up to $2,500, credited at $625 per term
·       Access to more than 30 additional scholarships and financial aid
·       Comprehensive and generous transfer policy
·       Access to career services, student and alumni events and activities, benefit fairs, and information events
·       Flat rate tuition – earn a respected degree for about half the national average
"We are grateful for the opportunity to partner with the City of New Orleans to provide employees with an efficient process to reduce their overall costs and time to complete their degrees at WGU online," said Linda Battles, Regional Vice President, WGU South. "Our online competency-based model lets students complete courses whenever and wherever they live to earn their degrees in an in-demand, workforce-aligned field."
As a leader in higher education for 25 years, WGU offers more than 60 degree programs online in business, K-12 education, healthcare, and information technology. Tuition is approximately $3,800 per term for most undergraduate degree programs. Every program is mentor-supported and designed to fit into busy work and home schedules. WGU is regionally accredited by the Northwest Commission on Colleges and Universities (NWCCU). WGU will also provide webinar training, access to career service and alumni events, and materials to operators/independent contractors to ensure understanding of the educational opportunities through WGU.
WGU's current enrollment is more than 140,000 and growing, with nearly 1,000 current WGU students in Louisiana – the highest enrollment is in the College of Business and College of IT. In 26 years, WGU has graduated more than 318,000. For the south region, which includes Texas, New Mexico, Arkansas, Oklahoma and Louisiana, more than 33,600 have graduated. Across Louisiana, there are nearly 1,400 WGU graduates and 41% are first generation. To learn more about the partnership, visit wgu.edu/cityofneworleans.