Student Experience
A Diverse and Inclusive Education Focused on You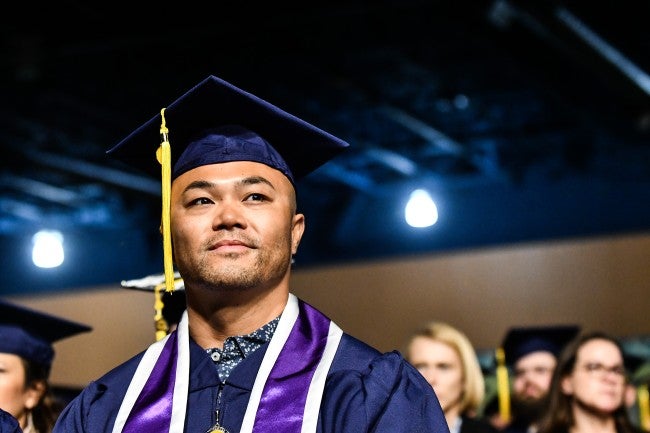 You're unique. Your university experience should be too. We know that each student is different and that diversity brings strength—it's why our mission is to be the most student-centric university, bridging the gap between talent and opportunity. Our focus is you, the student. This focus drives us to offer high-quality, equitable higher education that's accessible regardless of where you live or what your background is. Education is the gateway to a fulfilling life. By putting degree opportunities within reach and improving access to learning, we advance equity for every student within our reach.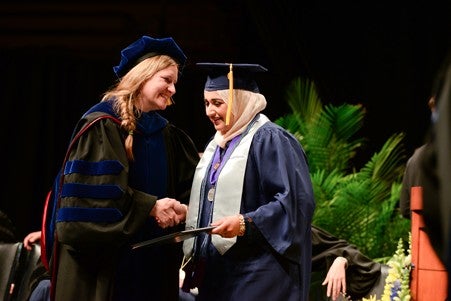 We aim to cultivate an inclusive and diverse environment where you can grow. In removing barriers to entry, we aim to foster an atmosphere where each student feels comfortable to be themselves. Inclusion and opportunity are available for both students and our faculty and staff. WGU is dedicated to providing an inclusive  space for learning where respect reigns and appreciation of differences builds bridges. In everything we do, diversity and equal opportunity are at the forefront.
At WGU, we practice what we preach. Equality and equal opportunity are not just ideals that we mention, but rather constant guiding pillars. Our Diversity, Equity, and Inclusion (DE&I) Program is run by individuals who work tirelessly to make WGU a place of equity and learning for students, employees, and alumni. Our vision is that our efforts in this area reach beyond the virtual classroom. We hope to build communities where every individual is respected and open communication between different groups is natural and unifying.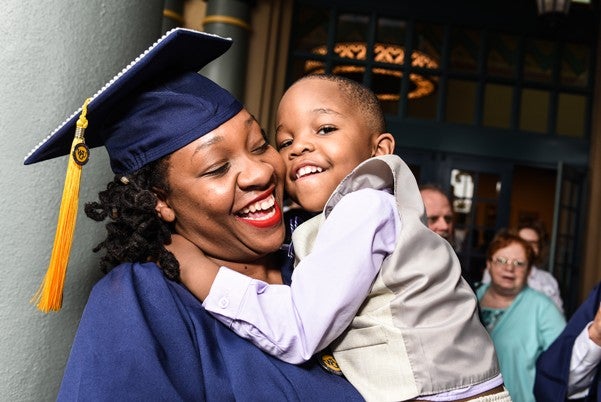 WGU Students Are Resilient and Unique
Our students come from all backgrounds and walks of life. As a WGU student, you become part of a diverse student body that provides a rich learning environment. Here you can learn alongside students with different life experiences and situations in an online environment of equity and inclusion. Many of our students represent typically underserved populations, are first-generation college students, or both.  We're also proud to support military members and spouses, students of color, and those in rural areas. Drawing on their rich life experiences and diverse education, our students bring unique perspectives to online learning and then go on to enrich their local communities, giving back and expanding the reach of WGU. 
How We're Committed To Furthering Diversity, Equity, and Inclusion
Talent and perseverance are everywhere, but opportunity is not. We're aiming to change that. We believe everyone deserves access to a quality education that empowers them to improve their quality of life and give back to their community. At WGU, you can feel confident that we'll support you no matter your race, sexual orientation, or life circumstances.
How do we foster diversity, equity, and inclusion? 
A Diversity, Equity, and Inclusion committee that works tirelessly to address the needs of students, faculty, and staff to ensure an inclusive environment.
Affordable tuition that allows more students to pursue their goals of higher education. Scholarship programs and federal aid are key components in ensuring more students can afford the chance for education.
Flexible learning that provides more students the opportunity to work full-time, live up to family commitments, and do their schoolwork whenever their busy lives allow.
Expanded internet access even for those in rural areas. Our Online Access Scholarship provides internet access, webcams, and laptops free of charge to prospective students who need them the most. Other initiatives include the Resiliency Grant and the Opportunity Grant.
How Diversity Benefits WGU Students
Broader Networking
A diverse alumni network gives you access to many different perspectives and opportunities across the nation. You may find WGU grads from varying backgrounds residing in many communities throughout the country. We're proud to have such a diverse and widespread alumni footprint.
Inclusive Education
Our goal is to create a learning environment catered to all kinds of learners. If you can't take classes during the day, you don't have to. If you move regularly due to military assignments, that's ok. If you need to pause your coursework to help your family, we accommodate. In short, WGU is specifically built to be inclusive of every person in every life situation.
Diverse Experience
We endeavor to provide curriculum and learning experiences that broaden your understanding and increase acceptance and unity in the world and in your community. It is in understanding and working together with diverse groups that we gain greater empathy, compassion, and strength. 
"We are committed to promoting inclusion, respect for differences, equal opportunity, and diversity in our institution. We believe in the power of education and the value of expanding access and opportunity to all individuals."

-Jason Thompson, WGU's Vice President of Diversity, Equity, and Inclusion
Each June marks the celebration of Pride for the LGBTQIA+ community. No matter what barriers the LGBTQIA+ community faces they remain resilient. Resiliency to stand for what is right, to weather hardships, and to never give up.
Although the struggles may be different, our students also know the value of resiliency. WGU students are making the choice to advance their education while supporting partners, raising families, and working. Night after night spent studying has earned WGU students the nickname "Night Owls". Night Owls succeed because they are resilient. Focused and unwavering in their pursuit. Earning their degrees while balancing multiple priorities isn't easy, but changing their lives for the better makes every late night worth it.
As we celebrate Pride Month, we encourage everyone, no matter how you identify, to take a moment to acknowledge and respect our differences, but more importantly, to appreciate our similarities. It is our drive to achieve more and create a better life and world for ourselves and others.
Share your Pride stories with us on our social media by using #StillWe and connect with other WGU Night Owls.
On June 19th, we will observe Juneteenth, the federal holiday set aside to celebrate the end of slavery in the U.S. and the promise of a new beginning for our Black and African American colleagues, friends, family members, loved ones, and citizens.  At WGU, we understand many still lack equitable access to education and opportunity. We are committed to changing lives for the better by creating pathways to opportunity. 
The late renowned actor and social activist, Chadwick Boswick, often said, "It is in time of crisis that the wise build bridges while the foolish build barriers." It is time for us to start building bridges. In a nation marred by social injustice and inequity, we can no longer afford to allow narrowed or blocked paths for anyone. We can no longer turn away as the journey for others is encumbered with bias and hate. Join us in building a bridge to the transformative power of education.