Your Degree Plan is your map to graduation.
Your blueprint to complete your program.
Every student comes to WGU with different levels of knowledge and experience. Our goal is to take that into account to make your education as efficient as possible. One way we achieve that is through your personalized Degree Plan. Your Degree Plan serves as your blueprint where you can view all the requirements you need to complete in order to graduate. You set up your Degree Plan with the help of your Program Mentor, and will have regular appointments with them to stay on track. Your Degree Plan is available for viewing anytime through the WGU Student Portal.

Progress through a course is driven by you:
How quickly you learn.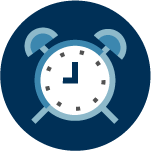 The time you devote to studying.
How much previous knowledge you bring.
Your Degree Plan lays out program requirements.
It's your map to the assessments you'll need to complete and the learning resources you can use to prepare. Your Degree Plan includes:

All of the specifics will be described in detail by your Program Mentor and established during the first few weeks of your program.
Example list of course competencies.
Term enrollment is the process of choosing courses and verifying that you are enrolled for the term of study. During term enrollment, you and your Program Mentor will map out which assessments you will complete and the time frame in which you will do so by established start and end dates. Your Program Mentor will schedule at least the minimum number of competency units required for full-time enrollment (12 units for undergraduate students, 8 units for graduate students). Your on-time progress (OTP; explained further below) is based on how you set term enrollment each term.
To help you plan your progress through the term and to set a study schedule and calendar, you and your Program Mentor will set start and end dates for each course. With these dates, you can plan your preparation and see how you can accelerate or where you may need to spend more time in getting ready to demonstrate competency in an assessment area.
Common terms used at WGU.
A competency unit is equivalent to one semester credit of learning. Some assessments may be assigned 2 or 3 competency units while other assessments may be as many as 12 competency units.

WGU requires that students make measurable progress toward the completion of their degree programs every term. We call this on-time progress, a measure that shows you are on track and making progress toward on-time graduation. As full-time students, graduate students must enroll in at least eight (8) competency units each term, and undergraduate students must enroll in at least twelve (12) competency units each term.

Satisfactory academic progress (SAP).
Satisfactory academic progress (SAP) is particularly important for financial aid students because you must make SAP in order to maintain eligibility for financial aid. We will measure your SAP quantitatively by reviewing the number of competency units you have completed each term.