Learning Resources for Every Need
When you're a WGU student, your job is to work hard to learn the material and pass assessments, proving what you know. Our job is to arm you with everything you need to do just that—efficiently, effectively, and enjoyably. We do it, in part, by providing you access to a diverse set of cutting-edge learning resources, from the very best academic, scholarly, and industry sources.
E-textbooks

Library services
Web-based tutorials
Simulations
Online classes
Learning communities
These resources are available to students directly or through WGU's affiliations with third-party education providers. They are detailed in your Degree Plan. You will work with your Program Mentor and Course Instructors to make the best use of the learning resources that meet your needs in developing competencies.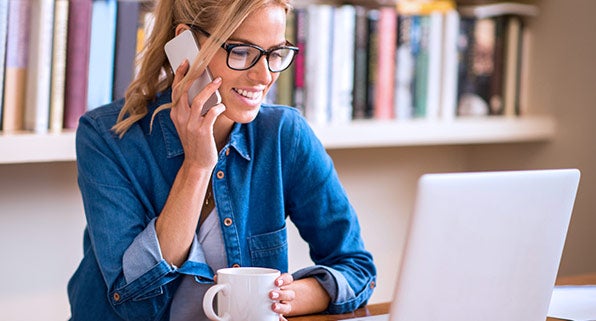 At WGU, we intend to keep the cost of your education as affordable as possible. That's why the vast majority of our courses offer e-textbooks, rather than requiring hard copies. The cost of e-textbooks is covered by the Resource Fee you pay each term. E-textbooks, on average, are saving WGU students several hundred dollars in textbook costs each term. More importantly, the e-texts are carefully integrated with the courses of study, making it easier for students to navigate through the content and maximize their study time.
Online libraries provide invaluable access to a vast array of scholarly and academic papers, articles, journals, etc. Unfortunately, they also often require expensive subscriptions. As a student, your unlimited access to the WGU library will make thousands of full-text journals, magazines, newspapers, and e-books available to you at the click of your mouse. You can get research help 24 hours a day, 7 days a week from our "Ask a Librarian" chat service.
Enrolled Learning Resources
Some learning resources require you to enroll. Your Program Mentor will refer you for these learning resources at your request. WGU will share whatever contact information is essential for you to adequately participate in and complete the requirements of these resources.
This online resource is commonly used for undergraduate math, economics, and accounting labs.

Used by students in the Colleges of Business and Information Technology, this high-quality learning resource utilizes hundreds of modules to help you better understand the competencies you are developing. Skillsoft enables you to create a plan for covering the materials you need on a schedule that works for you.

WGU also offers access (covered by your flat Resource Fee) to online classes in specific subject areas that are led by a certified instructor.

If you enroll in a learning resource course, you will be required to adhere to the academic calendars and deadlines of those courses, independent of the required completion dates established in your Degree Plan. Note: The resources listed above are all included in your tuition and fees.
No more bookstore sticker shock: It's all covered by one small, flat fee.
WGU charges a $145 Resource Fee each term. This fee covers your use of the online library, e-textbooks, and most other learning resources. By rolling all your learning materials up into a transparent, affordable fee, we save you hundreds of dollars every term.
All the traditional university support, just online!
Need support in writing or math? Want to discuss your career path or have your résumé and portfolio reviewed? Maybe you just need an unbiased ear to talk to. WGU provides all the support you might need during your program. Many of the tools are actually alumni benefits that are with you for a lifetime.