WGU's Onward with Learning (OWL) Transfer Program.
Guaranteed admission to a WGU bachelor's degree program.
If you're pursuing an associate degree, WGU could be the perfect next step for you in your educational journey.  The WGU OWL program offers guaranteed admission to WGU when you transfer an associate degree into one of 14 bachelor's degree programs that have the highest transfer numbers from community colleges. 
WGU's OWL program is focused on helping students earning an associate degree in specific areas of study take their education to the next level by earning a bachelor's degree from WGU. Students at our partner colleges will utilize their associate degree to transfer coursework, and will have just 60 credits remaining to complete their bachelor's degree when they transfer.  With WGU's competency-based education, this means you can earn your bachelor's degree in as few as 18 months, depending on your pace of mastering course material. Students are guaranteed admission by participating in and meeting OWL program requirements.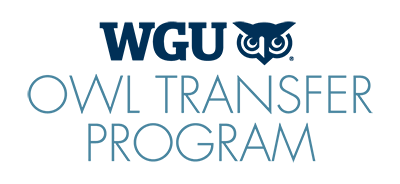 Overview

OWL is a transfer program between Western Governors University and several community colleges across the country. This partnership provides seamless academic pathways for students to complete their associate degree and guarantees admission into specific majors at WGU to promote timely graduation.
OWL focuses on early engagement and preparation to ensure students are ready to succeed at WGU when they enroll. By opting to participate in the OWL program you will receive regular communication from WGU that will support you in your pursuit of an associate degree with encouraging information on time management, study skills, career opportunities, and co-advising for course selection.

The program will provide three free transfer preparation courses that nurture you through your associate degree, provide transfer benefits to WGU, and allow you to experience what a day in the life of a WGU student looks like. To learn more about the specifics of the OWL program, see the checklist and FAQ information below or register for an upcoming webinar.

OWL perks.
Students choosing to join the WGU OWL program will immediately begin to feel as though they are a part of the Night Owl community of students. OWL will provide you with support services that will prepare you to be successful at your community college and WGU when you transfer to earn your bachelor's degree.
Benefits to the OWL transfer program:

Students who enroll in the OWL program will be placed on an academic path that ensures they will earn maximum credit for the course work they completed at the community college with their associate degree.
Students will be advised on course selection, GPA requirements, enrollment, and admissions criteria to ensure seamless transfer.
Academic advisors at partnering community colleges and WGU co-advisors will monitor the student's progress on their pathway to ensure all necessary requirements for enrollment at WGU are met in advance.

OWL students will have free access to specially designed transfer courses throughout their program to ensure transfer preparedness.

All OWL participants will receive regular communication with WGU throughout their time at the community college and mailed a participant gift to ensure students feel a part of their transfer university while they are completing their associate degree.


Sign up to get more information about the OWL Transfer Program.
No need to fill out an online application for admission to WGU. To enroll in this program, just complete the form below. When you are ready to graduate from your community college, your WGU co-advisor will assist you in the enrollment process.
---
Expectations.
Students who enter the OWL program will be expected to:
1. Have the intention of transferring to WGU. 
2. Complete an associate degree within three years and maintain a minimum cumulative 2.0 GPA. By meeting these requirements, students will be guaranteed admission to WGU in select programs.
3. Meet regularly with your community college advisor and WGU co-advisor.
Requirements.
Students who complete the OWL program and choose to transfer to WGU MUST meet the following requirements to ensure guaranteed admission and guaranteed scholarships:
1. Successful completion of the PACA course.
2. Completion of all three transfer success courses.
3. Successful completion of an AA or AS degree from one of the OWL transfer institutions.
4. Cumulative GPA of 2.0.
5. Have been a part of the OWL transfer program for a minimum of 2 semesters.
Graduation pathways have been established for students starting at an OWL partner community college. Review the pathways available, then apply to the OWL partner where you want to start your path.
1. Apply to a participating community college.
Select OWL when you fill out your application or
Request to participate in the OWL program by clicking on the "apply now" button in this section.
2. Begin your college experience.
Complete OWL transfer course #1 (free and online)
Start your path to graduation at your community college
3. Work toward completing your associate degree.
Meet with your community college advisor
Meet with your OWL co-advisor
Complete OWL transfer course #2 (free and online)
Complete OWL transfer course #3 (free and online)
Complete the PACA course (Cohorts meet for 1 ½ hours per week for 8 weeks. Choose the cohort meeting that works best for you., free and online.)
Participating institutions.
Making the transfer process easy.
Balancing work, school, and family life is challenging enough. One of the ways WGU helps ease the stress and soften the burden of pursuing a bachelor's degree is by simplifying the process for students transferring from one institution to WGU. Before we dive into the details on how we do this, let's take a look at some of the barriers transfer students often encounter. These include: 
Their associate degree doesn't transfer toward a bachelor's degree.
They didn't complete a degree and their courses don't transfer.
Their degree or courses don't work with bachelor program options.
They don't have prerequisites needed for a new program.
We understand that transferring can be complicated. But rest assured that WGU is here for you and ready to make your transfer as easy as possible, so you can more quickly move onto pursuing your degree. 
How WGU makes transfer easier for students.
Providing strong articulation pathways to maximize community college credit transfer

Streamlining the online registration and enrollment process
Announcing monthly enrollment dates
Offering a flexible online schedule with all courses offered every term
Offering competency-based education which allows for students to accelerate through their programs
Offering affordable flat-rate tuition that allows for acceleration at no additional cost
Benefits of using WGU's OWL transfer program.
Guarantees admission to WGU

Provides personalized transfer advisors to assist with course selection for maximization of credit transfer
Sends out weekly nurture emails to encourage students to complete their associate degree
Provides free access to specially designed online transfer courses
Opens access to the Program for Academic and Career Advancement course (PACA)
Offers additional scholarship opportunities
 
OWL FAQs.
Why should I choose WGU's OWL program?
By enrolling in OWL, students will have a seamless transition to WGU. Degree pathways were designed to ensure that courses completed for their associate degree will apply towards a WGU bachelor's degree. The OWL program gives students a direct, efficient pathway from community college to WGU.
Am I eligible for the OWL program?
If you are enrolled, or plan to enroll, at one of our OWL partner community colleges and plan to earn your bachelor's degree in one of six-degree areas, you are eligible to participate in the OWL program. 
Which WGU degrees can I earn through the OWL program?
The following six degrees are currently available in the OWL transfer program:
What are the admissions requirements for OWL?
Graduate with an associate degree in two or three years from your community college.
Achieve a minimum of 2.0 cumulative GPA or higher.
Meet all requirements of the degree pathway.
Complete all WGU application requirements.
What are the benefits of enrolling in the WGU OWL program?
Co-academic advising from both the community college and WGU.
OWL transition courses to ensure an easy transfer process.
Guaranteed enrollment into select bachelor's degree programs, if criteria are met.
Guaranteed scholarship awards, if criteria are met.
Ability to meet first two-year credit requirements.
Connect with your transfer institution and other students in the OWL program through social media.
Opportunity to receive regular engagement that will nurture you through your educational experience.
Opportunity to participate in self enhancement webinars from WGU.