Across the U.S., more older adults are going back to school and helping to change the way we think about the college experience. If you're in your 60s and considering higher learning, you're not alone. Celebrities like Oprah Winfrey and Shaquille O'Neal are just some of the notable names who returned to school and earned their college degree later in life. 
But celebrities aren't the only ones following this trend. Older students from all walks of life and backgrounds are earning new bachelor's and master's degrees for a variety of personal and professional reasons. Whether it's to explore something they've been passionate about for years, they received a high school diploma but always dreamed of earning a degree, or they want to earn more money in your free time, a college education provides them the learning opportunities to continue growing and thriving. 
In recent years, colleges and universities have even advanced initiatives to make higher learning more accessible for certain age groups. This includes students in their 60s who may be eligible for tuition waivers, discounts, and scholarship opportunities. Today's campuses are also more diverse than ever before, and nontraditional students are playing a major role in helping universities create an expanded worldview. 
Older students can leverage their life experiences to help their peers learn about the ways different perspectives shape new and exciting ideas in the classroom and beyond. Learn more about why returning to school in your 60s might be a great idea for you to consider.  
1. Embrace New Skills and Topics
Enthusiasm and a willingness to take on new challenges are likely some of the strongest motivations for many older adults returning to school. Students in their 60s generally also have soft skills that can be applied to learn hard skills that employers look for. 
Learning new skills or taking classes that get you closer to the promotion you've been wanting, or the new career you've dreamed of involves things like rearranging your schedule or planning for additional expenses which can be nerve-racking for anyone. When you overcome these barriers, you'll be able to reach a limitless potential that can not only boost morale but also give you a competitive edge in the job market.  
2. Research Grants and Scholarships
Promoting inclusivity is an important responsibility for many colleges and universities in 2023. As schools look to attract diversity to their campuses, students in their 60s should begin their educational journey by learning about any financial support available, including discounts or tuition waivers. 
Financial support can be a common concern for older students, and many schools look to relieve this burden by offering incentives to make going back to school easier. While not all schools have financial programs to assist adult learners, prospective students can research financial opportunities available through state-funded or private organizations. 
Some of the financial programs and resources available for nontraditional students, including those in their 60s, are:
3. Take Care of Your Physical and Mental Health
We know that learning keeps our minds engaged but studies suggest that older students may also experience increased lifespans. In addition, adopting a healthy lifestyle and a lifelong interest in learning has been shown to reduce the risk of cognitive decline in older adults. 
As a busy adult, it can be difficult to remain motivated about education. However, continued learning helps students over 60 acquire a new and knowledge-based frame of mind that energizes them as they pursue their goals. 
Socialization is another way that older students benefit from going back to school. Students over 60 can avoid feelings of loneliness and regain a sense of belonging with a new network of people to call on for help in the years ahead. As with any stage in life, surrounding yourself with curious and like-minded individuals with shared interests can be an important part of mental development. 
Along with a willingness to learn new things, students in their 60s should work toward adopting healthy habits to help them feel their best. This includes simple solutions such as:
Sleeping and resting well 
Eating nutritious meals 
Drinking enough water 
Listening to your body
4. Consider Online Universities
Today, online universities are just as respected as brick-and-mortar institutions. While most traditional colleges require students to learn in person, online universities can save you time and money by offering bachelor's and master's programs to anyone with access to the internet. Many online universities such as WGU also let you learn at your own pace and are able to charge much lower tuition rates than those of traditional colleges. 
Online education is more popular with adults than ever, especially because it allows students to set their own schedules, keep their jobs, and maintain their family responsibilities without having to commute to a campus.  These education models support diverse learning styles and are a great option for anyone who appreciates the opportunity to study, meet with instructors, and network with other students from the comfort and privacy of their own home. 
For adult learners, connecting with other students as they transition between courses or programs on their way toward their degree sets the stage for long-term success. Finding a classmate to study with is a great way to keep each other motivated and better understand the material. 
Study partners give you the chance to share knowledge, listen to another person's perspective on course readings and assignments, and can introduce you to more efficient study techniques that will benefit you throughout college.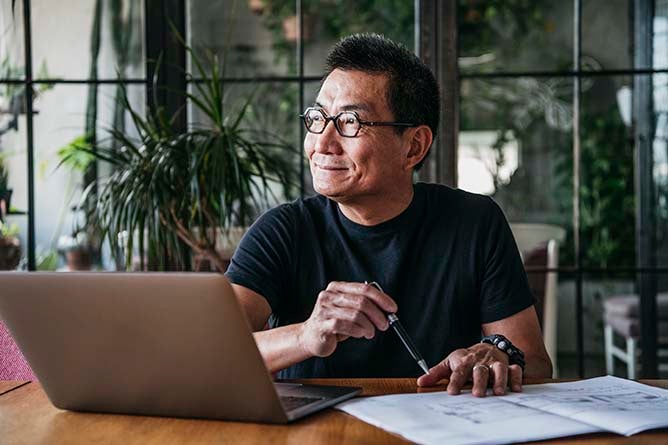 6. Nurture Your Support System
It's natural to feel nervous about new experiences, including everything associated with college life. But many people who return to school as older adults uncover a sense of adventure and purpose that gives rise to excitement rather than stress. They channel their creative problem-solving abilities and resiliency, which leads to academic and personal growth. 
Building a support system as you take on the responsibilities of a college student is a critical part of the back-to-school journey. Research has shown that having a strong support system can have a positive impact on overall mental health for various groups, including older adults. Having people like friends, family, or other students you can turn to and trust can help you manage everyday challenges and stress you may have as you return to school.  
7. Don't Expect Perfection
Fear of making mistakes can often have a paralyzing effect on people. As a college student in your 60s, it's important to focus on your problem-solving processes rather than fixating on the things that don't go according to plan. This can include things like having to change your semester schedule because a class you wanted to take is full, or if you earn a 'B' on an exam when you anticipated an 'A'. 
Broaden your thinking to see things in context and avoid comparing your pursuits to those of others. Your goal should aim for efficiency rather than perfectionism and try to do things to the best of your ability. Remember, going back to school as an older student is a significant achievement and one to feel proud of.  
8. Take Advantage of Resources and Services
A report from the National Center for Education Statistics (NCES) found that today's colleges look considerably different than they did decades ago, as more nontraditional students, including adult learners, return to school and create more diverse campuses. Diversity creates a more enriching educational experience with more opportunities to learn from perspectives that differ from our own. 
Richly diverse intellectual and social environments benefit schools by teaching the kinds of lessons that promote inclusivity, personal growth, and reflect a healthier society. Some of the ways colleges and universities attract more diverse students, including adult learners, is by offering services to make the college experience easier to navigate. 
Examples of resources available at campuses to help students in their 60s thrive as they earn their degree include:
Guidance counselors
Tutoring centers
Career services 
Financial aid
IT support
Workshops
Online universities may also offer adult degree programs, or, like WGU, may offer programs more specifically designed for nontraditional or adult learners. Consider speaking with an advisor to explore coursework or degree options that may be more closely tailored to meet your individual needs and circumstances as an older student. 
9. Consult Admission Pros
Navigating the ins and outs of college can be a challenge for any student, but it can be especially daunting for adult learners who've stepped away from academic learning for an extended period of time. College admission counselors are a valuable resource for getting answers to questions about a particular school, the programs offered, and the admission requirements for students in their 60s.
If you have college credits from previously attending school, an admission counselor can help you discern which can be transferred and applied toward your current studies. In general, an admission professional can take the guesswork out of the application process by explaining things like how to submit transcripts from high school or community college, whether you'll need to submit test scores, or to let you know if you need any recommendation letters before uploading an admission application.  
The best way to get ahead of any unnecessary stress and anxiety about the decision to go back to school is by beginning the application process early. Adult learners often must provide more documentation than traditional students, including details about previous education or test scores. 
Being proactive and giving yourself the time to organize and collect all the required paperwork including transcripts and documents for financial aid assistance can help you navigate the process more easily and in a timely manner. Typically, universities and colleges provide students with checklists or have advisors available to walk you through the application process. Reviewing your application before submitting it is an important step older students can take to prevent setbacks.
Some of the more common mistakes made on college or university applications include: 
Forgetting to proofread
Lacking familiarity with the school
Providing incorrect personal information
It's never too late to begin your college journey and going back to school at 60 is a decision to be lauded. As an older student, earning a degree can help you transition to a new career, advance in your current job, give you a renewed sense of purpose, or can even broaden your perspectives about the world around us.  
Students in their 60's have a wealth of life experience to take them far, and their curiosity for learning can lead them to academic success. As an accredited, online university with a variety of flexible bachelor's and master's degree programs, WGU is an excellent option for older students looking to make their dream of earning a degree a reality.