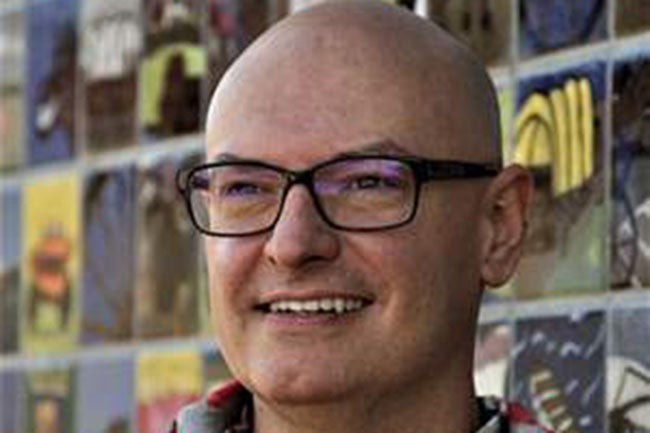 LGBTQ+ Pride Month is celebrated each June to honor the 1969 Stonewall Riots and the continued work of fighting for equality and justice for the LGBTQ community. This Pride Month, WGU celebrates the story of David Meade.
David is a senior instructor in the Teachers College, where he supports the Elementary Visual and Performing Arts Methods course. When asked what he loves most about his work, he shares, "I worked in the classroom setting for 10 years and with two other institutions of higher education before starting at WGU. So to say that education is a passion would be an understatement. To me, it is more than educating students; it is about assisting them on their journey and being that stepping-stone that can allow them to soar beyond what they believe. I always tell my students that I am here to support them on their journey no matter what it looks like." 
Before making higher education his home, David served in the U.S. Navy from 1996 to 1998 during the Don't Ask Don't Tell (DADT) era. After having a same-sex relationship, he was investigated and given an "other than honorable" discharge, losing all his veteran and military benefits.
In September 2011, the repeal act for the DADT policy was signed into effect. David remarks, "I tried several times between 2011 and 2020 to get my discharge overturned and was faced with many obstacles and had essentially given up. After the formation of the Employee Resource Groups (ERGs) here at WGU, I found my voice and footing to try again." He reignited his efforts by writing letters and sending requests and eventually, in February 2022, received paperwork stating he had an honorable discharge. It had taken 24 years and the vital role of community support for David to receive any justice. He reflects, "Finally, I had won this battle and didn't have to feel less because I had received a dishonorable discharge." 
Today, David advocates for others in his work with WGU students and by serving as co-chair on two ERG subcommittees that focus on community events and intersectionality. He is truly an example of perseverance and triumph over hardship, or, as one of his favorite quotes by Shirley Chisholm (the first black woman elected to the U.S. Congress) states, "If they don't give you a seat at the table, bring a folding chair."