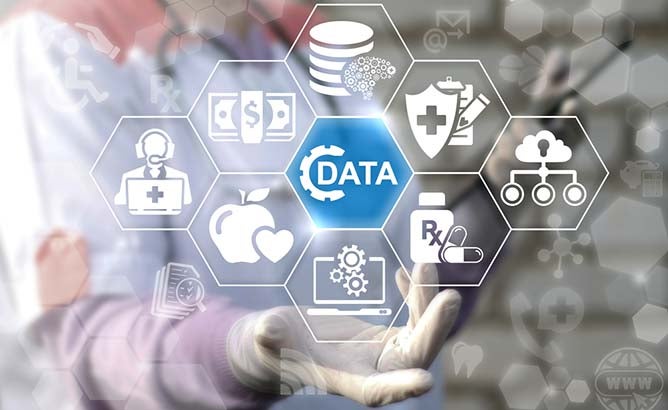 Health information management lies at the intersection of technology, research, and healthcare. This diverse field combines information governance, revenue cycle, healthcare data integrity, and data analytics, says leading professionals health information management association AHIMA. Earning a health information management degree will prepare you to enter this exciting and rapidly growing field—and it might help you land a fulfilling job with a substantial salary.
What is health information management?
Health information management professionals occupy key leadership roles in the value-based healthcare model, a coordinated approach to providing the best possible care to all patients. Depending on the career path you choose, you'll use the technical skills you acquired during your degree program to safeguard or analyze data, implement new technologies, or refine revenue management systems to help other nurses and medical professionals improve patient care and outcomes.
The broad-based degree curriculum allows you to dip your toes into clinical and technical subject matter. Technical coursework in data analytics and information governance will teach you how to access and analyze patient, organizational, and financial data. Students with technical backgrounds might be able to use transfer credits to vault over introductory classes and move into learning about medical terminology and other health delivery topics.
Your degree in health information management will also develop your technical acumen and problem-solving skills as it prepares you to sit for the Registered Health Information Administrator (RHIA) exam. RHIA certification establishes your expertise and makes you an attractive candidate for high-level health information management jobs—including those at the corporate level.
With a solid foundation in health information management, you'll be qualified to seek positions such as the ones below.
1. Health information management compliance officer.
Health information management compliance officer is an ideal position for anyone who enjoys detail work. Compliance officers use the knowledge gained in degree programs to develop and execute policies and procedures related to the laws that govern healthcare information. In this position, you'll work with department heads or division vice presidents to ensure that every unit in your hospital or health system complies with JCAHO, HIPAA, and other accreditation standards. They make an average annual salary of nearly $81,000, according to ZipRecruiter, depending on education, experience, and job location.
2. HIM system analyst.
HIM System Analysts use their knowledge of the system development life cycle to implement health information systems in health care organizations. They  use their clinical and data analysis expertise to help organizations put systems in place that help manage patient data and provide concurrent access to patient data. . They liaise with clinical providers and administration  to provide the decision-making tools needed to foster a patient-centered experience. Many EHRs offer application certifications and Analysts obtain these credentials. Salaries for HIM System Analysts vary based on location, but they average around $77,825 per year, according to Paysa.com.
3. Health information systems manager.
Health information systems managers primarily work with patient data and records systems to ensure privacy compliance and coding accuracy. They may also lead implementations or system improvements across the enterprise. Nationally, these types of positions pay about $91,000 per year, Glassdoor says. Some managers serve multiple roles in smaller organizations, such as privacy officer and chief compliance officer, which allows them to use the full breadth of their education.
Navigating the industry.
These three jobs represent only a few of the opportunities that a health information management degree makes available to you. The rapid evolution of healthcare technology has created jobs that didn't exist a decade ago, such as chief health information management officer and vice president of Revenue Cycle Management. You could also choose to work in another role, such as electronic health record specialist, clinical improvement analyst, or revenue cycle manager. And you'll be able to find work in nearly every healthcare setting, whether a private practice medical group or a large healthcare system, insurer, research firm, or science lab—or even in the government sector.
If your passion for healthcare extends into clinical and technical realms, a health information management degree can provide you with opportunities to merge your interests and serve patients and organizations alike.