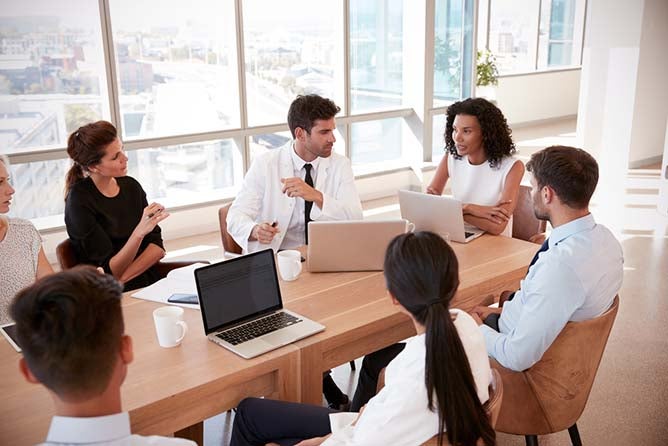 Healthcare management careers are a natural fit for job seekers with business degrees. Whether you're changing careers because of an interest in medicine, workplace burnout, or a desire for something new, if you're looking to move into the healthcare industry from the business world, your business degree program has prepared you by instilling in you the skills you need to succeed.
With healthcare employment projected to grow 18 percent through 2026, according to the U.S. Bureau of Labor Statistics, there's no better time to transition into healthcare. Here are three healthcare jobs perfect for professionals with a business background.
Patient finance specialist.
If you have a business degree and are thinking of moving into the healthcare industry, you may want to consider becoming a patient finance specialist. Typically, patients provide their insurance information to patient finance specialists before procedures so that their health insurance or Medicaid or Medicare coverage can be verified. In addition to informing patients of what's covered under their plan, patient finance specialists often help schedule procedure appointments and maintain contact with insurance companies until the medical office receives reimbursement.
Because this role has a significant customer service component, communication skills are essential; knowledge of policy management and healthcare law are a plus. Patient finance specialists also need to be comfortable with basic technology, as they use digital patient management systems. By training you in business communication, accounting, and project management, a business degree can prepare you for a fruitful career as a patient finance specialist. Glassdoor estimates the average salary for the job is around $47,000.
Health claims manager.
Health insurance is an integral part of most healthcare organizations because it's the way most patients pay for medical services. Because the billing process for medical claims can be complicated, health claims manager is a necessary role in the industry. Health claims managers supervise staff, provide technical and administrative assistance, and ensure accuracy on patient claims. The position requires regular monitoring of state regulations and strong attention to detail. High-level claims managers will also direct teams to ensure patients get the most effective service possible.
While enrolled in a business degree program, students learn about organizational operations and develop essential business skills, such as the ability to analyze problems and think critically to solve them. Leadership and managerial skills are fundamental to any business degree program—and they're essential for a career in health claims management, where you'll be tasked with managing teams and projects effectively. With a business degree in hand, a career switch to health claims management can be seamless and lucrative: PayScale reports that the average salary for health claims managers is nearly $64,000.
Pharmaceutical sales representative.
Worldwide sales of prescription drugs are expected to rise to $1.06 trillion by 2022, according to Deloitte. Pharmaceutical sales representatives promote medications to healthcare professionals to prescribe in their practice or facility, often focusing on specific classes of drugs such as blood pressure or antidepressant medications. Working from leads, they visit doctor's offices, present workshops, and attend medical conferences to convert interest into sales.
Because business degree programs teach sales techniques and strategy, degree-holding professionals looking to become pharmaceutical sales representatives already have a leg up on the market. Business students learn about consumer behavior, market research, and brand management as well as how to deliver effective presentations. These skills are perfect for this healthcare role, as much of being a drug rep involves researching and effective communication. PayScale notes that the average annual salary for drug reps is just over $77,700.
A variety of healthcare management careers are open to people with business degrees because so many of the skills are transferable. If pursuing higher education sounds appealing, consider a master's in business administration. Many MBA programs offer students the opportunity to specialize in a specific area of business. A healthcare management specialization exposes students to the advanced management training and leadership skills necessary for employment in physicians' offices, hospitals, and other healthcare settings.
Whatever your business focus, though, there's a healthcare management career that matches your skills.