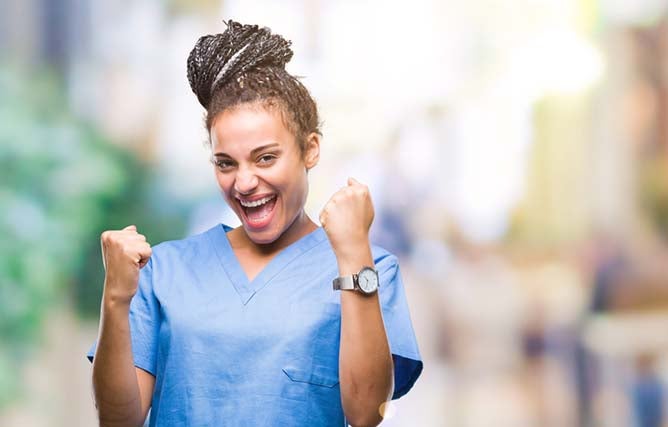 Most nurses become nurses to help people—to make a tangible difference in people's lives. This emotional payoff could explain why 83 percent of registered nurses polled in a recent AMN Healthcare and The Center for the Advancement of Healthcare Professionals survey said they found satisfaction in nursing.
Nurses profoundly influence their patients' lives. They help keep premature babies alive in the neonatal intensive care unit. They hold the hands of elderly people as they take their last breaths. And they play a vital role in helping people live healthy lives at every stage in between. Anyone with a passion for helping people can find great satisfaction in nursing.
But the opportunity to help others isn't the only reason that nurses love their jobs. If you're considering a career in nursing, here are three other reasons that nursing could be a fulfilling career for you too.
1. Job opportunities.
Nurses never need to fear being unable to find employment. There's already a shortage of nurses, the American Association of Colleges of Nursing reports, and it's only expected to grow. The Bureau of Labor Statistics projects that employment of registered nurses will grow 15 percent by 2026, and a 2017 study in the Journal of Nursing Regulation estimates that one million nurses will retire in the United States by 2020.
With the right educational background and experience, you could be competitive in the nursing job market and climb the career ladder quickly. If you're considering a career as a nurse leader or manager, an advanced degree, such as a master's degree in nursing leadership and management, could put you on that path. Who knows? You could even become a chief nursing officer.
2. Excellent salary.
Because nurses play a valued role in a healthcare team, they usually receive excellent compensation. The Bureau of Labor Statistics pegs the median annual salary for registered nurses at about $72,000. Registered nurses can earn more if they hold specialty certifications, such as cardiovascular nursing, oncology nursing, or nursing informatics certification.
But that's only a small part of the total compensation picture. Nurses usually get a robust suite of benefits that includes retirement contributions, tuition reimbursement, paid time off, and health insurance, among many more valuable considerations. Bachelor's-prepared nurses make even more: PayScale reports that nurses with bachelor's degrees typically earn about $81,000 per year.
3. Flexibility.
Registered Nurses (RNs) have an array of career paths to choose within the nursing field, such as reproductive care and public health nursing or adventurous nursing careers in flight nursing or forensic nursing. An entry-level RN will likely rotate through many different specialties. This means that as a nurse, you could enhance your satisfaction by discovering your true nursing passion. And because many technical and nontechnical nursing skills are transferable, you could easily swap specialties.
Nurses have great work schedule flexibility too. This means you could work full-time, part-time, or even by assignment as an agency nurse.
Nurses can change lives—and even save them. But many nurses love their jobs because they also have unparalleled job security, earn a solid salary, and have the flexibility to try many different types of nursing as their careers evolve.
With so many positive aspects, it's no wonder so many registered nurses express satisfaction in nursing as their career choice.