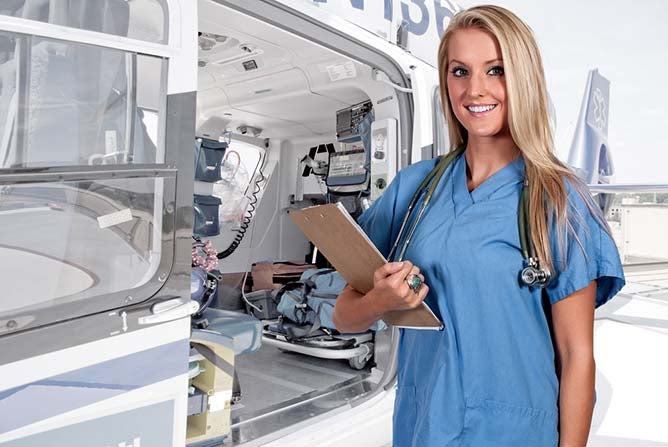 Before you investigate how to become a nurse, you might ask yourself why you want to go into nursing to begin with. Working with patients in a hospital holds an appeal for many nurses, but you might want to apply your degree toward more exotic pursuits.
Earning a bachelor's degree in nursing opens doors to an array of unconventional careers. If you're up for some adventures in nursing, check out these five unusual nursing careers. Maybe one of them is right for you.
1. Camp nurse.
Thousands of children build lifelong friendships and memories at summer camp each year, and camp nurses help make sure that their sessions aren't spoiled by illness or injury. Camp nurses tackle a variety of health concerns—such as first aid and disease prevention— and need leadership skills and adaptability; many camps have only minimal supplies and equipment, so nurses need to be able to innovate on the fly to help campers in need. The experiential learning of an RN-to-BSN program will prepare camp nurses for this type of patient care.
According to PayScale, camp nurses in the United States earn about $29.55 per hour—and they also usually receive free room and board in a spectacular outdoor setting. If you enjoyed summer camp as a kid, you might like returning as an adult—and getting paid for it.
2. Flight nurse.
For adrenaline junkies, flight nursing can't be beat. As a flight nurse, you'll be responsible for helping transport critically ill or injured people to the hospital by air. Flight nurses provide and direct all patient care during the trip—which can be a life-or-death responsibility. A bachelor's degree curriculum will help you develop the advanced critical thinking skills needed to make high-level medical decisions as a flight nurse. The Journal of Nursing Practice Applications & Reviews of Research reports that patients who receive care from nurses with BSN degrees have better outcomes. In life-or-death situations that require air transport, this training can be key to a patient's critical care.
Beyond a nursing degree, flight nurses must hold advanced life support certifications and complete the Department of Transportation's air medical curriculum. Emergency room experience also helps; it teaches the needed trauma and life-support skills. In exchange for taking on the responsibility and risk of flight nursing, you can earn around $70,000 per year, according to Glassdoor.
3. Cruise nurse.
Cruise nursing could be an alluring career for nurses without family or pet responsibilities. Most cruise companies hire nurses on six-month contracts. You'd be away from home for extended periods of time, but the trade-off is an opportunity to see the world.
Because you and your potential patients are on the open sea—and far away from medical facilities—these positions usually require recent experience in emergency nursing, cardiac care, or intensive care. A well-rounded education in pediatric and adult nursing will serve you well as a cruise nurse; completing an RN-to-BSN program could be useful in advancing the assessment skills needed to evaluate illness or injury aboard a mobile floating island. Cruise nurses not only sail the seas to exotic ports of call, but they earn a handsome salary of $4,500 to $4,800 per month—not counting the free room and board—according to Pro Sea Staff.
4. Baromedical nurse.
Baromedical nurses practice hyperbaric medicine—that is, they care for patients undergoing hyperbaric oxygen treatment, in which patients are given virtually 100 percent pure oxygen inside a pressurized chamber because they have wounds that won't heal, carbon monoxide poisoning, or decompression sickness from diving. Baromedical nurses need Baromedical nurses need critical thinking, precise documentation, and excellent assessment skills -- all skills you can learn and hone by obtaining a BSN degree. Some professional sports teams also use hyperbaric chambers to enhance athletic recovery and performance, so it's possible you could find yourself working with your favorite club. According to ZipRecruiter, you could earn an average of almost $62,000 as a hyperbaric nurse.
5. Forensic nurse.

Forensic nurses work with people who have experienced violence, trauma, or death to collect evidence or give testimony in court. Many nurses enter forensic nursing to become sexual assault nurse examiners, but the scope of the field extends well beyond that role. Forensic nurses could become coroners or death investigators, among other positions.
Forensic nurses need to be knowledgeable about population health management, health disparities, and other psychosocial concepts covered in higher education courses. Forensic nursing makes a fascinating career for anyone curious about the intersection of crime and nursing, and it pays, on average, $30.95 per hour, according to PayScale.
These five unusual nursing careers only scratch the surface of the variety of available roles in the field. You could be a nurse aboard a chartered yacht, provide nursing services at NASCAR events, or start your own health coaching business. With a BSN degree in nursing, the nursing world is your oyster.