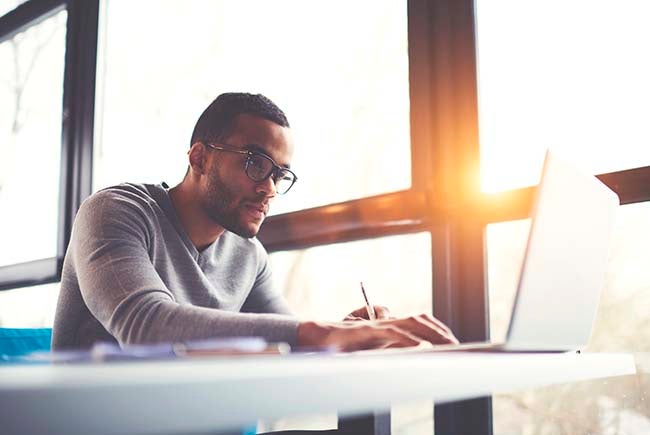 If you want a successful business career, you're going to need some entrepreneurial skills. An entrepreneurial mindset is an asset to any business career, whether you're running a thriving business of your own or you're the star player in someone else's organization.
By providing you with the proper training and opportunities to build your network, an MBA program will help you hone the creative, strategic, and collaborative skills you need to be a business leader in any setting.
Here are four essential entrepreneurial skills that anyone who aspires to own a business or who wants to be a leading innovator on a company team needs to master.
1. Creative thinking.
Creative thinkers revel in the freedom to come up with big ideas and to let those ideas percolate and bloom. They are willing to challenge assumptions, and they seek input from people with different experiences and who can offer new perspectives.
Forbes says that creative thinking is one of the most important entrepreneurial skills because it allows business leaders to see patterns where none exist and to think of innovative ways to solve problems.
An employee who can think creatively is well-equipped to go far in the business world. In a 2019 LinkedIn survey, employers ranked creativity as their most desired soft skill. In a blog post for the Harvard Extension School's Professional Development program, instructor and business consultant Anne Manning notes that imagination and creativity breed innovative solutions to complex problems. Any graduate who is adept at creative thinking will invariably be in high demand.
2. Time management.
Efficiency is an indispensable survival tool for entrepreneurs, especially those in the start-up phase. When resources and staff are tight, every moment needs to be as productive as possible.
If you decide to start your own business, being able to plan and organize your time efficiently will get you through those hectic periods when you're wearing several hats and working on multiple projects at once, with very little help. Good time-management skills will also serve you well as an employee. You'll be able to take ownership of managing your assignments and meeting deadlines. You'll know how to prioritize tasks and eliminate distractions so you get your work done. That kind of initiative makes a positive impression, and it can help put your business career on the fast track.
3. Networking.
Networking is all about building relationships. It's the cultivation of connections among people who share information, ideas, and resources for their mutual benefit. And it's one of the most valuable entrepreneurial skills.
Entrepreneurs need feedback on their ideas, connections to funding resources, information about how to start and manage a business, and access to a wide range of business expertise and professional services. Networking feeds that support system.
That ability to connect with others and form collaborative relationships is just as valuable to employees as it is to entrepreneurs. It's a prerequisite for being an effective team member, finding a career mentor, and meeting the expectations of your supervisors and the customers that your workplace serves. Forbes recommends building genuine connections when networking; you never know when in your career you'll need to rely on your network for opportunities, advice, or resources.
Here's where an MBA program can pay dividends. By the time you've navigated your way through a few college-sponsored career fairs and completed a team-based business management project that lets you apply what you learned in the classroom, you'll be a networking pro.
4. Communication.
Even the best business ideas won't go anywhere if potential funders and customers can't be convinced that they're good enough to support. That's why communication is such a crucial skill for entrepreneurs.
Employers also value communication skills—especially written communication skills. In a 2019 survey conducted by the National Association of Colleges and Employers, four out of five employers indicated they most wanted to see written communication skills on the résumés of students applying for jobs. And the aforementioned LinkedIn survey listed persuasion—an ability that directly correlates with effective communication—as the second-most desirable soft skill among employers, behind creativity.
Good communication skills are also essential to anyone who wants to be a successful manager, the U.S. Office of Personnel Management says. These skills are the bedrock of establishing strong working relationships with employees and encouraging employee involvement in planning and development activities.
Setting yourself up for success.
The best way to develop these skills is through training and practice. By earning an MBA, you'll learn how to think more creatively, better manage your time, and communicate effectively. MBA programs also give you the networking opportunities you need to build your business career and help you develop a host of other entrepreneurial skills. No matter what path your business career takes, you'll be prepared to excel.