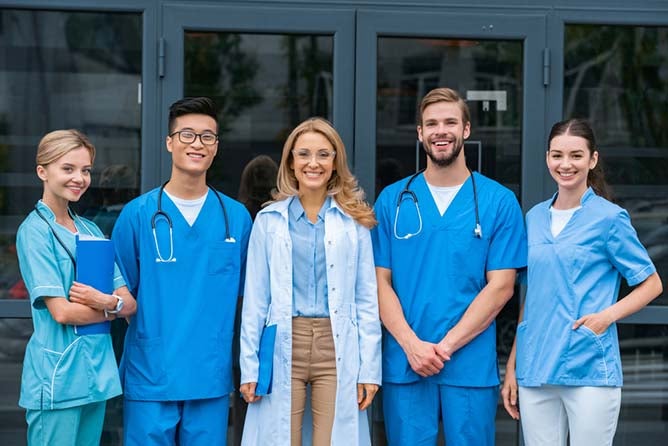 Nurses in clinical practice fill a critical role in the healthcare industry: they bridge the gap between patients and doctors, providing the holistic care that patients require. But not all nurses are tied to patients' bedsides; some educate the next generation of nursing professionals.
If you have excellent clinical skills, deep knowledge of the nursing field, and a love of learning, a career in nursing education might be a great fit for your talents and interests. As an educator, you'll advance the nursing profession by helping new nurses establish themselves. Here's a look at four education careers that can help you make an impact in the nursing industry.
Nursing professor.
The most direct way to educate nursing students is by becoming a full- or part-time faculty member at a college or university. Nursing professors educate the next generation of nurses through classroom, experiential, and clinical education, and they must keep up with changing pedagogical and andragogical techniques and nursing best-practices.
Nursing professors spend most of their time in the classroom; some conduct research to advance scientific and nursing knowledge. Nursing professors also grade assignments and prepare and deliver lectures; some also advise students. They may also be involved in developing the school's nursing curriculum, so this role is ideal for educators who want to have a direct say in what new nurses need to learn to thrive in an increasingly complex healthcare environment. Glassdoor estimates that nursing faculty members earn about $63,000 a year, on average.
Clinical nurse educator.
Because nursing is the ultimate hands-on profession, it requires hours upon hours of hands-one education and skill development. And because the healthcare system and the technologies, techniques, and research surrounding it are continuously evolving, nurses will need to continually update their knowledge and know-how.
Clinical nurse educators usually work outside of a university setting, teaching nurses in healthcare and community facilities to make sure that they remain up-to-date on the essential skills and knowledge needed to provide top-notch patient care.
Because employers hire nurses at all experience levels and degrees, clinical nurse educators must be able to teach every experience level effectively. They must also display organizational and leadership skills in guiding individuals and groups of nurses to success. This role requires significant expertise and skill, so it generally pays well. Glassdoor estimates that clinical nurse educators make an average of about $85,500 a year.
Legal nurse consultant.
Nurses with outstanding clinical experience, precise communication skills, and an interest in the law can pursue a career as a legal nurse consultant. Legal nurse consultants analyze facts and testimonies related to nursing and other healthcare services, according to the American Association of Legal Nurse Consultants. They offer opinions on patient outcomes and the nature and cause of injuries and harm while working in various settings in the legal arena. They also educate lawyers, judges, juries, and legal aides on the details of nursing and healthcare practices.
Because legal nurse consultants have strong educational foundations, they can discuss whether other healthcare providers have adhered to the standards of proper care. They play a critical role in legal and healthcare arenas, and they're paid well for their services. Legal nurse consultants make nearly $83,000 a year, on average, says Glassdoor.
Public health nurse.
Public health nursing requires flexibility, cultural competence, and good communication, as public health nurses educate community members about important topics in healthy living and disease prevention. For this reason, public health nurses need to be able to motivate others to make positive changes in their lives.
Specifically, public health nurses provide education about important topics such as vaccination, nutrition, diabetes self-care, recovery from substance use disorders, and health screenings to community groups and individual patients. Master's-prepared nurses often run outreach clinics that focus on these nuts-and-bolts health and wellness issues. They also investigate infectious disease outbreaks in the community and educate people about how to prevent future problems. In addition to communicating with patients from all walks of life, public health nurses often interface with community leaders, government officials, and other healthcare providers. The Bureau of Laber Statistics reports that public health nurses average about $48,000 a year and demand for these positions is growing at a 16 percent clip.
Nursing education provides the foundation.
What do these roles have in common? Each requires a high level of clinical knowledge and experience and a desire to share this knowledge with others.
A master's degree in nursing education can provide an excellent foundation on which to build a career in this field. These programs help develop knowledge related to complexities of healthcare, access to care, quality, and costs for diverse populations. They also cover leadership-based skills (such as curriculum development), how to adapt to diverse learning styles, student and patient assessment, and more.
By building a solid educational and experiential background in nursing and education, you can help make a difference in the lives of future nurses.