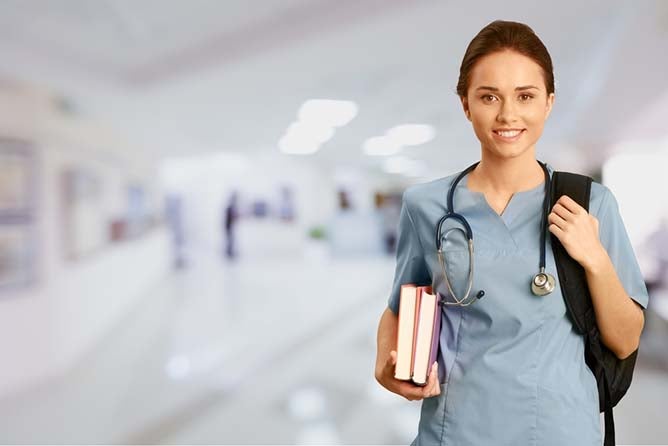 In the fast-paced and high-pressure medical field, nurses face various challenges at every stage of their career. There are, of course, the day-to-day challenges of providing compassionate patient care while dealing with the everyday stresses of the job. But a new nurse might also struggle with clinical concerns, such as how to best alleviate a patient's nausea. Or the more experiential concerns related to their career path and advancement opportunities that might arise after they've been practicing for a while.
Many of the challenges nurses face can be mitigated by obtaining an advanced education, additional credentials, or through community involvement. Here are a few strategies that can help you overcome even the thorniest most difficult nursing challenges.
Pursue advanced nursing degrees.
Nursing offers many potential career paths—and the burden of choice can sometimes be paralyzing. Do you see yourself specializing in pediatric ICU for your entire career, or are you maybe interested in moving into healthcare management? Have you discovered bedside nursing isn't for you and that you'd love to explore careers that don't involve direct patient care? With so many possible career choices, it can be hard to figure out a career path.
Pursuing a bachelor's or master's degree in nursing can help ease this long-term challenge and help you clarify your career trajectory. Your degree program will allow you to interact with instructors who can help you discover your true nursing passion. With a master's degree, you can quickly ascend the career ladder, earning the respect of your peers and, incidentally, earning more money along the way.
Advanced education can also help ease some of the challenges nurses face on a day-to-day basis—such as fatigue, staffing shortages, and long work hours—by giving them a wider range of tools to deal with these issues when they arise. With an advanced degree, for instance, a nurse would be a strong candidate for advancement into management, where they would have the opportunity to make critical changes to scheduling, staffing, and work-life balance policies.
Get certified.
Even the best nurses sometimes struggle to provide specialized care to patients with medical issues outside the nurse's purview. Pursuing a specialty certification can help these nurses solve clinical challenges by expanding their skill set.
Obtaining a certificate in a nursing specialty, not only demonstrates your commitment to high-quality patient care, but it also gives you access to a community of expert nurses who are eager to share their experience and wisdom. These certifications also look great on résumés and can help nurses advance their careers or obtain specialty positions within hospitals or other medical facilities, addressing clinical care and career challenges at the same time.
Participate in the nursing community.
One of the larger challenges nurses face on a career-building level is developing leadership skills. If you want to advance to supervisory positions, you need to hone your ability to direct people, develop and execute administrative plans, maintain a budget, and much more.
While certifications can help you gain experience and knowledge in particular specialty areas of nursing, community work can help you build the leadership skills you need to advance your career. There are dozens of professional nursing organizations looking for members, such as the National League for Nursing, the Nursing Ethics Network, and the National Association of Licensed Practical Nurses. You can get involved in one of these by becoming an active member, chairing a committee, or taking a position on an executive board. No matter how you choose to serve, you'll reap the satisfaction of knowing your efforts contribute to the well-being of your profession.
Volunteer.
Your community holds many interesting career possibilities for nurses, but how do you find out about them? And how do you discover who's hiring for those positions—possibly before they're even made public?
One good way to network is to volunteer with a local or regional community organization. If you serve on the board of a health-related group, you'll meet people from other healthcare organizations, including managers and executives. Eventually, these connections could lead you to the next fascinating chapter in your nursing career as you apply your expertise to benefit your community. That's a win-win.
Solving patient care issues, settling on a career path, and building leadership skills may rank among the most significant challenges nurses face. Sometimes solving these challenges means getting a little creative. By pursuing additional education or certifications and volunteering in the community, you can mitigate these challenges while molding a satisfying career that inspires you for years to come.