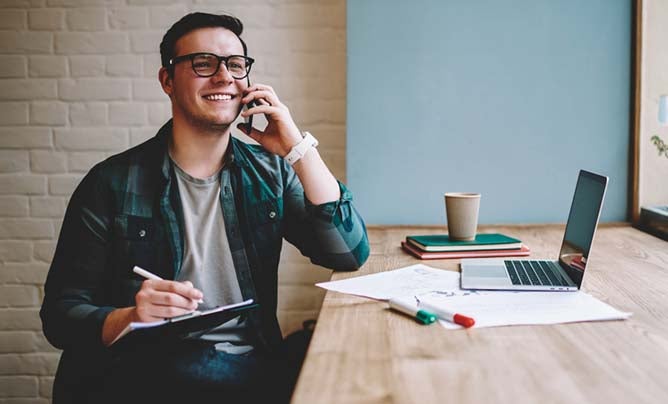 An online degree can be the ideal choice for business students who, like Western Governors University MBA student Chris Mumford, must juggle coursework with a busy life.
"Going to a brick-and-mortar institution for my MBA really wasn't an option," Mumford says. "I have too much on my hands with my family, work, and volunteering commitments."
But studying at an online university doesn't provide the same opportunities for building relationships because there isn't a physical campus where you can meet with classmates, faculty members, and job recruiters. Networking in school is an important part of the higher-education experience, and it's critical to career success, too, as the relationships you establish can open up career opportunities.
Fortunately, the benefits of networking are equally available to online students in this digital age. Here are four ways to cultivate relationships on a virtual campus.
1. Use social media.
You probably already engage with your friends and coworkers on social media. But online universities often set up study groups and chat rooms on social media sites where you can connect with students in your degree program. The focus of these groups facilitates conversation, and posts and chats are archived to make it easy to search for topics that interest you, Mumford notes.
Branch out from Facebook and Twitter, too, and create a professional profile on LinkedIn that highlights your skills, education experience, employment experience, and relevant volunteer experience. Interacting with potential employers or people who work in the industry you want to work in can help you build connections—which can open doors to opportunities.
2. Message potential mentors.
You can gain valuable mentorship by reaching out to instructors and advisors online. Two of Mumford's favorite ways to connect with faculty members are through email and direct messaging in course chat rooms.
"They are usually very prompt to respond, and if a more in-depth exchange is warranted, you can always schedule a quick call," he says.
Reaching out shows your instructors that you're willing to take initiative, and it helps build trust that could come in handy when you start applying for jobs.
3. Collaborate on class projects.
Another prime opportunity to expand your online network is by working on team projects in your business classes. An online MBA program's capstone project, for example, gives remote students a chance to get to know each other as they collaborate. Use all your communication resources—email, phone, chat, text—to build lasting connections with your teammates. You can stay connected with your project team members after the course is over, too, and chat about career goals and job search strategies.
4. Find a buddy.
Having a friend by your side to help you tackle obstacles made surviving high school easier, and the buddy system can help you as you pursue your bachelor's or master's degree.
"When it comes to networking in general, the biggest hurdle is finding that first person to connect with," Mumford says. "Once you have established a relationship with one person, it can be easier to approach others as a duo and start to put together a bigger group."
Using the buddy system can help you feel more connected to your university, find diverse perspectives on your coursework, and network for career opportunities. Monster suggests using the buddy system for job hunting. You and your buddy could divide up research duties, pass along information about job openings, and exchange feedback on each other's résumés.
Focus on communication, not format.
For Mumford, there's really no fundamental difference between a physical college campus and a virtual one when it comes to networking in school.
"In both situations, you have to be willing to put yourself out there and get to know people," he says. "The only difference is that you're communicating digitally when you attend school online. In some ways, though, this can be an advantage, because you can communicate on your own terms and on your own time."
So don't worry so much about the medium, but the message. By focusing on communicating professionally with your instructors, mentors, potential employers, and classmates, you can foster deep relationships that will last your entire career.
If you're looking for ways to network while studying online, take Mumford's tips and share them with your fellow business classmates. You might just create a friendship that leads to your dream job.