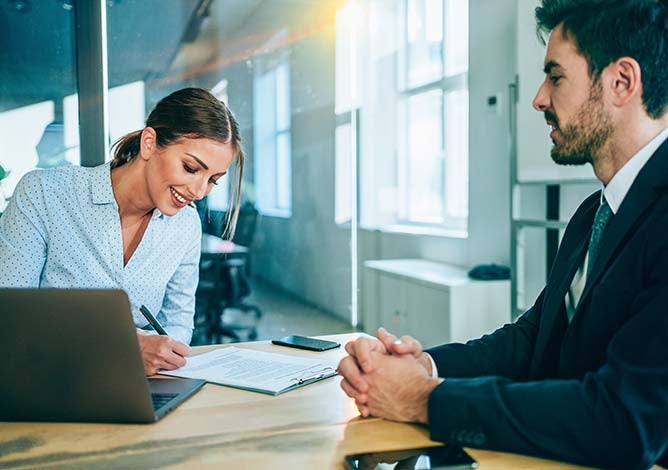 College graduates enjoy a clear advantage when it comes to job earnings. American workers 25 and older who held a bachelor's degree earned 40 percent more per week in 2019 than workers with only a high school diploma, according to the Bureau of Labor Statistics. But how do employers decide when one employee's degree is more valuable than another's?
Here are four things that employers typically consider to varying degrees when assessing the value of a college degree.
Whether you attended an accredited school.
Employers might assign varying levels of priority to your choice of institution, your college major, your grades, and the skills you learn, but one thing that's essential is that the college you attend is accredited. That means that an independent agency has vetted the college's academic programs for quality, rigor, and adherence to certain educational standards, according to the U.S. Department of Education.
Further Reading: WGU degrees open doors to a brighter future.
In some fields, such as nursing and social work, an accredited degree is a prerequisite for taking the licensing exam needed to go into practice. If you're a worker returning to school with the help of a tuition reimbursement program, your employer might not cover the cost if you chose a school without the proper regional accreditation.
Beyond accreditation, name recognition certainly doesn't hurt, but what's less clear is exactly how much it's ultimately worth. Certain colleges and universities are particularly known for general academic excellence or prestige in specific fields; if you attended one, a hiring manager might perk up when they see it on your résumé. 
Yet many career experts would argue that attending a name-brand university alone won't elevate you to the top of the competition. According to a Gallup-Lumina Foundation survey, 37 percent of business leaders said that where a job candidate received their degree was only somewhat important, and 40 percent said it was not very important.
What you studied.
Next up after accreditation is the relevance of what you studied to the type of work you're applying to do. Here, though, the picture is somewhat mixed: Only 42 percent of business leaders said that a candidate's major was at least somewhat important, according to the Gallup-Lumina Foundation survey. 
This may come as a surprise to some, but it's important to look a little more deeply at the story behind the numbers. In highly technical fields like engineering, medicine, or computer science, holding a degree in those disciplines is likely to be more important than it is in sales, services, and other roles that require a more general skillset. In the latter cases, the mere fact of having any degree -- no matter the major -- may be the key to landing a job. 
When deciding on which degree to pursue, it's important to take time to look at the job requirements for the types of roles you're pursuing. Do people in these roles tend to come from more specialized academic backgrounds? Don't be afraid to reach out to professionals on LinkedIn or at networking events with your questions. 
What your grades were like.
Yes, hiring managers might ask about your GPA. But a recent report from the Kingsley Leadership Academy reveals that employers consider college grades not to eliminate job candidates who don't meet a desired minimum standard but to get an idea of an applicant's strengths. In the 2018 survey, only 12 percent of C-suite executives said that grades were important when considering whether to hire someone. That doesn't mean you should advertise a less-than-stellar GPA on your résumé. Even though the number might not matter in the final evaluation, you don't want to risk creating the unconscious impression that your qualifications don't measure up to the competition.
What you learned.
Employers value skills, the Kingsley study and the Gallup-Lumina Foundation survey both found, much more than they do grades. Sixty percent of respondents in the Kingsley survey cited work ethic as one of a job candidate's most important skills, and 45 percent put teamwork near the top. Leadership ranked especially high in two industries: Half of the manufacturing companies surveyed rated this skill as most important, and 55 percent of professional services companies agreed.
In a 2018 survey conducted by the National Association of Colleges and Employers, employers said that they're most interested in résumés with evidence of good written communication skills (82 percent), problem-solving skills (81 percent), and teamwork (79 percent).
No career advisor would question the value of a college degree in today's job market, but some aspects of your academic experience could matter more than others. Use these tips to guide your exploration of opportunities to earn a degree and advance your career.