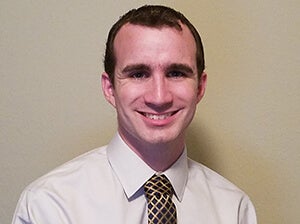 John Bays
John Bays recalls hearing WGU commercials on the radio over a period of months and deciding to look into the online university. What caught his attention were three main selling points: he would be able to work at his own pace, WGU's IT degrees encompassed industry certifications, and it was low-cost. If he was willing to make the right sacrifices, he could get his degree without accruing student loan debt. 
John enrolled in the Bachelor of Science in Cybersecurity and Information Assurance program and dove into his studies. He admits it wasn't always easy, and he was challenged by the course materials on certifications from the EC-Council (the International Council of Electronic Commerce Consultants). 
However, John received great support from mentors Greg Cole and Tim Leogrande. "Each one recognized that a one-size-fits-all approach does not work when mentoring students, and that's really what helps people accelerate through the college program," he said.

After establishing a routine, John was able to accelerate and earn his bachelor's degree in less than one full term. He says earning his degree was the most rewarding part of his WGU experience, and that while IT certifications are nice and get attention from employers, when it comes to brass tacks, it's that marked checkbox next to the words "College Educated" that HR reps want to see. 

"Earning a degree from WGU has been a method to open doors in my future," John said. "What I mean by that is by having an undergraduate degree completed, I was admitted to my graduate studies." Now enrolled in WGU's master's program in the same field, he earned an Alumni Master's Scholarship earlier this year. 

"I'm still toying with the idea, but a Ph.D. or DIC in cybersecurity is now an option for me once I'm done at WGU," he continued. "The best thing about degrees is they don't expire."

John says anyone considering applying to WGU needs to be ready to work hard and make the most of it. He understands that a lot of people have kids and busy schedules, and that makes carving out time for school very challenging. John recommends making a schedule and sticking to it, and that will help you accelerate and earn your degree quicker. He also says WGU offers cohorts, accessible course instructors, and a plethora of learning materials.

"The best piece of advice I can offer to prospective students is this: You don't know what you don't know," he said. "My strategy for success at WGU was to use the preassessments as benchmarks. This will help you focus on the areas that you need the most in order to pass that class, especially when you're struggling."

No matter what the future has in store for John, no doubt it will be a bright one. Having just completed his master's (in less than one term as well), he will have the confidence that his degrees helped provide him with many options that were not previously available to him. That's what a WGU degree can do for anyone.