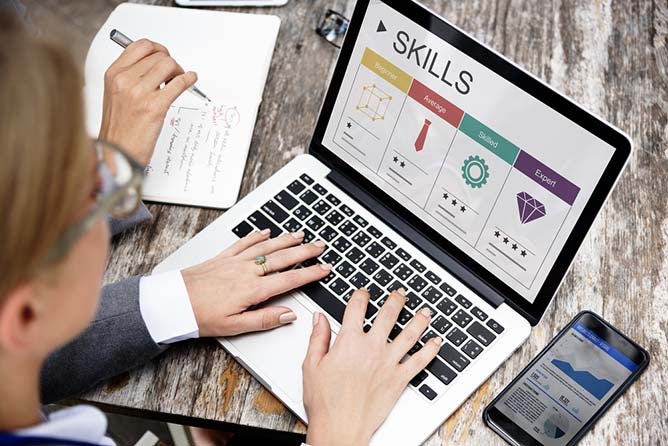 When you pursue a business degree, you'll learn more than the ins and outs of the business world. You'll also gain business skills that you can leverage as you build your career. In a healthcare management-focused business program, for example, you'll develop the leadership skills necessary to guide care teams. An accounting-centric program will hone your analytical skills, and a marketing-centric program will empower you to flex your creative muscles.
Whatever path you choose, earning a business degree can be the first step toward a long and rewarding career. Here are a few of the critical business skills you'll hone while earning your degree.
1. Communication skills.
Clear, effective communication is essential to business success. A good business program provides courses on different forms of communication and enhancing students' presentation skills. A project management course, for example, helps you learn how to communicate to teams and hold co-workers and subordinates accountable to tasks and deadlines. In a business communications course, you'll learn how to communicate with various business stakeholders, such as clients, prospects, and co-workers. The communication skills you'll hone in a business program will enable you to build strong relationships and develop leadership qualities that will last throughout your career.
2. Problem-solving skills.
In a competency-based business program, your success is largely determined by the hands-on work you master. In analytical courses that focus on topics such as quantitative analysis for business and the principles of finance, you'll put your math and science skills to work and learn how to solve financial and data-based business problems as they arise. Courses in organizational behavior and management teach you how to apply business strategy to solve problems independently and collaboratively. By the end of your program, you'll be ready to tackle even the trickiest business problems.
3. Technical skills.
Because every industry relies heavily on technology, business professionals need to be up on the latest tech trends. According to Business News Daily, today's business professionals need to have a basic knowledge of cybersecurity issues, use digital marketing tools, and organize records via web- and computer-based systems. In classes such as Information Systems Management and Network Security, you'll learn these skills and more. You'll become familiar with the latest technologies and learn how to put them into practice in the real world.
4. Leadership and management skills.
Businesses want great leaders, and acquiring leadership skills early in your career—or before it even starts—can help you quickly climb through the ranks. A business degree will help you develop leadership and management skills tailored to your field. A bachelor's program in human resource management, for instance, will give you skills to shape company culture, train employees on policies and procedures, and manage HR departments. A degree in information technology management, on the other hand, develops leadership skills unique to the IT world and imbues you with the skills to educate teams on how and when to adopt and adapt cutting-edge technology.
5. Adaptability.
You can expect to learn the most up-to-date practices when you earn a business degree. But business is always changing, and new methodologies and efficiencies pop up seemingly every day. The knowledge you'll gain when you earn your business degree will help you roll with the changing tides of business. For instance, you'll learn about employment law so you know how to maintain compliance in a changing business environment. You'll also take classes on strategy, ethics, and communication, which will prepare you to adopt new methods and best practices in your current or future position. Any business program will touch on the relationship between business and IT, marketing, and economics, which will show you how modern businesses operate. You'll then be empowered to inspire the next big business change.

Business is a vast and multifaceted world that includes a number of specialties and roles. Whether you're interested in technology, management, finance, or marketing, there's a career for you. Armed with the business skills that you'll develop in a business program, you're sure to find success.