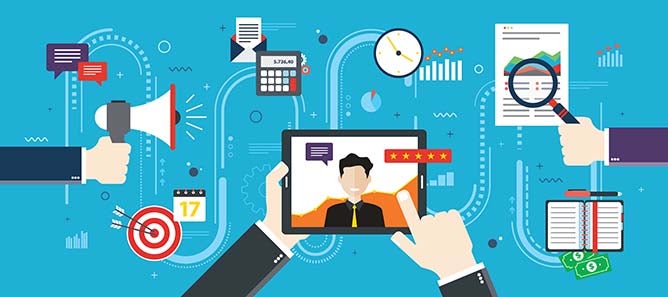 Anyone can call themselves a marketing expert, but it takes real experience and know-how to master today's real-world marketing challenges. Certifications for marketing professionals don't just help you develop relevant skill sets; they reassure prospective employers that you're highly qualified for the job.
In other words, marketing professionals need to market themselves—and that's where certifications can give you an edge. The following five certifications for marketing professionals highlight value and real-world application while emphasizing core knowledge and principles.
1. Google Ads certification.
If Google is the king of search engines, then Google Ads certification is the must-have credential for digital marketers. As Google explains, earning a Google Ads certification yields two main benefits:
Having a printable Google Ads certificate notifies current and prospective clients of your status as a recognized online advertising professional.
Holding a Google Ads certificate can also help your company obtain a Google Partner badge or a Premier Google Partner badge, which signal that the company is up to date with the latest product knowledge on advertising through Google and can only be displayed on a company's website after passing rigorous certification exams. The badges also indicate participation in the Google Partner program, which offers rewards, training opportunities, promotional offers, and other benefits.
You'll need to score 80 percent or higher to pass the Google Ads certification assessment; the certification is only valid for one year and must continually be renewed. However, if demonstrating search engine marketing mastery is your goal, a Google Ads certification can get you there.
2. Facebook Blueprint Certification.
Marketing through Facebook ads is an efficient way to reach potentially millions of users. Advertising on Facebook is challenging, however, because its guidelines are constantly changing. It takes a real expert to keep up with continually evolving best practices.
Facebook Blueprint Certification can help you acquire this proficiency and demonstrate it to employers. This certification comprises a suite of advanced-level competencies within Facebook's family of apps:
Deploying Facebook apps and services.
Configuring and troubleshooting Facebook Marketing API integrations.
Designing Facebook media strategies that align with business goals and marketing plans.
Using data and insights to make informed recommendations via Facebook's platform.
The value isn't solely in the opportunity to demonstrate mastery to employers; it's also in the chance to fully leverage Facebook's considerable reach via a thorough understanding of how to conceive, devise, manage, and measure the effectiveness of an advertising campaign.
Perhaps the best starting point is the foundational Facebook Certified Digital Marketing Associate certification, which is geared toward entry-level marketers and might be more appropriate for university students and job seekers. Competencies covered by this certification include advertising fundamentals, establishing a platform presence, creating and managing ads, and assessing ad campaign results. With persistent application, you could work your way up to professional-level Blueprint certifications, such as the Facebook Certified Media Planning Professional certification and the Facebook Certified Advanced Marketing Developer certification.
3. American Marketing Association certification.
The American Marketing Association (AMA) Professional Certified Marketer is one of the most widely recognized and highly esteemed certifications. Western Governors University recognizes the AMA as a resource for current and aspiring marketing managers, and the university's aligned its curriculum with AMA certification to give marketers a top-notch education and an in-demand credential.
As with Google Ads and Facebook Blueprint certifications, AMA certification educates marketing professionals on the nuances of digital advertising. AMA certification covers a full spectrum of leading-edge marketing skills and principles, such as search engine optimization, multichannel content creation, sustainable marketing, effective lead generation, and much more.
The combination of a bachelor's degree in online marketing and AMA certification is a powerful career enhancer. Knowing that WGU offers AMA-approved courses provides you peace of mind that your education will be rigorous, field-tested, and widely applicable across the marketing domain.
4. Interactive Advertising Bureau certification.
The Interactive Advertising Bureau (IAB), which promotes excellence in the media and marketing industries, offers three highly specialized certifications:
IAB Digital Media Buying and Planning Certification. This certification teaches the ins and outs of collaborating on campaign briefs, managing and executing campaigns, developing digital media plans, and more. Upon completion, marketers will be able to work closely with advertisers and publishers and deliver exceptional service throughout the media-buying life cycle.
IAB Digital Ad Operations Certification. This certification teaches applicants how to provide quality assurance, pull campaign placement reports, log traffic, and review campaign status to optimize campaign performance. The program emphasizes collaborative digital ad facilitation—candidates must demonstrate competency in assisting sales, marketing, and product teams in formulating and executing media plans.
IAB Digital Media Sales Certification. This certification concentrates on critical competencies such as building client credibility and trust, responding to client needs, and adapting to the ever-changing technological landscape of media sales.
These certifications will teach you to reach deep and apply your best efforts while keeping you abreast of the latest industry-specific standards and developments. You'll need to periodically recertify after receiving your initial certification.
5. Hootsuite Social Marketing Certification.
If you're heavily involved in marketing and promotion through platforms such as Twitter and Facebook, you're probably familiar with Hootsuite; its array of tools is designed to make the process centralized and efficient. However, you'll need more than a cursory knowledge of Hootsuite if you want to land the Hootsuite Social Marketing Certification.
To get the certificate, you'll need to pass a 60-question timed exam, which you probably won't pass until you've worked your way through the Social Marketing Training course. The training and exam cover the essential marketing competencies, such as creating a social media strategy, optimizing social profiles, sharing effective social content, and implementing social media ads.
Upon passing the exam, you'll earn a permanent online certificate that you can display on your profile, blog, or website. You'll also be listed in the Hootsuite Certified Professionals Directory, a popular hub where brands and employers often find media-savvy marketing professionals. 
Though your attitude and skills are crucial, obtaining relevant certifications can boost your mobility in the marketing field. With the right combination of accredited coursework and recognized certification, you'll be fully equipped to market yourself as a consummate professional.