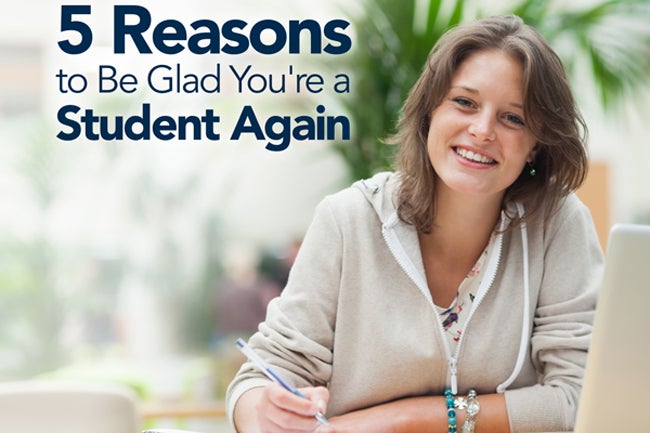 You don't have to sit in a classroom next to 18- to 22-year-olds.
Why should you sit through Sales 101 when you've been training sales teams for 20 years? Or relearn how to calculate drug dosages when you've been a nurse for five years?
You are unique. You have life experience. You are able to move quickly through what you know and slow down to learn new material. This is exactly how competency-based learning works at WGU.
You aren't paying too much.
How do I know? Because if you enrolled at any other college or university, your tuition and fees would go toward things you probably wouldn't use much as a non-traditional student: sports teams, fancy new dormitories, or a new student health center.
WGU is online and nonprofit. That's a powerful combination for a university. We can scale to add more students (and more faculty members to support them), without having to pay for new buildings, million-dollar coaching salaries, and thousands of administrators. 
How many hours in a week would it take you to drive to class, sit in traffic, and find a parking space? Rather than wasting your time and money getting to class, you can log on and finish an assignment, read ahead, or take an exam from anywhere you have an Internet connection.

You don't miss out on things that are important to you.
Need to make it to your kid's baseball game? Your family is in town and they want to go to dinner? You are taking a vacation to Hawaii? You need to move across the country for a new job? No problem—just shift your study schedule and work with your mentor so you still get your 20 hours of studying each week.
With a school that is flexible around your schedule, it's hard to remember the days when you went to class and missed out on valuable family time.
Your school has an incredible return on investment.
If you put in the hard work, you can accelerate your program and save money on tuition. You don't have to quit your job to attend. And the average student finishes a bachelor's degree in 30 months. Combine this with tuition that is about half of other online schools, and you get a high-quality education that is recognized by employers across the nation.
But hey, you already knew that you chose the best online university for non-traditional students like you—you're a NIGHT OWL!