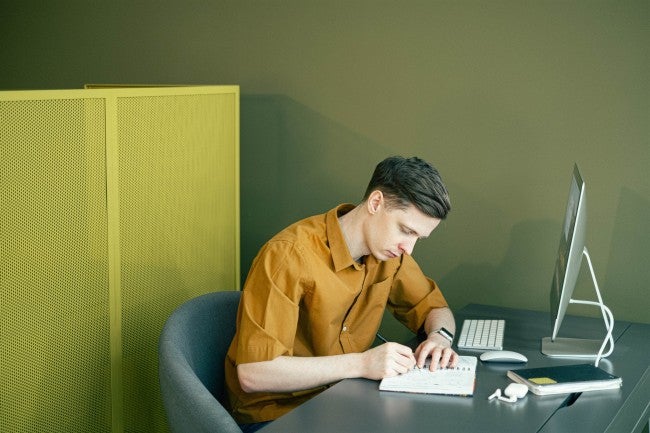 As more universities are turning to online models, it's important to be prepared to help students have a positive and successful experience attending college online. Here at WGU, we've been helping students pursue fully online degrees for more than 20 years, and we've learned a thing or two along the way. Discover how the history of WGU has helped us learn how to serve students online in a way that helps them find the greatest success.

The idea for WGU came in 1995 during a meeting of the Western Governors Association. A collection of 19 governors all came together to create an online school to help more students pursue higher education, and Western Governors University was officially established in 1997. 
WGU was one of the first fully-online schools ever created, and degree offerings and technology have changed over time. But the essence of WGU has always been to serve students online in a way that works with their busy lives. WGU is a nonprofit, fully online, and regionally accredited institution, which can be rare for online schooling options. 
WGU was also one of the first accredited schools to use a competency-based approach, which allows students to work on their programs on their timeline, without having to worry about specific class times or deadlines.
Because we've been fully online for more than 20 years, we know how to help students succeed in this environment. Here are 5 important things we've learned about online education in our time as a fully online university.
What we've learned as an online university.
1. Students thrive when they have help. Being online doesn't mean you have to do this alone. At WGU, we've found how important it is for students to feel connected, even when they are working on their own schedule in their own way. That's why we have Program Mentors who are there to help students every single step of the way, from their first day to graduation. Program Mentors meet with students regularly to check on their progress, help them with anything they need, map out their degree program, and just be a clear connection to WGU. This connection that students make with their Program Mentor is so important to their success, and many students credit their Program Mentor with helping them get through hard times and overcoming trials on their way.
Faculty members are also key to student success. Course instructors are assigned for each and every course, and they are there to work with students to help them learn and understand the material. These course instructors are always available to talk to students, answering questions or giving guidance wherever it is needed. And these course instructors are experts in their field, making them invaluable to the learning process for students.
2. It's important for students to be in control of their online learning. Many students choose online learning because they want to be in control of their education. At WGU, we've learned that online learners are extremely motivated and want to meet their goals on their terms. So we help set them up for success, and make sure we aren't in the way. That's why we have competency-based education. CBE allows students to move through their courses on their timeline—they finish a course as quickly as they can master the material. If they're in a course where they already have knowledge and experience, they can move through extremely fast. If it's an area where they struggle or need more help, they can slow down the pace and really learn the material. 
At WGU, being in control of your learning also means you don't have to show up to class at a certain time. For most of our courses, there are no face-to-face or time requirements for when students need to do their schooling. They can do their work entirely when it is best for them, juggling jobs and families along with their schooling. This is the main reason many students pursue online education—they don't have time to spend driving to a campus and sitting in a lecture. Students thrive when they are able to do their online courses in whatever way and time is best for their lives.
3. Accreditation and recognition are key to value. Many online schooling programs aren't accredited, and unfortunately this means they simply aren't very valuable. Employers look for accredited degree programs, and programs that are accredited and recognized are the programs that are most valuable to students. WGU is regionally accredited by the NWCCU, which accredits schools in the area where the WGU headquarters is located. WGU programs have also received specific awards and recognitions that increase their value to students. When it comes to online schooling, students are often concerned if their degree holds the same value as a traditional degree. More than ever, online degree programs are well-received by employers, and accredited degree programs help demonstrate to students that they are getting a high-quality education.
4. Online education is often more cost-effective for students. As an online university, we see many students from all walks of life. But every student cares about the cost of their education. They are looking for a great value, and want to find a degree program that meets their needs without breaking the bank. That's why at WGU, we have focused on keeping our tuition costs low to meet the needs of students. Our tuition is charged per six-month term, not per credit. That means that students can go through courses at a pace that works for them, without having to worry about paying extra for taking more classes. It also means that graduating faster will save you money. 
Similarly, we've found that students are always looking for ways to make school even more affordable. Federal funding and scholarship options are crucial to help students be able to afford their higher education. Federal funding is only offered to schools that have accreditation and meet standards set by the government. WGU is able to offer federal loans and grants to students due to our accreditation and compliance. WGU also offers many scholarships for students to help offset the cost of tuition.
5. Transfer options are important. Many students going to online universities have prior college experience that they don't want to go to waste. Transfer options for any college are important to help students who have high school or college credits apply their work to their degree program. Students are looking to get benefit from all of the courses they have taken, and the ability to transfer credits helps them do that. WGU offers a generous transfer policy that allows students to use their past experience to waive courses they may not need. Even if you can't get courses waived, you may be able to use your experience to move more quickly through a program with CBE.
20 years is a long time to be in business, and we've been serving students the entire time we've been around. If you're hoping to choose an online college, it's smart to choose one that has been around for a long time and knows what they are doing. We believe that WGU is a great fit for many students who are looking for a way to get a degree on their terms. If you're considering an online education, WGU could be the perfect choice for you.