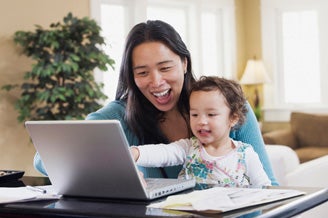 Today's college students are breaking the stereotypical mold. Older students are no longer intimidated to conquer college later in life, and many colleges see students in their 20s studying alongside students in their 30s, 40s—even 60s! If it's been a long time since you've been in a classroom, it's important to understand how modern educational changes are making getting a degree easier than ever before.

Perhaps more working adults and older individuals are considering a college degree because the classroom landscape has changed immensely in recent years. Online colleges and virtual classrooms make it more convenient than ever to take classes, and studies show that the average online learner is 34 years old. 
If you are an adult contemplating going back to school, consider these five tips for finding the right program and conquering college later in life:
Whether you want to advance your current career or start a completely new one, begin by investigating the field of study and growth expectations for different career paths. A good resource for learning about industry growth, employment statistics, and wage outlooks is the Bureau of Labor Statistics at www.bls.gov. Some of the fastest-growing industries today include health care, information technology, and education.

Many adults put off getting a college degree due to time constraints. Because online education is flexible and convenient, more adults than ever before are able to complete a college degree. When deciding what college to attend, explore time commitments and flexibility of the classroom environment. Every college has different philosophies and requirements, so you'll want to find the one that best matches your lifestyle.

As an adult, you've likely gained career and life experience that younger students do not have. Some colleges recognize this as an asset, such as Western Governors University, which offers online degrees based on real-world competencies as opposed to seat time or credit hours. Because progress is determined by whether you can "prove" you know the skills, you can draw upon your personal experience to complete assessments faster, ultimately saving you both time and money. Learn more about competency-based degrees at www.wgu.edu.

Crunch cost considerations.
It's no secret that college can be expensive. With some research, you can find an institution that offers quality curriculum with reasonable tuition rates. To start, ask your employer about tuition reimbursement programs. Many companies offer partial or full reimbursement to qualifying employees. This can cut costs considerably. Next, you should research colleges with affordable tuition rates. For example, WGU links tuition cost to time, by charging per term rather than per credit—and empowering students to accelerate through material they know well or learn quickly, ultimately helping students with the cost of their degrees.
With thousands of colleges across the U.S. the U.S. accreditation is key when comparing institutions—particularly because of the exponential growth of online universities. You should always ask about accreditation to ensure the college and curriculum have been evaluated by a leading third-party organization so you know the education is high quality and that the degree you earn will be recognized and respected by employers and other academic institutions. It's also wise to ask about faculty credentials, which can be a great indicator for what you can expect from the program and class time.
Learning is a lifelong journey, and now it's easier than ever for older people to go back to school and complete their degrees. These five key factors will help determine the right college and program to suit any lifestyle.