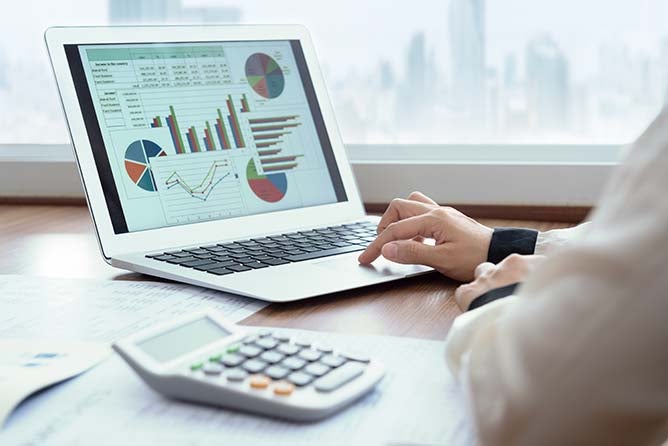 Business technologies help organizations save time and money, serve their customers better, and provide their employees the tools they need to maximize their talents. Every type of business professional interacts with technology in the workplace.
An April 2019 Forbes article emphasized the need for executives to keep up with emerging business technology trends and tools if they want to stay competitive. And if business executives are thinking about how technology affects the success of the organizations they lead, you can bet they'll demand their employees be tech-savvy, too.
Further Reading: How an MBA led this exec to his dream job at MGM.
Whether you're a new business school grad or a seasoned pro, here are five business technologies you should know.
Microsoft Office Suite.
Microsoft's Office Suite is ubiquitous: seemingly every business uses at least one of the apps in this bundle of tools. The software package includes Word, for writing reports, memos, and other documents; Excel, for creating spreadsheets; PowerPoint, for presentations; Outlook, for email and scheduling; Access, for database management; and Visio, for creating diagrams, flowcharts, and floor plans.
To compete for jobs in the business world, you should at least know how to draft a document, enter data into a spreadsheet, and navigate your way through a PowerPoint presentation. But you might need to be more proficient with these tools if you're applying for certain business specialties. An accountant or bookkeeper, for example, would be expected to have more experience creating, managing, and analyzing complex spreadsheets. If you're looking at a business role that requires specialized knowledge in these tools, consider brushing up or deepening your skills with a Microsoft Office training course.
Collaboration software.
Collaboration software, according to PC Magazine, is "any piece of software that helps people get work done together." These tools, which include the Slack messaging app, help professionals communicate and collaborate effectively.
Most collaboration programs offer team messaging apps that facilitate open conversations and private discussions. They might also come with features such as video messaging, file storage, and file sharing. They offer business professionals a more efficient way of communicating about their daily work than using email or the phone or by going from office to office to talk in person. This is a particular boon for remote workers, as they can collaborate with their colleagues in real time.
Today's employers expect employees to understand the basics of exchanging messages and sharing files through these types of platforms. There's good news, though: As PC Magazine notes, if you've ever planned an event or shared updates with friends or family on Facebook, you're already familiar with the general concept of collaboration software. Combine that experience with the communication and collaboration skills you learned in business school, and you should have an easy transition when it's time to use one of these tools in the workplace.
Web conferencing tools.
As businesses become more global, they rely more on web conferencing technology to connect colleagues in different locations and conduct live conferences over the internet. Web conferencing is a specific collaboration tool, but these tools also have additional business features, such as web browsing, file transfers, and application-sharing capabilities.
Web conferencing tools can be used to train employees and conduct meetings with remote team members, and they let business professionals present to groups in distant locations—helping organizations save time and money that would otherwise be spent on business travel.
Any business graduate seeking a job in today's market should know how to access a web conferencing platform and participate in an online event.
Project management platforms.
Where collaboration software facilitates real-time communication between business team members, project management platforms help track assignments with a specific deliverable, start date, and end date—a marketing campaign, a product launch, or the setup of a new service for a contract client, for example.
Project management programs, such as Trello, Workfront, and Mavenlink, make it easier to assign and schedule tasks, track budgets, plan resources, share information and ideas, and complete projects on time. They offer users bird's-eye views of the projects their team is involved in, as well as detailed close-ups of each individual project.
Entry-level proficiency with a project management platform would mean being able to log in, review assigned tasks, and update your progress. If you're hired as a manager or team leader, you might be assigned to monitor the progress of employees and subordinates, keep up with the project's budget and resources, and assess whether adjustments are required to keep the project on schedule.
Customer relationship management systems.
Customer relationship management (CRM) software helps sales teams and other customer-facing business professionals organize tasks, such as scheduling appointments, making sales calls, and following up with clients. These systems streamline the processes of maintaining contact with and meeting the needs of existing customers and building on leads for potential new customers.
As Business News Daily notes, CRM systems such as Salesforce, HubSpot, and Zoho don't just let businesses manage their customer relationships and customer service more efficiently; they're also useful in developing marketing campaigns. Cloud technology has made these tools available to businesses of all sizes, so if you're looking for a sales position, you can expect to use a CRM no matter where you land.
CRM platforms are now so prevalent that any business graduate should have at least a general knowledge of what the technology is designed to accomplish.
Learning the tools.
In today's technological world, being prepared for a business role means being proficient in the technologies you're likely to encounter in your career. A degree in business will give you the knowledge and experience you need for the workforce, and it'll also provide opportunities to get hands-on practice with some of these tools as you prepare for your future job.
With this list of the top business technologies at your disposal, you can get to work on filling any tech skills gaps you might have before you enter the job market.