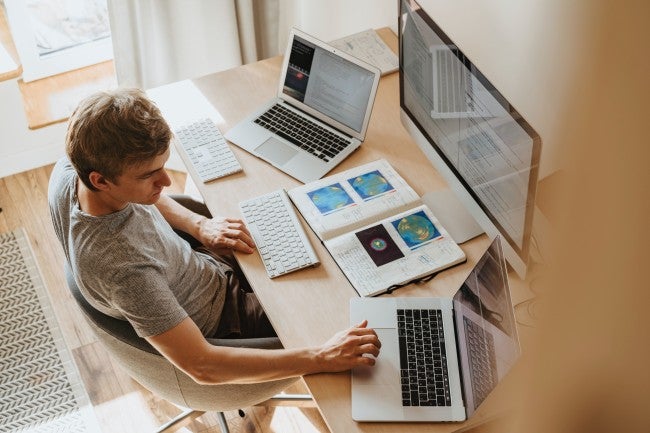 Whether you're attending college for the first time or you're returning to finish your degree, going back to school is an exciting moment in anyone's life. Getting your bachelor's or master's degree is a tremendous accomplishment that can lead to a better future and career.
However, the process of going back to school can sometimes feel overwhelming or stressful due to the unknown. You may be asking yourself, "What will my classes be like? How will I adjust to my new routine? And will I be able to balance my work and school demands?" All of these are valid questions—but the good news is they can be easily answered, and overcome, with a little preparation.
For more than 20 years, WGU has helped ease students' transitions back to school. Here are our top five tips to help assuage your reservations and ensure your ongoing success.  
5 ways to prepare to go back to school.
1. Set up a designated workspace.
Whether large or small, having a go-to space where you can focus on your studies is a best practice for successful students. This can be a dedicated office or a small corner in your bedroom—but preferably somewhere you can shut a door to keep distractions to a minimum.
If you work from home or have young kids in your household, this assigned study space will help you switch gears from your daily job or role as a parent. It will also help others recognize that you're studying and give you the time and space you need to work on your degree.
Lastly, creating a workspace will save you time by having your computer, headphones, pens, calculator, and other study tools all in one place, ready to go.
2. Research your school's tech requirements.
Even if your school is not 100% online, many are offering online courses and resources. So you should research what technology you'll need to hit the ground running and minimize any obstacles or frustrations.
At a minimum, you'll need a computer to write papers, do web-based research, and access online learning materials. However, to efficiently run some of the sites and programs that you'll encounter, your computer should have:
2 GHz processor or faster
64 GB system storage or larger
USB port or USB-compatible dongle 
You should also have a webcam and speakers for online meetings, study sessions, and proctored exams, plus these essential software platforms and systems:
Windows 8.1 or macOS 10.13 or higher
Microsoft Office 2016 or higher
Google Chrome, Mozilla Firefox, or Apple Safari
Adobe Reader or similar PDF reader
High-speed internet of 1.5 MB/s or better
If you can't afford to purchase a computer or pay for high-speed internet, many schools, including WGU, have scholarships to help cover these costs. Click here to review WGU's specific tech requirements.
3. Create a support system.
As with most everything in life, having a support system can make a huge difference in accomplishing your goals. They can also make the journey along the way much more enjoyable! So take the time now to reach out to the people who are most influential in your life. This can be your family, friends, mentors—really anyone who you talk to regularly and go to for support or guidance.
During this process, you may find that some of these people may not be fully on board with you going back to school. Maybe they think it will erode your time with them or make them "pick up your slack." Undoubtedly, your life and relationships will change while you're in school. But by earning an advanced degree, it should only make them better! So try to express this with your supporters and continue to show appreciation for their help along the way.
You can also turn to your school for support. WGU, for example, assigns a mentor to each student who helps guide their progress, address any obstacles, and provide emotional support. In fact, many of our students have attributed their mentors as being instrumental in finishing their degrees.
In addition to designating a workspace, it helps to create an official schedule for completing your schoolwork. This will ensure that:
You have enough time to study.
Your friends and family know when you're studying so they can help—e.g., do chores, run errands, provide childcare, or leave you alone.
You make continued progress in your studies, instead of procrastinating.
You can schedule other personal or work-related activities for a good school-life balance.
If you work full-time or have many time-centered responsibilities, you may want to look into attending an online university where you can complete coursework when and where it best fits your schedule. You should also check to see if they have set class times or log-in parameters, which you'll need to work around.
Once you've built your support system, don't be afraid to ask for their help. You've already established that they want you to succeed and are happy to contribute to your success—so take them up on it!
This also applies to your school's enrollment counselors, instructors, and mentors. It's their job to help you, but they can't if you don't ask, and they may not know when you need extra help. That's why it's so important to reach out when you have questions or need additional assistance.
Many of WGU's mentors and faculty were WGU students themselves, which gives them fantastic insight on how to succeed in your classes and in your overall college experience. The more you lean on them for guidance, the easier your path to a degree will be.
Oftentimes, taking the first step in a new endeavor is the hardest one of all. But with sufficient preparation, the first step can be much less daunting. Hopefully you can use the tips we've given here to go back to school with confidence and with an actionable plan for academic achievement.