The rules of how (and when) to start college are changing.
For many goal-oriented professionals, the arrival of "back-to-school season" serves as a reminder of their longing to pursue a career-enhancing degree. However, the idea of scrambling to finish applications in time to start classes in September is often enough to discourage many otherwise motivated adults from taking the first step.
Fortunately, this paradigm is shifting: Here's how many schools are allowing degree seekers to begin classes on their own terms.    

START ON YOUR OWN TERMS. GET TO WORK FASTER.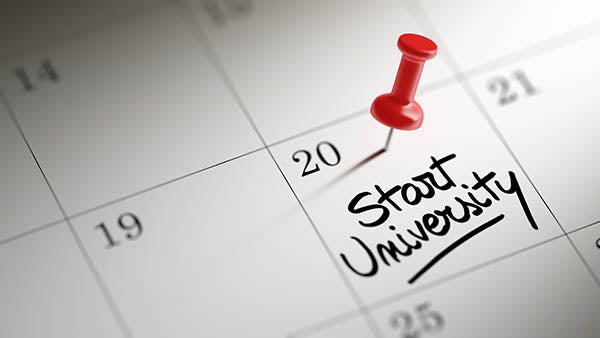 College applicants have historically been required to wait months before learning whether they have been accepted into their desired school and program. That just doesn't cut it for working professionals whose schedules might not sync up with a traditional academic calendar and a rigid September start date.
Forward-thinking universities recognize today's self-starters want to get things done once they've made the commitment to earn their degree.
Removing time constraints from the application and enrollment process gives you the freedom and flexibility to research the school, degree program, and learning format that will fit within the demands your current lifestyle. It also gives you an enormous amount of control regarding when you begin classes.
For example, Western Governors University starts a new cohort of bachelor's and master's degree students on the first of every month. As long as you complete the enrollment process by the 15th of the previous month, you can start studying on your terms and not waste time for a traditional September or January semester to roll around. 
LESS COMPETITION.
FASTER RESPONSE.
Traditional college enrollment offices get overwhelmed with applications in the months preceding September start dates. It's not uncommon for students to wait weeks or even months before learning whether they have been accepted to their preferred school and program.

HuffPost recently reported that regular admission deadlines happen around the 1st of the year and decisions usually aren't revealed until March or April. Wait too long to hear from one school, and you might risk missing your window of opportunity to be accepted into a different program in time to start classes on your desired timetable.
With "rolling" admissions, the university enrollment process is continuous, simple, and hassle-free. At WGU, you can apply any time by completing and submitting an online application form. Once you submit your application, it will be reviewed, and you will be contacted within two business days to discuss your status.
To make the process even smoother, you'll also be introduced to an Enrollment Counselor who can guide you through the steps of applying, getting accepted, and starting your classes. It would be nice to add a source here to shore this up. It seems likely that this is true, but we probably need to verify it – even a news story from a credible source would work. 
SCHOLARSHIPS ARE AVAILABLE THROUGHOUT THE YEAR.
Paying for your education is an important consideration, and competition for available scholarships typically spikes during traditional enrollment periods.
The good news is that scholarships are available to qualified students throughout the year. In fact, WGU awarded over $10 million in scholarships last year alone.
The university's Back to School Scholarship is open to new students in more than 60 bachelor's and master's degree programs in business, information technology, education, and health professions, including nursing.
MAKE THE MOST OF YOUR TIME (and money).
WGU pioneered competency-based education (CBE), which measures learning by how much you know about a required subject rather than how much time you spend in class studying it.
You'll progress through your coursework as soon as you can prove you've mastered the material, so if you have applicable knowledge from previous work or school experience, you can accelerate the time it takes to earn your degree. You can even take a term off from studying if your work or personal life pull you in a different direction.
The CBE model is widely recognized by employers because it's an approach used by most corporations as the basis for promotions and advancement. It's a model other colleges and universities are increasingly striving to replicate because the real-world results can provide an excellent return on your investment.
Lisa Turnbull, who earned a bachelor's in IT from WGU, discovered CBE offered her the means by which to thrive, and had this to say about her experience: "I needed a program that allowed me to use my experience. I needed flexibility to allow me to be a mom, a wife, a daughter, a friend, a Girl Scout leader. I needed affordability because I had a family and could not add another bill."
THE TIMING IS RIGHT. GET STARTED TODAY.
Advancing your education is an excellent way to prepare for the next step in your career — especially considering that you are no longer bound by traditional college calendars and rigid class structures to pursue your goals and dreams.
At WGU, you can initiate the application and enrollment process whenever you're ready, and then start earning your bachelor's or master's degree in a matter of days, not months.
Whatever the level of education you pursue, it's important to find a university that wants you to graduate, not just enroll – an established institution where you won't just earn a degree, you'll earn respect. Whether you choose to enroll during the fall term, spring term, or any time in between, you now have the option to go back to school on your own terms.
Click here to learn more.