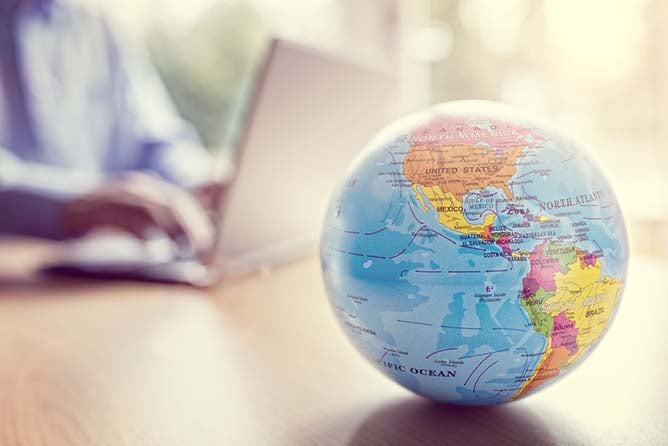 The wide world of business is filled with innumerable career possibilities. Some careers are rooted in a particular region, while some traveling business careers will have you traversing the globe. You might prefer a job in the middle of the spectrum—one dependable enough that you can put down roots in one area but flexible enough to let you relocate wherever you want and keep your career.
Here are seven business roles that can easily follow you from one area of the country to another.
1. Project manager.
Anywhere there's a project—at an accounting firm, in a retail store, or in a marketing department or technology company—there's a need for someone to manage it. Project managers organize workflows and ensure that projects and team members stay on track. It's a growing role, too: CIO reports that there could be 700,000 new project management jobs in the United States by 2020.
To be a successful project manager, CIO says, you'll need skills in leadership, communication, organization, and problem-solving. These skills are easily transferable between industries and organizations, making project management a great career for anyone who wants to relocate.
2. Customer service representative.
No matter the locale, industry, or organization, customer service matters. As Entrepreneur notes, customer retention is a lot less expensive than customer acquisition. If you can foster strong rapport with customers, you can apply your skills in any organization and in any location. What's more, The Balance Careers lists customer service management as one of the best remote jobs. If taking your job on the road—even just to the local coffee shop—sounds good, consider a customer service role.
3. Analyst.
Analysts come in all stripes: business analysts, marketing analysts, data scientists, actuaries, and myriad more. Analysis is an evolving and changing field, especially as digital technology changes the ways companies gather and use data. In today's digital world, nearly every industry needs analysts to manage and examine customer data, workflow information, and financial data—any type of information that yields insight into company performance. Earning a bachelor's degree in business, information technology, or a similar field is a great first step to a career in this emerging field. From there, you can take your career wherever you want.
4. Accountant.
Accountants handle finances for people and businesses. They usually hold a bachelor's or master's degree in accounting or finance, and they prepare financial records, manage budgets, and help organizations make financial decisions.
It's easier than ever to move your accounting career. According to the American Institute of Certified Public Accountants, 52 jurisdictions have passed CPA mobility laws, enabling CPAs licensed by some states to work in another state without incurring any penalties.
5. Digital marketer.
Digital marketing is a new and critical way of building a brand identity. Forbes says that every business—no matter its size or location—should employ digital marketers if they want to build brand identity and stay competitive in the digital age. Roles in digital marketing include digital account manager, content marketer, and email marketer. A bachelor's degree in marketing management can help you get your foot in the door. Once you're in, you can use the technical and creative skills you've developed to help companies grow.
6. Human resources manager.
Human resources managers are responsible for an organization's administrative tasks, recruiting new talent, developing employees, and managing benefits. A bachelor's degree in human resources management will help you develop the leadership and communication skills you need to be a successful HR manager.
The best part about HR? Most companies rely on the department, which means you can find a role regardless of where you choose to live.
7. Sales representative.
Establishing and managing client relationships is a critical part of a sales representative's job. Sales reps determine clients' needs and sell the products and solutions that best address those needs. They need to be skilled communicators and problem-solvers, as well as have business acumen and some technical skills. With the right sales skills and savvy, you could find work in nearly any industry and any region of the country.
To be successful in business, you need to have a mix of industry-specific knowledge and transferable nontechnical skills that you can apply in any field, industry, or position. If you want the freedom to pursue your career wherever you want, consider one of these roles. Once you've chosen your career, it's just a matter of figuring out where you want to take it.