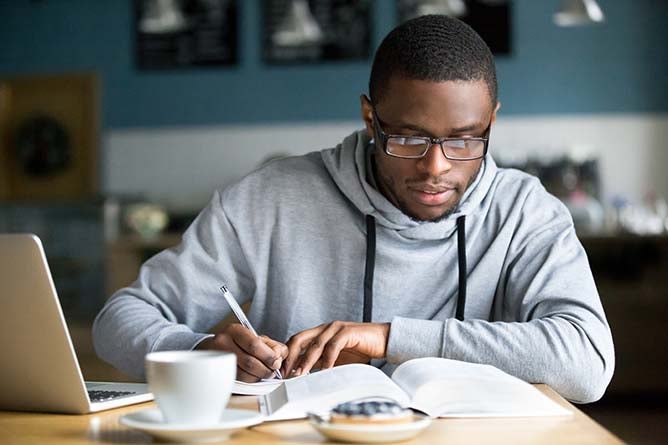 For many, the benefits of a degree offset the financial and emotional investment required to earn one. According to the 2019 Alumni Perspectives Survey from the Graduate Management Admission Council, 79 percent of respondents viewed their MBA education as outstanding or excellent—and 91 percent would do it again.
We spoke with Chelsea Holte, a graduate of the MBA and master's of management and leadership programs at Western Governors University and manager of development, construction scheduling, and crew dispatch for Snohomish County Public Utility District in Everett, Washington, to find out how earning a business degree can change your career.
Improved effectiveness.
Earning a business degree, Holte explains, can help you be more effective in your role.
"Experience paired with a business degree is the best combination," she says. "Knowledge is power, and when you're able to apply it to situations on the job where you have to make big decisions, you're better equipped for success."
Being prepared is especially important when your position involves leadership, and having the right training can help you navigate the responsibility that comes with a leadership or management role. The Snohomish County PUD has about $680 million in revenue, for example, and the four departments she runs have a combined budget of about $13 million.
"You never know if you will have to deal with a financial disaster and make decisions that protect your bottom line," Holte says. "Classes you took in economics and finance can make a big difference in the moment."
The training that business graduates bring to their organizations is likely why Statista found that 76 percent of the companies it surveyed planned to hire candidates with an MBA in 2019. MBA graduates are able to apply the business and nontechnical skills they learned in their programs and become strong managers, creative problem-solvers, and effective businesspeople.
"Classes that teach you to focus on planning, planning, and more planning help managers be more effective," Holte says. "WGU teaches you how to get out of the habit of automatically taking the next step when solving a problem, instead of focusing on what's beyond the horizon and planning for the long-term. It creates a natural balance between action and reaction, so you concentrate on balancing priorities that will improve the entire situation instead of just putting out the next fire."
Increased confidence.
Business professionals need confidence in their skills, their knowledge, and their ability to communicate information to their colleagues and clients. MBA programs include coursework in leadership, strategy, communication, and management, and graduates can immediately apply their learnings in the workplace, one of the benefits of a degree in business.
"Now I understand and can discuss economics and the economy on a global level," Holte says. "I'm able to discuss capitalizing assets at work and choosing which budget to apply them to."
Being able to talk to your coworkers is one thing, but having the confidence to pitch ideas and talk about business issues with members of the C-suite requires another level of confidence. By developing your business acumen and your communication and collaboration skills, you'll be able to talk effectively and confidently with every stakeholder in your organization.
"Earning my degree made me grateful for every business class I took at WGU," Holte says. "There are many times that I am the only woman in the room, as well as the youngest by 20 years, and my education gave me the confidence to know I deserve a seat at the table—because I earned it."
Better career advancement opportunities.
If you're applying to be a project manager, a marketing manager, or a manager in another department of the business, an MBA could be a deciding factor in whether you get the job. Statistics from a U.S. News & World Report survey found that in 2018, 84 percent of MBA graduates found employment three months after graduation.
But having a business degree can do more than get you in the door—it can also help you move up the ladder.
"There is a special confidence that comes with knowing you won't be overlooked because you don't have a degree," Holte says. "The bachelor's in business management qualified me for many positions, but with an MBA and a master's in management and leadership, I stand out from other candidates."
And she's been promoted twice since earning her degrees.
"I was promoted over 10 other candidates," she adds. "Then, when they merged my position with another manager's, I didn't even have to interview. There were no other candidates. I had never experienced that before, and I know having my degree was largely responsible."
And with career advancement and more education usually comes a salary bump. MBA graduates earned, on average, $84,580 in 2019, up 8 percent from the previous year and around $25,000 more than graduates with only a bachelor's in business, according to the National Association of Colleges and Employers.
Overall success.
Holte's hard work, experience, and education have nearly doubled her salary in just one year. They've also afforded her opportunities to make significant changes to her organization. For example, she changed the way the Snohomish County PUD interacts with the Master Builders Association and the way it schedules work.
Her confidence and performance have landed her major victories, too.
"We were just in the Everett Herald for the success of our storm preparation," she says. "During outages, it's me and another woman who manage the two teams for the entire storm restoration."
With her business degrees and on-the-job experience, Holte succeeds no matter the challenges and tasks thrown her way. Earning an MBA can mean a better career and more financial stability, too, and it instills the ability to rely on the skills and experiences that you learned along the way.
"Having a degree absolutely opens doors," Holte says. "Most government and private-sector organizations require a degree, and you'll stand out from other candidates if you don't have one. I cannot say this enough: get your degree. Even if you don't need it immediately for the next promotion, or even if you don't need it for a particular senior position, just do it. Finish it for yourself."