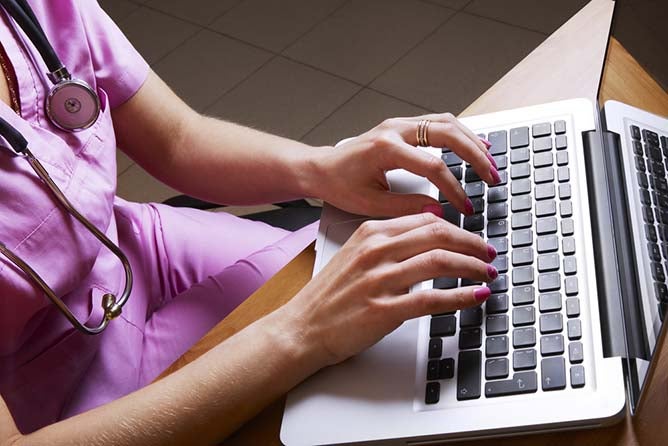 It's possible that there's never been a better time to be a nurse.
Demand is high, and the employment market is strong. Specialties such as anesthesiology and case management are especially booming, and the U.S. Bureau of Labor Statistics expects the number of jobs for registered nurses will grow 15 percent by 2026.
Too, more educational options—including online nursing degree programs—are available for people looking to enter the profession or continue their education. If you're considering either, you might be attracted to the flexibility that an online nursing degree program can provide, but you might also be wondering whether the quality of online education is high enough to invest your time and money—each of which is limited.
But many nurses are willing to take the plunge. A 2015 survey by The Learning House, Inc. found that nursing was the second-most popular major for online study at the bachelor's and master's degree levels. Here are four advantages that online nursing education can provide.
Flexibility.
Nursing is a physically and mentally demanding career. By the time you clock out for the day and finish up your family obligations, switching gears and rushing to campus for a night class might be the last thing you want to do.
The leading trend in online nursing and medical training is competency-based education, which focuses on what you have learned rather than how much time you've spent in the classroom. Online nursing students complete each course whenever they can demonstrate that they've mastered the material. There's no need to wait for an arbitrary date to arrive.
Through competency-based education, students can learn faster, spend more time studying, or use pre-existing knowledge to complete coursework. The result is a student-centered educational experience that combines challenging material and a supportive atmosphere—at a pace that suits their lives.
Affordability.
In competency-based online nursing programs, motivated students can accelerate their course of study—and that can mean financial savings. And the faster you earn your degree, the more money you'll save.
Some online institutions structure their tuitions as a low flat rate over a six-month term that covers any coursework completed in that time. If your schedule allows you to juggle multiple courses in each term, you could save time and money.
Convenient hands-on training.
With its emphasis on human service, nursing is one of the most hands-on professions. Given that, you might be concerned that you won't get enough hands-on training through an online nursing program.
Don't be. While you'll be able to complete most classroom requirements for your online nursing program without leaving your home, you'll still be required to complete your field experience in a healthcare facility. In most cases, your college or university will help you find an appropriate facility near you if you're not currently employed in a healthcare setting.
This kind of experiential training is critical to your success in nursing. Online schools offer adaptable hands-on training combined with flexible coursework and scheduling so you can achieve your degree on your own terms and in your own time.
Online education could be right for you.
No matter how you choose to further your nursing education, you'll want to select a school that has earned accreditation from a recognized accrediting body. Not every school—traditional or online—accredits or certifies according to governing organizations in the field, so be sure to verify that your school's nursing degree programs are properly accredited before applying. The Commission on Collegiate Nursing Education is a major accreditation body in the nursing profession; the Accreditation Commission for Education in Nursing is another. These bodies accredit most online bachelor's and master's degree nursing programs; the ACEN also accredits diploma and associate's degree programs in nursing.
Online colleges and universities provide advantages that are particularly important for students with families, full-time jobs, or existing nursing careers. Researching your options and finding a program that works best for you can be the first step toward a long and satisfying career. An online nursing degree program could offer the best combination of convenience, flexibility, and academic rigor to meet your career goals in a cost-effective, efficient way.