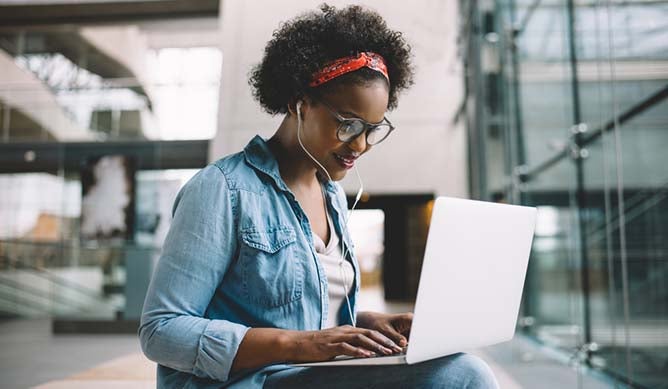 Information technology jobs aren't one-size-fits-all. Careers in IT run the gamut—some systems administrators and security analysts work in corporate IT, and some product managers and quality assurance analysts build products for consumer technology companies.
So what's the difference between working in corporate and consumer IT? To start, corporations often employ a large IT team that's tasked with protecting data and maintaining an organization's systems and networks. Consumer technology companies, on the other hand, hire IT professionals to help them build products. While their approaches might differ, corporate and consumer organizations need skilled IT professionals who can handle security, innovation, and systems maintenance.
Take a closer look at each end of the spectrum and the IT roles each sector offers.
Corporate IT careers.
Every corporation, no matter the industry, needs an IT department to manage—and sometimes build—the software architecture it needs to achieve its business objectives. That enterprise software must be updated, secured, and customized to ensure that it serves the corporation's needs. Corporate IT professionals also manage and protect the data—which can sometimes be sensitive or financial—that the corporation amasses.
Corporations are large and can provide the springboard for many different careers in IT, but these are some of the more common roles:
Support technician: Support technicians help troubleshoot networks and technology for an organization and its employees.

Systems administrator: Systems administrators are responsible for their organization's computer systems. They monitor, back up, patch, and upgrade the systems to ensure that they're always well maintained.

Network engineer: Network engineers ensure that their corporation's network is well maintained. They're also the first line of defense against cyberattacks, making sure that system security and firewall software are up to date.

Security analyst or engineer: Security analysts or engineers analyze potential network threats and build or implement security solutions to protect company data.
Consumer IT roles.
Consumer technology companies make products like software or apps for customers to buy and use. Like their corporate counterparts, consumer IT staffs professionals who maintain and secure the organization's network and systems, but they also need skilled technology creators who can build, troubleshoot, and update products. Here are a few common roles found in consumer IT:
Product manager: Product managers shepherd products through development and into the marketplace. They facilitate communication between the project groups, such as the development, quality assurance, and marketing teams. They often stand in for the user as the software's being developed, and they might act as a scrum master—the team leader who facilitates agile, adaptable development.

Software engineer: The job description for a software engineer is deceptively simple: build software. Development jobs can be very specialized, but at a consumer tech organization, software engineers might be generalists who do many jobs to help launch a product. They'll likely work in an agile environment and might be part of a scrum or a DevOps team that requires them to have a broader skill set.

User experience (UX) designer: When developers don't generalize, many of them specialize in UX design. Users expect an intuitive, personal experience from their technology, and it's the UX designer's job to make the user experience easy and pleasant.

Front-end developer: A front-end developer is a software engineer who specializes in the consumer-facing part of a website or mobile app. In the competitive world of consumer technology, where customers expect a great experience, this is an important role.
Finding the right IT career.
This is by no means an exhaustive list of careers in IT. Information technology is a rapidly expanding field, and roles in cybersecurity, data science, quality assurance, and artificial intelligence are changing along with it.
Because technology is so pervasive in the corporate and consumer-facing environments, there are many IT careers suited to skilled professionals with the proper background. You could find a fulfilling career protecting corporate systems or building the next big app—all you need is talent and the right education.