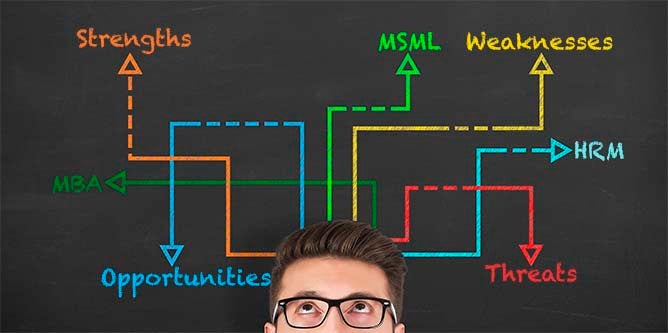 At some point in business school, you'll likely encounter a SWOT analysis. No, creating a SWOT analysis isn't a task they assign in the police academy; it's a common, foundational business tool.
Businesses of every size perform SWOT analyses, and nearly every business program assigns practice SWOT analyses to students. The exercise helps you examine your business from a fresh perspective and identify what actions you can take to make it better. Each letter of the SWOT acronym represents an area to study: strengths, weaknesses, opportunities, threats. As you analyze these four categories, you determine the areas of your business most in need of improvement and make strategic plans to strengthen your business.
Conducting a SWOT analysis.
To help you prepare for such an assignment, here's an example of a SWOT analysis that we've created for a hypothetical petsitting service called VIP Petsitters, a small business owned by two veterinary technicians in Charlotte, North Carolina. It staffs eight petsitters who visit clients for 15, 30, 45, or 60 minutes, including walks and petting time.
Part 1: What are your business' strengths?
This section focuses on internal strengths—in other words, the things a business owner or leader can leverage. The answer to this question might change based on the size, industry, or focus of your business. Maybe your business is most successful at stellar customer service or strong leadership. The tech giant Apple, for example, has powerful and engaging branding. Our sample company, VIP Petsitters, is successful at:
Building a loyal customer base.
Being available 365 days a year.
Having veterinary technicians on staff.
Employing friendly and knowledgeable petsitters.
Having reasonable prices that keep customers coming back.
Part 2: What are your business' weaknesses?
In this part, focus on the negative things about your business that you can actively change. Avoid things that are out of your control, such as larger economic patterns or seasonal variations. What can you improve? Does customer feedback highlight areas for improvement? Where is your competition outperforming you? What are you doing that you shouldn't be doing—and what aren't you doing that you should? Maybe you have a hard time retaining employees. Or maybe you don't have enough capital to keep your business humming along.
After analyzing several long-term customer experience surveys and internal evaluations, the leaders at VIP Petsitters found the following weaknesses in their business strategy:
Their small advertising budget limits their exposure.
Their website is outdated and doesn't include new services.
Customers were turned away because the company was overbooked.
Their complicated in-person booking process frustrates customers.
Part 3: What opportunities does your business have?
In a SWOT analysis, opportunities are external. They're things that can help your business, but they're out of your control. Some business or regulatory laws could work in your favor, for instance. Or maybe your community is holding an upcoming trade show or market that you could benefit from.
VIP Petsitters' opportunities include:
Many new single-family neighborhoods are currently being built in the city, and that means more dog owners are moving into the city.
Multiple pet-centered events occur each year, and they invite local pet-focused shops to advertise at them.
There are more than 50 veterinary offices in the area that could help cross-promote the business.
Part 4: What threats does your business face?
Threats are things outside of your control that harm your business. A winery business, for example, might be threatened by pests or weather, while a restaurant might be threatened by the high cost of supplies.
VIP Petsitters's threats include:
Increasing competition in the area trying to capitalize on the growing dog-owning population.
High costs of local radio and newspaper advertising.
Turning away customers has hindered new business.
Now that you've gathered your information, creating a SWOT analysis can help you make positive changes in your business.
Combine strengths and opportunities.
First, match your business' strengths to your opportunities to combat threats. VIP Petsitters, for example, identified that there's an opportunity for cross-promotion with the many veterinarians in the area. One way to handle the threat of increased competition is to partner with local vets on a referral program. Because having loyal customers is one of VIP Petsitters's strengths, a loyalty program for customers could ensure that they stick around. Additionally, by joining the National Association of Petsitters, VIP Pet Sitters could stand out in a competitive marketplace.
Turn weaknesses into strengths.
Evaluating your SWOT analysis can help you turn your weaknesses into strengths. For instance, VIP Petsitters needs help with its website. They could hire a student to improve the website at a discount (or offer petsitting services in exchange). Making it possible for customers to book online would be a plus because it would speed up the booking process, which is slow and frustrates current customers. Hiring more petsitters would also allow the business to serve more customers. Finding creative solutions to your weaknesses can also help you enhance your strengths.
Expand opportunities and offset threats.
Consider how you can leverage opportunities to your advantage. VIP Petsitters could advertise with local pet events to reach more customers. They could also hire a part-time employee to increase and manage their social media presence. Implementing an Instagram pet picture competition, for example, could attract new customers and give VIP Petsitters a chance to explain why they were so overbooked in the beginning.
A SWOT analysis is a critical component of every business' evolution. Practicing how to conduct and evaluate one in business school is key to being prepared to tackle one in your future career. As you're getting ready to enter business school, it's not a bad idea to conduct one on yourself. What are your strengths and opportunities?