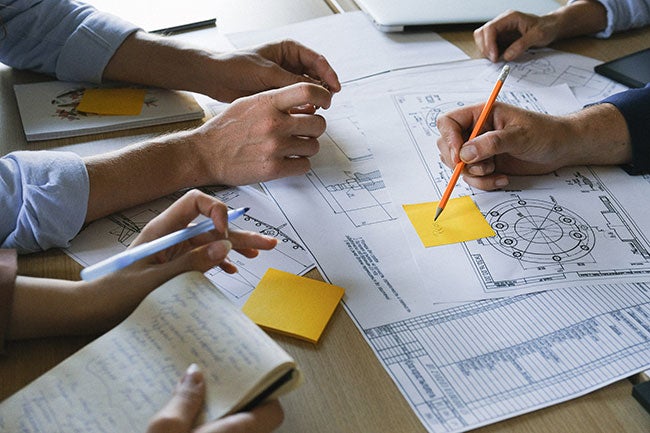 At first glance, the job of a program manager and project manager might seem pretty similar. Their responsibilities are often intertwined, and each plays a crucial role in a company's operational success. Both career paths can also lead to plenty of job prospects and earning potential. However, there are important distinctions between the two, and one might be a better match for your background and interests. 
One key differentiator between project managers and program managers is that project managers have their eye on the day-to-day details of a project, while program managers focus on the big picture and how to deliver on a company's vision and goals. 
This guide will dive deeper into the differences between these two professions, their salaries, responsibilities, skill requirements, and career paths.

Responsibilities Among Program and Project Managers
The goal of a project manager is to guide a project from start to finish by setting the scope, schedule, and resources allocated to the specific project. Their other responsibilities include:
Identifying and managing the scope of a project
Assigning a team's tasks
Participating in client meetings  
Communicating with outside stakeholders
Tracking a project's budget and schedule
Leading junior members on the team
Building new workflows 
Troubleshooting issues as they come up 
Developing solutions to meet client requests
While a project manager works on the moving parts of a project, a program manager deals with the strategy of a project to ensure it aligns with company goals and initiatives. The typical day-to-day of a program manager includes:
Overseeing the performance of programs
Creating and managing budgets
Cross-project resource management
Identifying and addressing problems and risks
Developing new programs to promote strategy
Stakeholder communications, negotiations, and problem solving
Aligning or realigning deliverables with program outcomes
The success of both a program and a project demands capable management and collaboration. 
How Do I Become a Project Manager?
A business management or related degree is generally the place to start on the path to becoming a project manager. This will give you an educational foundation to build on and skills that directly relate to a project management position.
Once you've become an established project manager, you may want to seek out higher-level positions along your career path, such as a senior or executive project manager or even a program manager.
A master's degree, such as an MBA, can prepare you for these more advanced roles because it will help you understand the ins and outs of management processes, budgets, strategy, and more.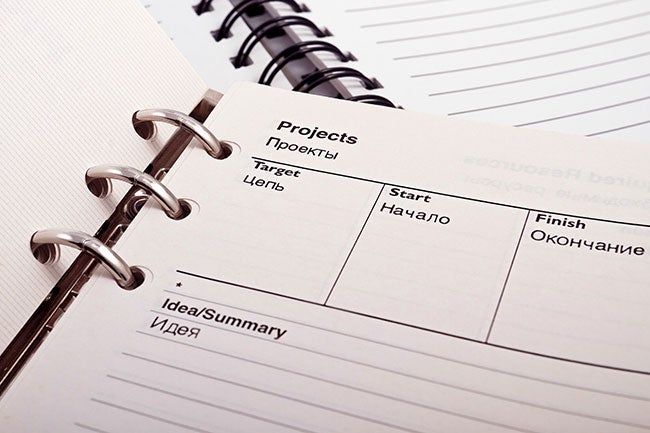 How Do I Become a Program Manager?
In many cases, program managers start their careers as project managers. This is a great way to build foundational skills that you can apply to a career in program management. In addition to experience, program managers also need a bachelor's degree in business administration, communications, or another related field such as marketing. 
You may also need an advanced degree such as a master's in management and leadership or a master's in business administration (MBA). Having an MBA or other high-level management degree can make you a more desirable candidate.
If you've already earned your degree or you're currently working as a program manager, you should consider earning program management certifications, joining a related professional organization, and regularly attending industry seminars, conferences, or events. This continued education can help you stay up to date on new methods and best practices so that you continue to grow in your role. 
What Skills Does a Program and Project Manager Need?
Generally speaking, the ability to manage projects is a skill that can transfer to a number of jobs in a number of industries. In fact, project management ranked as the most sought-after skill in 2021, according to a report by Business Talent Group.   
There are some skills that project and program managers both need, such as the ability to communicate effectively, to operate in a highly organized manner, and to collaborate successfully with other team members and departments. However, given their different roles and responsibilities, there are key differences in the skill sets required for project managers versus program managers. 
Since program managers work with a variety of stakeholders, they need to be strong leaders and strategists. They should also have excellent problem-solving and negotiation skills, as well as experience planning budgets and building teams.   
Project managers, on the other hand, need to be detail-oriented planners who can keep a project moving forward. They should have experience working with project management software and planning tools, as well as knowledge of different project management methodologies.

How Much Do Program and Project Managers Make?
The median salary for project managers is around $94,500 per year, with experienced PMs in certain industries earning more than $150,000 per year, according to the U.S Bureau of Labor Statistics (BLS).
Program managers make a little more, with a median annual salary of around $140,000. The top 10% make more than $180,000, and the bottom 10% of earners bring in around $103,000, according to salary.com. 

What's the Job Outlook for a Program and Project Manager?
Strong! In fact, there's a shortage of qualified project and program managers, and the talent and opportunity gap is only expected to widen. 
Project management jobs are expected to grow by 33% by 2027, according to the Project Management Institute (PMI), while the BLS predicts that management occupations will rise by 9% from 2020 to 2030.  

Do I Need a Degree to Become a Project Manager?
You don't necessarily need a degree in project management to become a project manager, but the combination of an undergraduate degree and a project management certification is the best way to get noticed by employers. According to the PMI, about 43% of project managers hold a bachelor's degree, and 46% hold a master's degree. Earning a master's degree can help you thrive in your field, make more money, and move up to higher roles. 

Do I Need a Degree to Become a Program Manager?
Yes. To become a program manager, you need at least a bachelor's degree. Many program managers have a business management degree, plus an MBA or related master's degree. 

How Long Does It Take to Become a Program or Project Manager?
Like most management roles, you'll need a good amount of hands-on experience, along with an education. If you go the traditional degree route, it could take four years to complete your program, plus an additional three to five years to gain experience. 
If you choose to earn your degree at WGU, your program is entirely online, which means you can move through the coursework at your own pace while maintaining your current work and family obligations and save money while doing it. In fact, most WGU students finish their degrees in less than four years. 
So, Which Career Should You Choose?
You can't go wrong with either. Both offer a future primed for growth, opportunity, and a strong earning potential. If you're having trouble deciding, think about what you want your day-to-day role to look like. For instance, if you see yourself leading teams and making strategic decisions for the greater good of an organization, then a program manager role might be a good match. On the other hand, if you're more detail-oriented and like the idea of working on individual projects versus big picture ones, a project manager could be the better fit.
Whichever career you choose to pursue, an online degree program from WGU is a great way to get started. Learn more today!