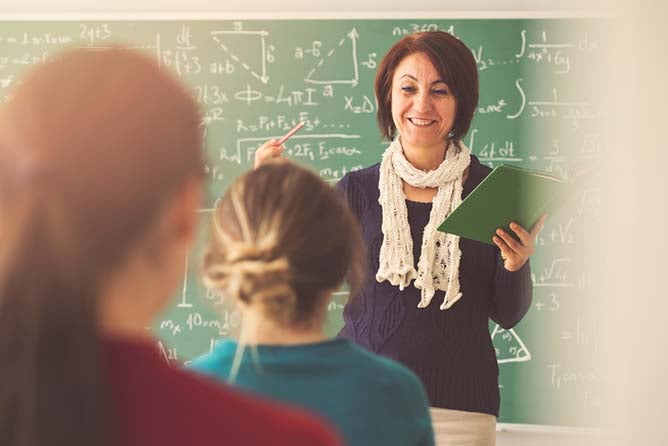 Do you need an ELL endorsement if you don't teach English as a second language? The short answer is yes.
No matter what subject you teach, you probably have English language learners (ELLs) in your classroom. English learners are a large and fast-growing segment of the student population in the United States. According to the U.S. Department of Education, there were more than 4.8 million English learners—around 10 percent of the student body—enrolled during the 2014–15 school year. And that number is growing. The percentage of ELL students increased in more than half the country between the 2009–10 and 2014–15 school years. Five states saw spikes of more than 40 percent.
Given this increase, English learners can't—and shouldn't—be taught by ESL (English as a second language) or ELL teachers alone. A teacher with an ELL endorsement is more prepared to help these students, who tend to lag behind their English-speaking peers when not given the proper language resources. ELL endorsements also make teachers more employable as districts try to close the achievement gap between English-speaking and English-learning students.
What is an ELL endorsement?
An ELL endorsement isn't a standalone degree or certification. Rather, it's a credential for already-licensed teachers that establishes their specialization in ELL instruction.
Teachers who earn ELL credentials take a course of study in which they learn how to teach and meet the needs of ELL students. They learn about language acquisition and bridging cultural differences, while developing instructional strategies to support each English language learner's ability to successfully comprehend, read and speak English. You don't need to be bilingual to pursue an ELL credential. (Bilingual teachers can pursue a different certification.) Instead, ELL endorsements focus on strategies that help teachers help English learners in the be successful..
The impact of ELL education.
Instructors who are able to teach English learners are valuable across all subject areas and grade levels. A 2012 National Center for Analysis of Longitudinal Data in Education Research study of English learners in math classes in the New York City public schools showed that ELL students performed better in math when their teacher had been trained to teach English learners. Even though many of the math teachers in New York spoke Spanish—the home language of approximately 75 percent of English-learning students, according to the U.S. Department of Education—students who studied under bilingual teachers didn't achieve the same results.
In other words, the teachers who'd studied strategies for teaching English learners helped their students the most.
Consider, too, the small town of South Kingstown, Rhode Island. According to the Providence Journal, South Kingstown's English-learner population more than tripled in the last decade, causing the schools to search for a better ELL strategy than pulling English learners out of class for language instruction. ELL credentialing was such a priority for the schools that the district partnered with a nearby college to train and offer endorsement to its teachers. Now, 21 classroom teachers in South Kingstown have ELL endorsements. English learners can now remain in their classrooms and not miss out on content while they're learning the language.
Filling the need for ELL teachers.
The number of English learners in primary and secondary schools is growing, but the number of teachers prepared to help them is not.
According to a 2014 report from the National Council on Teacher Quality, only 24 percent of programs teach elementary teacher candidates strategies for supporting English learners. Teachers must often pursue ELL certification themselves after becoming licensed.
Teachers with ELL credentials will stand out when they apply for jobs. They're essential employees, particularly in districts trying to close the achievement gap between English speakers and English learners, because they're able to teach in a content area and language—and make a difference in their students' lives.