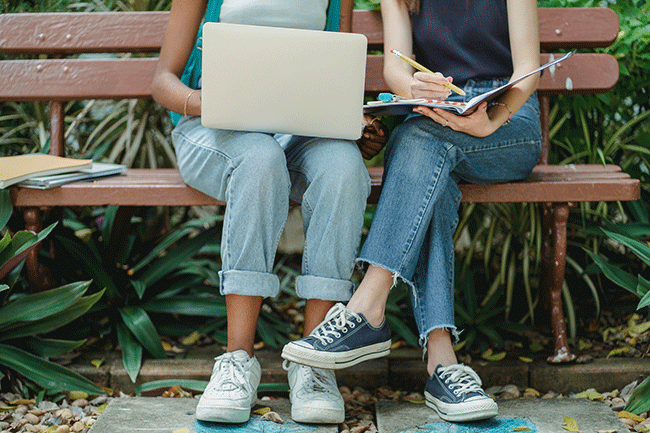 On average, American children spend less than seven minutes a day outside and over seven hours a day in front of a screen. These numbers have many parents and educators seeking outdoor learning options to reintroduce the natural world to children. Transforming the classroom from indoors to outdoors offers children countless learning opportunities, along with increased physical activity, critical thinking, self-awareness, teamwork, and more.
Outdoor learning doesn't have to just be for elementary-age children. Activities can be easily modified to fit a range of learning levels and age groups. If you're an educator or parent who is interested in ways to get kids away from electronic devices and into the great outdoors, here are nine engaging activities for outdoor learning: 
1. Practicing Letter Formation
Letter forming is an important skill for young children to develop as they learn to read and write. This skill is an engaging one to practice in nature. Children can use sticks, rocks, or other found objects as "writing" tools, encouraging imaginative play. Additionally, challenging children to recognize letters in the shape of trees or clouds will help them practice sight words, an important skill for young readers. 
Exercises that improve memory are beneficial for children across all academic subjects and are fun to practice outdoors. Consider using colored stones for students to hide under leaves or rocks, then having them use memory to find them. Similarly, giving students the task of identifying and remembering landmarks when walking a path or trail in the woods will help increase their memorization skills. Overall, memory games help develop a child's attention, focus, and concentration.
There are many ways for children to learn simple mathematics in nature, as the outside world provides a constant environment for quantifying. Young children can practice number order by using objects like sticks and leaves stacked in groups. It's also fun to challenge children to find numbers naturally occurring in nature, like the leaves of a three-leaf clover or the legs of a spider. Practices like this enhance a child's visual association as well.
4. Texture Scavenger Hunt
Learning new words and their meanings is always important for expanding a child's reading and communication skills. A texture scavenger hunt provides a fun and challenging practice for young minds. Simply place four objects with different textures into four separate boxes and ask each child to close their eyes, reach into the boxes, and describe the objects. The activity can be made even more challenging for older children by asking them to "only use words that begin with the letter C" or to "describe the different objects with rhyming words." Either way, vocabulary games further develop a child's comprehension and fluency.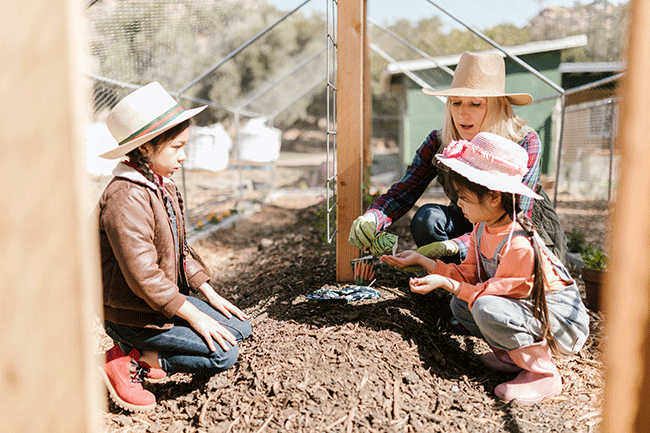 Many studies have shown the positive physical and psychological benefits of spending time in a garden. Young children experience stress and worry just as adults do, but they often don't have the language or advocacy to process those complicated emotions. Gardening can help with that. Consider giving each child a flower or vegetable to plant in the school's garden or at home and encourage them to tend to it throughout the school year. Not only will they have an opportunity to practice responsibility, but gardening is also an excellent way to learn about biology, ecology, nutrition, and more.
Team sports improve collaboration and communication skills while also helping to reduce stress, depression, and anxiety. Beach volleyball, soccer, or outdoor basketball, for example, can teach children to work together toward a common goal. Dividing into teams, assigning positions, encouraging one another's progress, and receiving feedback from the teacher or adult facilitating the game are all lessons that translate to stronger emotional intelligence. Plus, regular physical activity has shown to be beneficial for kids with ADHD. 
A nature hike is an excellent activity for learning and exploration. Children can learn about native flowers, birds, insects, plants, and trees and practice identifying them as they hike. It can be fun to have children keep a nature journal where they can sketch and record their findings on their walks. This practice encourages them to interact with nature with curiosity and wonder. Additionally, hiking provides an excellent opportunity to practice navigation skills by reading maps, using a compass, and understanding trail markers.
8. Cleaning Up the Beach/Park/Wood
Providing opportunities for children to learn about taking care of the earth helps them to be more responsible and respectful towards nature and all living things. First, start with taking children to the beach, park, or any shared community space. There you can talk to them about the importance of keeping communal spaces clean and cared for. Then, provide them with supplies and instructions for picking up litter. This is also a great way to teach them about recycling and how to separate garbage. This activity is not only fun and helpful to the community but also develops young minds to be eco-conscious.
9. Inspire Art in Students
Nature is one of the greatest sources of creativity, and inviting children to find inspiration for art while interacting with nature is a wonderful activity for self-expression. Consider taking students to an open field or waterfall and asking them to create a piece of art in response to their time there. This could be a photograph, a collage, a drawing, a poem, a song, or a dance. Overall, providing the time for a young mind to reflect and then respond to the natural world connects their individual existence to the larger, more global experience. 
Benefits of Outdoor Learning
Many parents voice a desire for non-academic skills to be reinforced while in school, all of which can be developed by spending time outdoors. Most notably, outdoor learning helps children experience:
Resilience
Adaptability
Responsibility 
Inquisitive thinking
Creativity 
Self-awareness
Confidence
Self-esteem
Collaboration
Communication
Problem-solving
Self-regulation
The world is becoming more dependent on technology, and it's vital that parents and educators continue to reinforce the value and importance of spending time in nature for children. Starting small, like blocking out an hour of outdoor play per day or signing your child up for a nature day camp, can be the first step in their journey to learning from the natural world. 
Do you want to impact the next generation of learners? Then check out WGU's online teaching degree programs. Whether you're looking to begin a career in education or to further your expertise, WGU's teaching degrees provide the knowledge to step confidently into the classroom in any of the 50 states. Plus, WGU offers the support and flexibility needed to earn a degree at your own pace and comfort level.  
Frequently Asked Questions
What is an example of an outdoor learning activity?
A nature hike is a great example of an outdoor learning activity. While hiking, children can learn about plant or insect identification, trail safety, physical health, and more.
What are the benefits of outdoor learning?
Learning in nature teaches resilience and adaptability, develops reflective and inquisitive thinking, provides sensory, social and emotional interactions, and encourages holistic development.