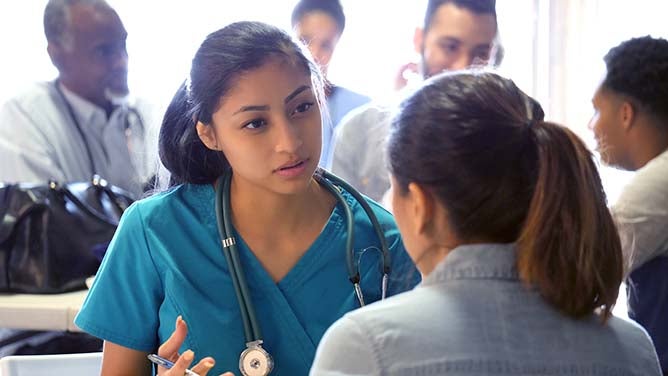 Many healthcare providers enter the profession with the same goal: to help people. There are a number of ways to accomplish that goal: providing bedside care as a nurse, contributing to the enhancement of medical facilities as an informaticist, teaching the next generation of nurses as an educator. But if you're hoping to affect whole communities—especially low-income and vulnerable communities—community health education might be for you.
Who are community health educators?
Community health educators generally take the "teach a man to fish" approach to healthcare: they go into communities and teach wellness-oriented behaviors to empower these groups of people to live healthier lifestyles. The Bureau of Labor Statistics notes that community health educators develop and lead programs aimed at improving the health of individuals and communities and bridging the gap between communities and healthcare providers in hospitals and physician's offices.
Further Reading: Why you should become a nurse educator.
Health educators work in a variety of settings, including government agencies, hospitals, nonprofit organizations, doctors' offices, and private businesses. Government agencies are the most common setting: 19 percent of the U.S.'s 61,700 health educators worked at a government agency in 2018, the Bureau of Labor Statistics reports. Health educators generally work full-time, although seasonal jobs tied to specific programs might exist.
What do community health educators do?
No matter where they're employed, community health educators' work generally begins by assessing their target community's current conditions and determining the resources that community members need to improve or maintain their health. This work involves a mix of technical and soft skills, as educators collect data from electronic medical records and interact directly with the individuals in the community.
Once they've gathered the necessary information, community health educators create health and wellness plans and hold events and training sessions to instruct people about relevant health conditions. In many cases, educators will create training materials for each session, and they evaluate programs and materials after sessions to improve them.
While community health educators primarily focus on teaching groups of people, there are opportunities for one-on-one work, too, as community health educators train individuals on managing health conditions such as diabetes or asthma. They also help individuals find additional health information or services within the community.
Glassdoor estimates that the average community health educator makes around $50,500 a year. Given the increased emphasis on providing quality healthcare while spending less money, demand for health educators is expected to grow 13 percent by 2028, the Bureau of Labor Statistics says.
How can you become a community health educator?
Successful community health educators have a unique mix of skills and experience: they know how to identify conditions, diseases, and treatments; they're able to effectively and compassionately communicate tough medical concepts to individuals; they know how to gather and analyze patient and community data; and they can efficiently connect the dots between medical conditions and community or social factors such as access to resources, food, or medical care.
According to the Bureau of Labor Statistics, community health educators must have at least a bachelor's degree in a healthcare field, which will help you develop the foundational healthcare skills and learn the basics of healthcare communication. Many candidates also pursue the Certified Health Education Specialist credential offered by the National Commission for Health Education Credentialing.
A nursing degree is a good choice for people who want to work in community health but could also see themselves providing direct patient care at some point in the future. But a master's degree in nursing education is the best way to develop the right skills and obtain the necessary credentials for community health education. The program trains you not only in the core areas of nursing and education, but also in regulatory policy, community health assessment, and student-centered learning. It'll prepare you to be a successful healthcare provider and instructor.
Making an impact on communities.
The job of a community health educator offers a challenging way to bring real change to your community while rewarding you with an ever-changing career in a growing field. By becoming a community health educator, you could empower groups to take charge of their wellness and live healthier lives. And with an educational background in nursing, you could set yourself up for a long, rich career as a patient caregiver, too.