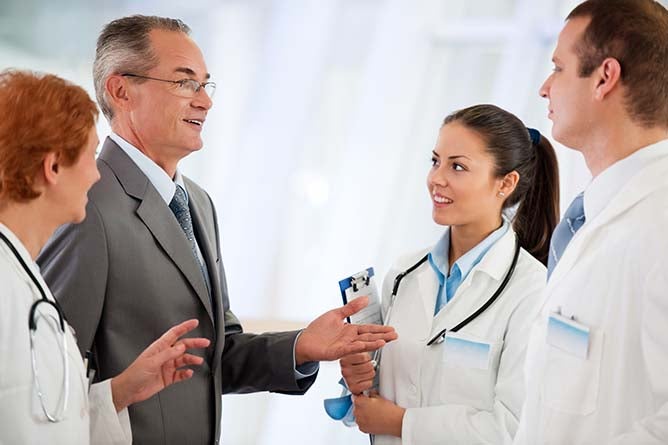 Careers in healthcare don't stop at the bedside. The people who make up the human resources department are the unsung heroes of the healthcare ecosystem. When a healthcare facility has to manage teams of expert clinicians, ensure that all areas of the facility comply with state and federal regulations, and bring on new talent, it takes a talented human resources team to make it all happen. A good HR team can make the difference between a cohesive team of superstars and a facility that struggles to function.
HR roles in healthcare.
The size of a human resources department varies depending on the complexity of the facility, the focus of the industry, and the needs of the particular location. A small facility might employ just one person who handles all the HR duties; a larger, multi-department medical center probably has an entire team of HR professionals working together to manage the diverse needs of its workplace. Some locations, for example, might employ one person who exclusively recruits nurses and another person, maybe two, who recruits physicians.
Within a robust HR team, you'll typically find a few specific roles, such as HR specialists, who handle all the day-to-day operational responsibilities, including recruiting new talent, coordinating interviews, and handling professional development initiatives; HR managers, who oversee and develop teams of specialists; and chief human resources officers, who monitor compliance, make strategic decisions for the department, and coordinate with other areas of healthcare leadership.
Responsibilities of HR roles.
Healthcare human resources is a multifaceted field. If you work in the industry, you're likely to hold at least one of these responsibilities.
A hospital is like a little city. It's populated by kitchen and dining staff, laundry and linen staff, security officers, and gardeners, in addition to patient care providers. Healthcare HR professionals recruit, interview, and hire each of these workers. They sort through applicants, determine who best fits the facility's culture, and hire in compliance with state and federal laws.
After they hire workers, healthcare HR professionals must provide support and education to keep workers in their jobs. Turnover in the healthcare industry is costly: according to a University of New Mexico study, turnover of registered nurses alone costs the industry up to $8.1 million a year. By helping employees take advantage of benefits and fostering positive relationships between staff members, HR professionals can save healthcare facilities some serious money.
Disagreements happen, whether between coworkers or between management and staff. And conflicts that can't be mediated between staff members must be handled by knowledgeable professionals with experience in conflict resolution. The HR department is where these concerns are resolved. It takes a highly empathetic individual with exceptional emotional communication skills to help defuse these situations.
Like HR professionals in any other industry, HR professionals in the healthcare field must be trained to handle payroll, train employees on policies and procedures, and manage conflict. But on top of that, healthcare HR professionals must also stay up to date on all state and federal regulations pertaining to healthcare delivery. All patient care providers must renew their CPR cards every two years, for example, and every tuberculosis screening must follow the surveillance laws set by the state. HR professionals must make sure that every provider follows these detailed regulations.
This also includes compliance with labor laws, which can vary greatly from state to state. Patient care is a 24/7 responsibility, but individuals still require regular breaks to function at their best and to protect the facility from labor disputes. HR specialists must know these regulations and communicate them to managers and staff. They also need to be available to answer questions and give guidance as new situations develop.
Becoming a healthcare HR professional.
It takes a lot of skill to combine the knowledge and skills required to be an exceptional HR professional. In an HR role, you'll need the following skills to be successful.
Communication is about more than talking clearly. As an HR professional, you'll need to develop the ability to listen with empathy, communicate using nonverbal cues, and adapt your communication to writing. You'll help employees feel heard, and in turn, convey their messages and concerns to upper management. You'll also help employees communicate with each other during disputes and describe complex policies and procedures clearly and accurately.
Information integration skills.
HR professionals in healthcare ingest a lot of legal information and interpret that information as it applies to the many nuanced situations that come up every day. A prime candidate would have a thorough understanding of legal terms, a good memory for these regulations, and the ability to adjust to new information, as state and federal laws are constantly subject to change. Detail-oriented individuals would excel in HR.
HR professionals spend a lot of their time providing information to people. Whether it's training a new hire, advising an employee on their health benefits, or explaining employee-retention issues to higher-ups, information delivery is a big part of the job. Enjoying the opportunity to educate others and being able to do so in a dynamic and interesting way can be desirable attributes in an HR professional.
When you're considering your options for careers in healthcare, don't overlook the human resources department. The work that HR professionals do is essential to the success of the organization and the daily job satisfaction of their coworkers. A bachelor's degree in human resources management can provide the knowledge and experience that you need to be successful.