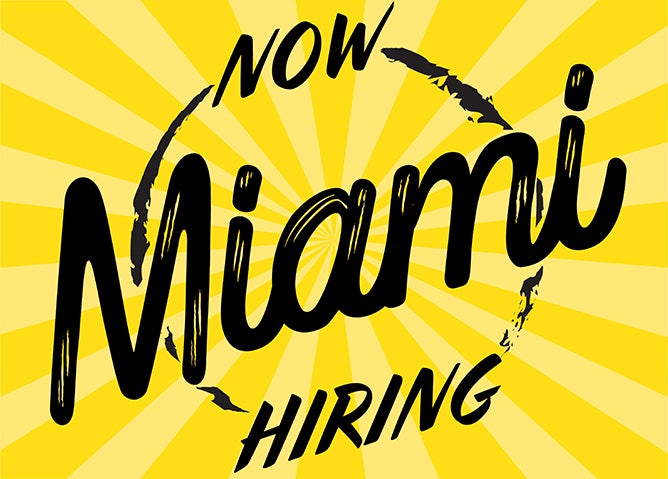 The Sunshine State is a hot place to be in the job market.
Miami-Dade County, which encompasses 35 municipalities within 55 square miles, has a population of more than 2.7 million people, according to the U.S. Census Bureau. And Miami jobs are plentiful: Miami-Dade County hit its lowest-ever unemployment rate in February 2019, Miami Today reported. When you consider the area's pristine beaches, multiple professional sports teams, and host of outdoor activities—not to mention that the average temperature is 77 degrees Fahrenheit, according to U.S. Climate Data—it's no surprise that the area attracts job prospects.
Given its growing population and bountiful employment, Miami is a booming locale for professionals. Here are four of the fastest-growing jobs in the Miami-Dade region, according to the Florida Department of Economic Opportunity (FDEO).
1. Registered nurse.
Miami-Dade County needs registered nurses (RN); the FDEO estimates that 1,992 new RN jobs came open in 2018, and that the number of jobs is growing by 1.72 percent each year. RNs coordinate patient care and regularly collaborate with physicians in hospitals, private practices, and home health settings. They attend to patients, interpret test results, administer medication, and show patients and their caregivers how to manage health conditions. They also handle administrative duties, such as recording medical histories and updating patient records.
An RN-to-BSN nursing degree provides RNs with extensive clinical experience while developing critical thinking, communication, and leadership skills. An RN-to-BSN degree can help you stand out from other job applicants and, according to PayScale, might net you more money. Graduates can qualify for specialized nursing careers that require a bachelor's degree in addition to a license.
2. Business operations specialist.
The FDEO reports that Miami-Dade County saw 1,285 new specialist openings at area businesses, non-profits, and government agencies in 2018. A business operations specialist sets goals to improve operations, often managing multiple departments while monitoring staffing and budgeting and preparing reports.
Most employers require business operations specialists to hold a four-year degree, like a bachelor's degree in business administration. In a BA program, you'll learn leadership and management skills and develop knowledge in areas such as finance, strategy, economics, marketing, and communications. With over 83,000 businesses in Miami-Dade County, according to the Census Bureau, the area is in great need of knowledgeable business professionals.
3. ELL/ESL teacher.
The Migration Policy Institute reports that 22 percent of Americans over age five don't speak English; in Florida, it's 29 percent. There's also a critical teacher shortage across the Sunshine State: a 2018 Florida Department of Education report projects a 3.65 percent vacancy rate for English-language learning (ELL) or English as a second language (ESL) teachers in Miami-Dade County alone, a district with year-round recruitment.
ELL and ESL teachers teach English and the cultural norms of the U.S. to non-English-speaking K–12 students and adult learners. Sometimes ELL and ESL teachers instruct students as an entire class; others work primarily one-on-one. Using a variety of instructional modes, they teach basic English reading and writing skills and word pronunciation. Cultural lessons are another important component of the job, as students learn to assimilate in the classroom or communicate with English-speaking co-workers.
ELL/ESL English teaching programs are available to licensed teachers. As long as you ensure that the program you choose is recognized by the Teachers of English to Speakers of Other Languages (TESOL) International Association, an ELL/ESL degree can open up opportunities working as a classroom ESL specialist or as a curriculum specialist in district offices.
4. Software developer.
Software developers are in high demand in Miami-Dade County, too. Four hundred and ninety-three developer jobs opened in the county in 2018, the FDEO reports, and there'll be more openings to come, especially for applications developers—that field is growing at nearly 3 percent every year. Software developers analyze user needs like efficiency, problem-solving, and entertainment desires, then design, test, and code software to meet those needs. Software developers also document the process for future maintenance and upgrades.
By pursuing a bachelor's degree in software development, you'll get expert training in computer programming, web development, and application development, which will prepare you for the field. At WGU, you'll have a choice between two major programming languages: Java, supported by computers, phones, and smart appliances; and C#, which is used in big tech. Both coding languages are in high demand, so you will want to take a deeper dive into the specific job opportunities associated with each before picking a path.
Miami jobs for every career path.
The Miami-Dade area offers opportunities in a wide variety of industries. Regardless of which Miami jobs capture your interest, you'll first need to gain skills and expertise through a degree-granting program. With a degree in hand, you can wave hello to sunny skies and warm temperatures.