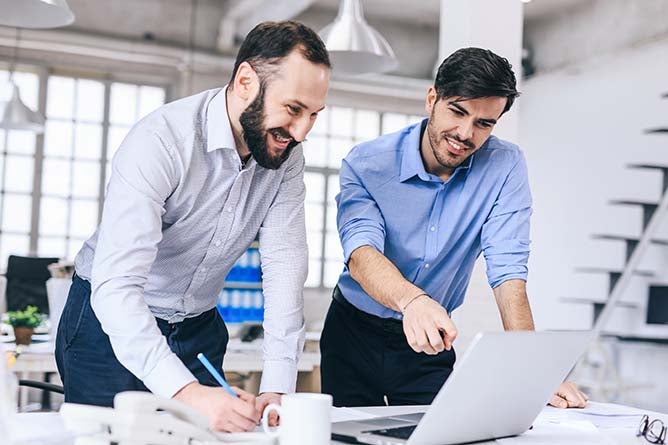 If you've got the leadership chops and the IT experience, you might find yourself applying to IT management jobs one day. But not all management roles are the same. Someone who manages a team of software developers faces a very different set of challenges and circumstances than someone who manages a team of field technicians.
To help you decide what role you might be best suited for, here's a look at three promising IT management careers—along with the skills and training these roles typically require.
IT project manager.
IT project managers keep projects on schedule and on budget. They assess a project's needs, set goals and timelines, identify the right resources for each task, delegate and assign tasks, and manage change as it occurs.
While managers in every IT field have to juggle a wide range of tasks and responsibilities, IT project managers are uniquely responsible for managing their team and creating and executing project plans, so they need strong organizational skills.
For instance, IT project managers have to be aware of every team member's strengths so that they can put team members in a position to succeed. They might place a developer with strong coding skills on backend maintenance and someone with good problem-solving skills on quality assurance, for example. To effectively keep people and tasks on track, project managers must be able to communicate assignments, motivate team members, manage expectations, and usher employees successfully through change.
Project managers need a solid foundation of IT knowledge and soft skills—more so, maybe, than any IT manager. To that end, they often have a bachelor's degree in information technology. A degree in IT management, however, is perfect for people pursuing a project management career, as it combines IT and business to give you the basic technology and project management skills you'll need for success. The IT bachelor's program at Western Governors University builds the CompTIA Project+ certification and 11 more coveted industry certifications into its coursework—giving you a leg up in your project management career.
If you want to further enhance your project management career, consider earning a master's degree in information technology management, which will give you the opportunity to earn a highly regarded Certified Associate in Project Management certification from the nonprofit Project Management Institute.
IT service manager.
Where IT project managers focus on executing project plans, IT service managers oversee the design and implementation of IT services that enable teams to complete those projects. They manage service technicians, set IT service goals, and monitor the performance of support staff by collecting data and comparing it against target goals.
IT service managers are the brains behind an organization's technology operations. They must have strong problem-solving and technical skills because they often serve as the escalation point for issues that support staff can't resolve. But they also must be able to communicate technical information simply and effectively to nontechnical employees. They need strong organizational skills and the ability to manage IT support staff, some of whom might work remotely.
IT service managers must be technologically proficient—perhaps even more so than project managers—as they're tasked with maintaining the systems and networks that enable business operations. They also often communicate with clients to make sure that their systems are working properly. Professionals hoping to become IT service managers would do well by earning a bachelor's degree in computer science. WGU's program immerses you in systems design and maintenance, and it gives you the opportunity to earn the ITIL Foundation Certification, which proves to employers that you're familiar with the widely respected ITIL framework for best practices in IT service management.
Software development manager.
If IT service managers maintain operations for an organization and IT project managers ensure that those operations go off without a hitch, software development managers lead teams in developing software on the backend of these operational systems. They're experts in computer programming principles, including coding languages like C# and Java, platforms, and methods.
Software development is a more creative IT field than project or service management, and managers in this area are skilled at managing and encouraging creative output from employees, which requires a different skill set than directing routine tasks. These managers know how to foster creativity and outside-the-box thinking, skills that help solve problems and design innovative software. Successful software development managers create an inspiring environment where successes are celebrated, failures are regarded as growth opportunities, and developers feel empowered to take risks.
With certifications in CompTIA and CIW built into the program, a bachelor's degree in software development is best for aspiring software development managers. The program teaches the necessary skills in computer programming and web development, but it also helps you develop managerial skills—such as leadership, communication, and organizational behavior—that you need to be an effective people manager.
Choosing a career path.
These are just three of the many IT management careers out there. Choosing the right career path is a matter of determining which role is the best fit for you based on your skills, expertise, and interests.
If you're more technically oriented, an IT service management career might be most appropriate. If you thrive in a more creative environment, managing a team of software engineers might be in your future. If you like the challenge of leading complex projects with many moving parts, an IT project management career could be in the cards.
Whatever path you choose, WGU has a degree program that will give you the technical and leadership skills you'll need for success.