Motivated, advancement-focused business professionals know it helps to have an MBA to be considered for an upper management promotion or to qualify for an executive level career. But getting into a respected college of business can seem as daunting as actually earning the degree.
Traditionally, candidates have had to prepare for, take, and receive a high score on the Graduate Management Admission Test (GMAT) in order to be considered for admission into a high-quality MBA program, followed by two years of intensive, full-time study.

But does that antiquated process still work in the real world for today's busy working professionals?
Some highly respected universities don't think so. Let's put traditional thinking to the test.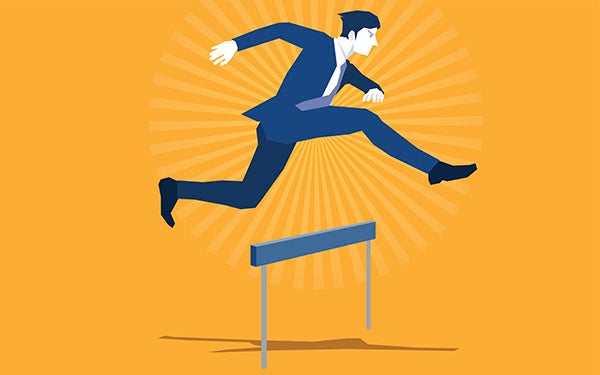 That was then—this is now.
Fortunately, forward-thinking schools like Western Governors University do not require entrance exams such as the GRE or GMAT.
Instead, WGU looks for evidence of prior education and work experience when evaluating applications to its MBA program.
First, you will be asked to submit a transcript verifying receipt of your bachelor's degree from a recognized, accredited institution. Next, you will need to submit a résumé demonstrating at least three years of significant experience in business, industry, or at a nonprofit organization. This helps your Enrollment Counselor assess if you are a candidate for WGU's innovative online MBA curriculum, which adheres to competency-based education (CBE). 

Competency-based education is tailor-made for today's working professional.
This competency-based approach begins, in a sense, with the admissions process, but certainly doesn't end there — WGU's MBA program is built entirely around the concept of competency based-education or CBE.
In short, CBE is designed to reward the knowledge students have already gained from hands-on work experience.
Students are able to progress through coursework as soon as they've demonstrated mastery, which means they can move more quickly through material they already understand. Furthermore, those same students are able to spend extra time and additional study on the coursework and material they are less familiar with. 

This is why, for most students, CBE-based curriculums offer significant advantages over traditional GMAT-dependent MBA programs. Here are a few things for you to factor into your research and decision-making process. 
---
Advantages of competency-based education programs:
1. YOU CAN GRADUATE FASTER.
Full-time MBA and Executive MBA programs take two years to complete and follow a traditional university's rigid schedule. Add to this the hundreds of hours most students spend studying for the GMAT exam, and the timeline grows even longer.
In fact with regards to the GMATs Forbes reports "most students require four to six months of preparation to reach their full potential. The brain takes time to master concepts, and if you require a substantial amount of time lapse since reviewing a subject, you may have to start again at square one when you open your books a few weeks later."
Contrast this to the competency-based programs offered at WGU, and you'll discover your current knowledge, schedule, and study habits give you an enormous amount of control over how quickly you can advance through your coursework and graduate with your MBA. In fact, 69% of MBA candidates at WGU graduate in 6–18 months.
2. IT WILL COST A LOT LESS.
Enrolling in a traditional MBA program is an enormous investment, with many top universities charging as much as $100,000 for a two-year, full-time program. Factor in hundreds or even thousands more dollars for GMAT prep materials or courses, and your ROI can take even longer to achieve.
Low tuition and the ability to accelerate make WGU's online MBA a more affordable option than most other schools. WGU offers a rigorous curriculum with competitive post-graduation results for around half the cost—or even less of similar degree programs. By charging per term rather than per credit – and empowering you to accelerate through material you know well or learn quickly – WGU helps you control the ultimate cost of earning your MBA. 
3. YOUR PACE AND PROGRESS ISN'T DICTATED BY YOUR PEERS.
In a traditionally structured curriculum, you'll be admitted based upon your GMAT scores, which assess your analytical writing skills, integrated and quantitative reasoning, and verbal comprehension.
You'll then be placed with students who, no matter their GMAT scores or real-world experience, will all advance at the same prescribed, rigidly structured pace until each course and semester are completed. Generally speaking, most students require 2 – 3 years to complete a traditional MBA program.
Conversely, universities that espouse competency-based learning acknowledge that business professionals have, by the very nature of their current roles and responsibilities, already developed significant knowledge in business, management, and strategy.
At WGU, you'll have the freedom and flexibility to complete coursework on your own terms and breeze through subject matter you already know and understand.  
---
Ready for a corner office?
A bigger salary? An executive position? Professional respect? Whatever your main motivation might be for pursuing your MBA, competency-based education offers you the most direct path to achieving your goals.
At WGU, you can build solid professional credentials specifically designed to help you prepare for a career in mid to upper-level management positions in business, industry, and nonprofit organizations. So, do some critical thinking. Assess the competitive landscape. Make an executive decision. You'll likely come to the conclusion WGU offers an efficient, practical path to earning your MBA. Let's get started!