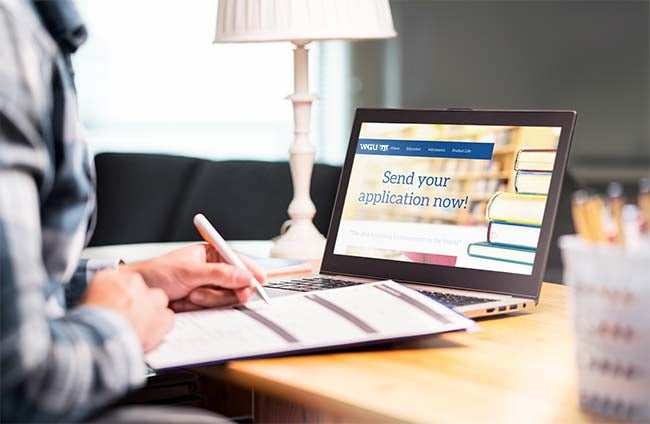 A college degree is a major investment in your future—one that requires a financial commitment. If you've been considering going back to school, you might need some assistance to make college affordable.
The great news is that help is widely available: Federal, state, and local governments offer financial aid for college students, as do nonprofit organizations and corporations. But the process of applying for aid can get confusing, what with so many financial aid terms—such as COA, EFC, and FAFSA, to name a few—to make sense of.
Let's break down the general concept of financial aid and then get into some of those key terms.
What is financial aid?
Financial aid is, essentially, funding that helps students pay for their schooling. A significant portion of the financial aid available to college students comes from the federal government, usually in the form of student loans but sometimes as grants or scholarships.
WGU is approved by the U.S. Department of Education to offer federal financial aid to any student enrolled in a degree program. As is the case at other universities, the first step in accessing that aid is filling out a federal application form. Once it's determined how much federal aid you're eligible for, the school will notify you and disburse the funds, either into a tuition account or your checking account.
Common financial aid terms explained.
As you fill out your aid application forms and talk to college financial aid administrators, you're bound to run across some potentially confusing terminology. To help you sort through the alphabet soup of acronyms and the laundry list of financial aid terms, we've assembled this glossary, which will help you navigate the financial aid application process and get the funds you need to pay for your degree.
The academic year is how an academic institution defines when its year begins and ends. Every college and university defines its own academic year; the typical college academic year starts in August or September and ends in May or June. WGU, though, is different; you can start your degree program on the first of any month.

It's important to know how the colleges you're applying to define their academic year, as application deadlines and aid disbursement are usually tied to those dates.
The cost of attendance (COA) is what you think it is—it's the estimated yearly total cost of attending an institution. The tally could include tuition and fees, course material and supplies, computer equipment, housing, food, personal needs, and other expenses, according to the National Association of Student Financial Aid Administrators. Traditional brick-and-mortar institutions may also include transportation and parking, health insurance, though WGU does not typically include these in cost of attendance.
Your demonstrated need is your COA minus the estimated amount you'd be able to contribute to the cost, based on an evaluation of your financial situation. This determination helps set how much need-based financial aid you can receive.
Expected family contribution.
Your expected family contribution (EFC) is calculated using a formula established by law, and schools use it to determine how much federal aid you're eligible to receive. The formula factors in your family's income, assets, and benefits, like unemployment and Social Security; the size of your family; and the total number of family members who will attend college that academic year.
The EFC doesn't tell you how much you or your family will have to pay for college, and it doesn't limit your access to non-federal sources of financial aid. It's just a measure of your family's financial status to help determine your federal financial aid eligibility.
Free Application for Federal Student Aid®.
Every student seeking federal financial aid for college must fill out the Free Application for Federal Student Aid (FAFSA®) form before the start of each academic year. Federal Student Aid, an office of the U.S. Department of Education, processes the applications. Colleges use data from your FAFSA to determine your financial aid eligibility.
Merit aid is awarded based on achievements or qualities deemed worthy of a reward. This aid often comes as a scholarship awarded for a student's academic achievement, special talent, career interest, or affiliation with a certain group, or some combination of eligibility criteria.
Need-based subsidized loan.
Need-based subsidized loans are available for undergraduate students with financial need from the U.S. Department of Education's Federal Direct Subsidized Student Loan program. The government pays the interest on the loan while the student is enrolled in college at least half-time, during the first six months after you leave school, and during periods when the government lets you defer repayment.
A Pell Grant is a federal grant for undergraduate students whose EFC falls below a threshold set by the federal government. Funds from a Pell Grant are distributed over the length of your enrollment, and, unlike loans, do not need to be repaid.
An unsubsidized loan is a federal direct student loan where the government doesn't pay the interest; you're responsible for paying all of the interest accrued. Unlike a subsidized loan, this type of loan is not need-based.
Work-study programs are part-time employment to help students with financial aid pay for their college education. Participating educational institutions administer the Federal Work-Study program on their campuses. The program is accessible to undergraduate, graduate, and professional students with either full-time or part-time course loads. Participating students receive paychecks for their work, which they apply to their educational expenses. The job options available vary by institution, though the Federal Student Aid office says that the program encourages work in community service and activities related to the student's course of study.
Keeping college costs down.
WGU is committed to making college education affordable, and our goal is to help you graduate with little or no debt. WGU's Responsible Borrowing Initiative helps students reduce their debt load and has pushed the school's student loan default rate to less than half the national average. Our tuition is only about half the cost of other online universities, and we charge a flat rate for every six-month term—meaning that the more courses you complete each term, the more affordable your degree program becomes. WGU also offers a variety of scholarships to qualified students and provides funding from the federal government, corporations, and foundations.
School yourself on key financial aid terms so you can access the funds to realize your dream of earning a college degree.