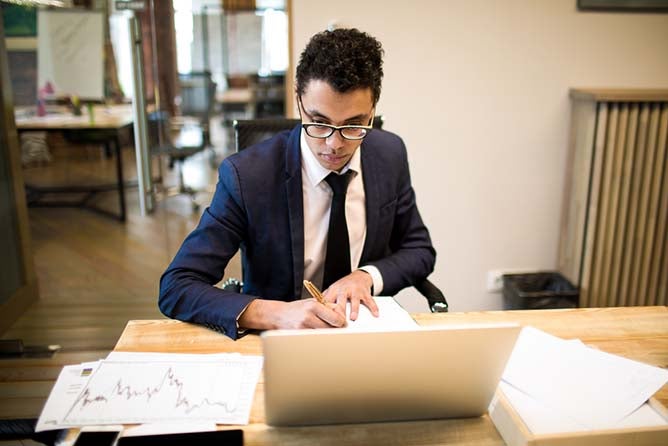 When you earn a business degree, your career options aren't by any means limited to working at a private business. The public sector—the part of the economy that's controlled or owned by the government—offers a wide range of job opportunities for those with business training. Many of the skills needed for government jobs are identical to those most in demand in the private sector—the personal, corporate, and nongovernment portion of the economy.
With the right degree, you could find a fulfilling public-sector job in education, law enforcement, scientific research, military service, healthcare, or politics. These fields always need people who are strong in analysis, communication, organization, and leadership—just the kind of skill set you acquire in business school.
Whether you're looking for a business career in healthcare, management, or IT, one of these four degrees can help you launch a successful career in public service.
1. Healthcare Management.
If you're interested in healthcare and are looking to develop the skills necessary to obtain a position in business management or administration, a degree in healthcare management can be the perfect means of entry into the public sector. Healthcare management curriculum typically covers topics such as accounting, communication, regulation, and financial resource management and applies them to the healthcare industry. Armed with industry knowledge and strong leadership and communication skills, you could become a public healthcare administrator, where you might help run a government-owned hospital or clinic or a health department at the local, state, or federal level.
Healthcare administrators often have business-oriented responsibilities; these can include developing department goals, managing the finances of their department or facility, and improving the efficiency of healthcare services, according to the U.S. Bureau of Labor Statistics. A degree in healthcare management will give you the skills needed to be successful in a position that bridges healthcare and business.
2. IT Management.
Public institutions such as schools, law enforcement agencies, and military organizations are just as reliant as those in the private sector on leading-edge technology to improve efficiency, drive innovation, and keep vital information secure. That's why one of the top skills needed for government jobs is information technology expertise.
By earning a business degree in IT management, you'll become proficient in subjects such as networks, information security, and information systems management. The Bureau of Labor Statistics notes that computer and information systems managers are often responsible for conducting cost-benefit analyses of new IT projects and justifying their funding to top executives; in the public sector, those higher-ups could be a local agency director or a board member. A degree in IT management will help you develop not only the technical skills but also the communication and leadership skills needed for success in an IT management position.
3. Master's in Business Administration.
An MBA prepares you for a leadership role in the public sector, and it's a career-boosting credential for those who already have work experience. Strategic thinking, organizational development, and people management are all part of the course of study for an MBA—and these are all qualifications that companies are looking for in a dynamic, successful leader. With an MBA in hand, you could be on your way to becoming a police chief, a university president, or a financial manager.
4. Master's in Management and Leadership.
While the MBA curriculum generally adopts a traditional analytical approach to teaching business management, a master's in management and leadership puts more emphasis on strategic and interpersonal skills. The degree program is designed to help you develop the qualities you need to inspire the people you manage, create a positive workplace culture, take on complex issues, and implement organizational change. This degree could provide a strong educational foundation for someone who aspires to take the helm of a government agency's reform initiative, direct a groundbreaking research project, or run for public office.
These four examples are but a glimpse into how pursuing a business degree can help you master the skills needed for government jobs. If you think your calling might be a career in public service, business school can prepare you for that challenging and rewarding work.