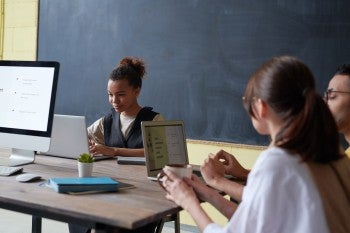 In the world we live in, technology has become an everyday staple. Phones, computers, smart devices—technology surrounds us and impacts us every minute of the day. All this technology gives a great opportunity to expand education in the classroom, save time, and more. Apps, social media, and games can actually help deepen a student's understanding and engagement in a particular area. Learning and education are changed with digital programs and resources that can completely change education as we know it. 
Schools around the United States are getting on-board with technology in classrooms, encouraging educators to use tech by making sure broadband internet is available more than ever before. Many states are joining federal efforts to make classrooms technology rich so students can learn good ways to harness and learn from technology. Those who are studying to become teachers can greatly benefit from understanding how to utilize technology in the classroom as an important part of their educational plan. There are even advanced education options that allow educators to research and discover more about the benefits of tech in the classroom.
How to use technology in the classroom.
There many important questions educators need to ask themselves to decide when to use technology in their classrooms, and its overall role in education. They can ask things like:
How will tech help students better understand content?

What is a realistic goal for tech integration in our classroom?

How many tools should I be using?

How many tools at once should I be introducing?

What tech skills do my students already have?

How will I monitor and ensure that the tech is being used appropriately?
Teachers should be ready to answer these questions about their classroom in order to be able to have tech integrated in a positive way in their classroom. Teachers who can answer these questions are able to make specific plans about how they will use technology in their classroom. The more preparation educators are able to put into their plans, the more successful they are likely to be.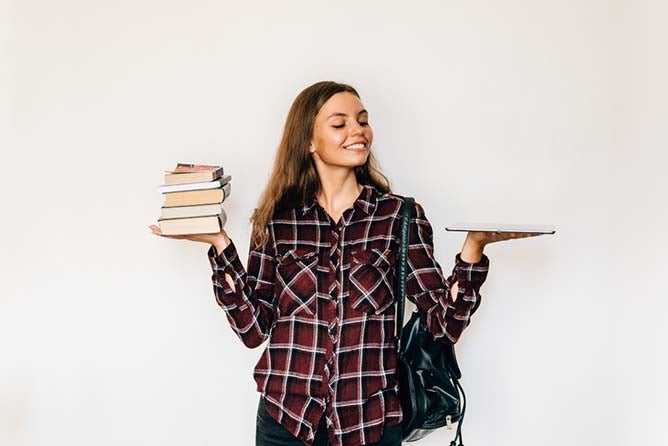 Benefits of technology in the classroom.
There are many benefits for utilizing technology in a classroom. The students of today are well-versed in technology and need to be able to use it for their jobs in the future. It's important to use tech as part of their learning to help them better understand concepts, and prepare them for the requirements of technology in their futures.
Classrooms that utilize technology often see a changing dynamic where students are more engaged and enthusiastic about learning. Students benefit from learning in a classroom in many ways, including:
Children taking control of their own learning.

Students are more engaged in the lesson.

Students are able to problem-solve.

Digital tools create an interactive classroom.

Preparation for the technical requirements of future careers.

Expanded educational opportunities.
While some worry about the distracting, negative effects of technology, careful consideration can help educators be prepared so they avoid the negative distractions.
There are a wide variety of apps that teachers can use in their classrooms to help students learn and love education. If you're studying to become a teacher, it's valuable to look into the different kinds of technology options you have available to you. Different kinds of teachers can benefit from different kinds of technology activities in their classroom. Education is changing, and as the digital world advances, teaching has to change as well. Teaching and instruction have to shift to a more digital realm in order to keep up with the students who are in it. Their skills in tech can't surpass the skills an educational professional has. Teachers need to help harness technology, not fight against it. Teaching and education can have huge benefits when instructors truly harness the power that these apps and resources can offer.
Feedback and input. In education, many teachers can benefit from using feedback and input apps in their lesson plans. This helps students be able to engage and communicate in a way that is different, fun, and simple for them. It can be great to ask a question to students and generate a discussion using an app. Students can also answer questions in a fun quiz-style fashion that helps teachers immediately see where students are with their comprehension. Popular tools in this arena include SurveyMonkey, Google Classroom, AnswerGarden, Edulastic, and more. 
Gamify lessons. Many students love playing games and can utilize gaming apps to help them learn while having fun. Math, history, spelling, science—every subject can be learned and practiced with gamify apps. Virtual instruction doesn't even appear to be education at all in some of these games, helping students learn skills and lessons in way they never imagined. Science and math can become something students understand with ease as they are working to get a new high-score. Educational skills and lessons can become fun and exciting to learns with the help of technology. Many students are able to look at problems and subjects in a new way when there is a virtual game involved. Popular learning games include Class Dojo, Kahoot, Socrative, Wordables, and Scratch.
Collaboration. Collaboration is crucial in education. Apps can help learners work together and share education resources seamlessly. Collaboration apps are key for group projects that you assign to learners, and can help them stay organized and work together easily. Digital, educational projects become something students are excited about when the resource is something they connect to. These kinds of academic apps can also be great practice for collaboration in future careers. Some popular collaboration apps include ClassPulse, Conceptboard, iBrainstorm, Padlet, and Quia. 
Interactive discussions. Communication has drastically changed with the advancements of technology. As teachers work to integrate interactive discussion apps into their classroom, students will better learn from each other and be prepared for the kind of interactions they will someday do at work. Education hinges on students being able to learn from one another, and online education and blended learning environments help facilitate great discussions. Instruction is easy to go back to with online resources, so students can remind themselves of the overall goal. Teachers can vet these kinds of apps to make sure they are safe and secure for students. Popular interactive apps include Chatzy, Backchannel Chat, Prezi, Dotstorming, GoSoapBox, GroupMe, and more. 
Unique guest speakers. Technology allows students to interact with people around the world. Students can learn from unique guest speakers and make connections with other students somewhere else in the world. Reports on states or countries can be made more interesting by talking to people who actually live there. Students can ask questions to business owners, authors, historians, and politicians as they work to learn about the world around them. Popular interactive apps that can help students are FaceTime, Skype, Google Hangouts, Facebook Live, Twitter, and more. 
If you're earning a degree in teaching, it's valuable to learn about how technology is changing the classroom. Start preparing and learning about technology that works well for students so you can create lesson plans and a classroom environment that really helps students to learn.
Your curriculum can transform with new technology and learning styles. The grade level and personality of your students can help you determine which kind of digital tools will be best for them. Academics who embrace technology find that their students are more excited and engaged with learning, and that they are more easily able to teach difficult concepts. Student-centered education is based around the idea that academics give students the resources they will thrive with, and that includes technology.
If teaching is in your future, start preparing now by learning about technology and how it works well in the classroom.