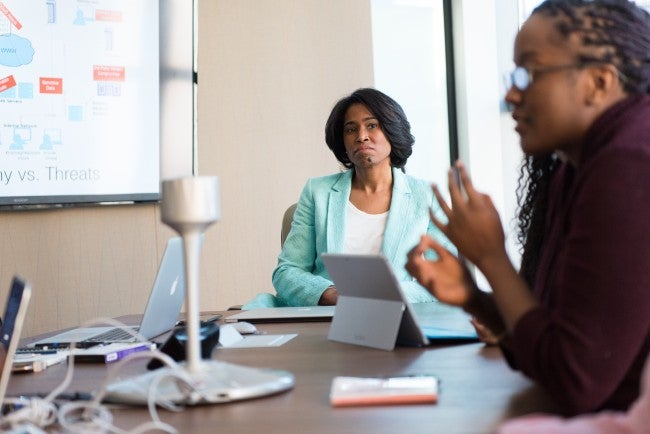 There are many different approaches to leadership. We see this in effective leaders and managers all around us. They may call on any one of the many styles and theories depending on their team, the workplace, or their overall goals. Business is constantly transforming, and it's important for leaders to be able to adapt to new situations and change their leadership style to meet the current needs of their organization. Leaders and businesses who can't transform likely won't survive. 
Good leaders use inspirational motivation and intellectual stimulation to help their employees thrive. They want to be good role models for their employees, and work to motivate them so the entire organization can improve. Good leaderships is focused on the idea that the entire organizational structure relies employees who have high job satisfaction, and want the organization to succeed.
This is where transformational leadership comes in. This kind of leadership is crucial for organizations that are focused on disruption and inspiration. Transformational leaders use intellectual stimulation and inspirational motivation to help add to employee empowerment and job satisfaction. Learn more about transformational leadership and how you can adopt this leadership style. 
What is transformational leadership?
Transformational leadership is focused on motivation for employees to create change, innovate, and shape the future of the organizational structure. They know that being a charismatic leader is all about connecting with employees and helping them feel motivated to drive success. Transformational leaders don't micromanage—instead they foster a culture of employee independence and ownership. This transformational organizational environment allows employees to help transform the culture and the organization into something that is innovative and always growing. Transformational leaders are encouraged to demonstrate their own creativity and innovation, becoming a role model for employees, and then inspiring employees to follow in their steps.
James V. Downton created the concept of transformational leadership in 1973, and James Burns expanded on the idea of transformational leaders in 1978, talking about how transformational leadership could help leaders and followers both push themselves to higher standards and better outcomes. Bernard M. Bass also continued to expand on this leadership concept in 1985, adding success measures to the process. 
This leadership style is still practiced throughout the business world today. The transformational leadership theory applicable across every industry, but is particularly successful in innovative industries like technology, where lagging behind can ruin a company.
Transactional vs. transformational leadership.
Sometimes transformational leadership and transactional leadership theories get mixed up and confused. Transactional leadership is more directly focused on a structured, directed environment. This leadership is focused on leading by telling people what to do, giving expectations, and requiring rules or regulations. Transactional leadership often involves rewards and punishments to get employees to do what they are told. Routines, schedules, rules, and formal authority are key components of transactional leaders.
This is very different from transformational leadership, where employees are given autonomy and ability to be innovative and creative. While creative people may not thrive under transactional leaders, transformational leadership systems can be a great place for creative minds to find success. The transformational leadership theory is all about changing routines and patterns to find something new and better, which is fairly opposite of transactional leadership. 
Transformational leadership characteristics and traits.
There are many key characteristics of good transformational leaders, including:
Uses motivation to help encourage development and positive morale of followers

Demonstrates high moral standards, and encourages others to do the same

Creates a work environment that has clear values, priorities, and high standards of ethics and morals

Creates a company culture where employees have an attitude of working toward the common good, instead of focusing on their own interest

Emphasis on authenticity

Encourages collaboration and cooperation

Provides open communication channels for everyone

Focuses on coaching and mentoring where it is wanted

Encourages employees to take ownership of tasks

Allows employees to make decisions and helps them find success
At the root, transformational leaders give a focus and emphasis on employees making decisions, using innovation, and being creative to solve problems and move the organization forward. Transformational managers aren't afraid of change, and focus on helping everyone on the team create important and valuable changes that will lead to greater success.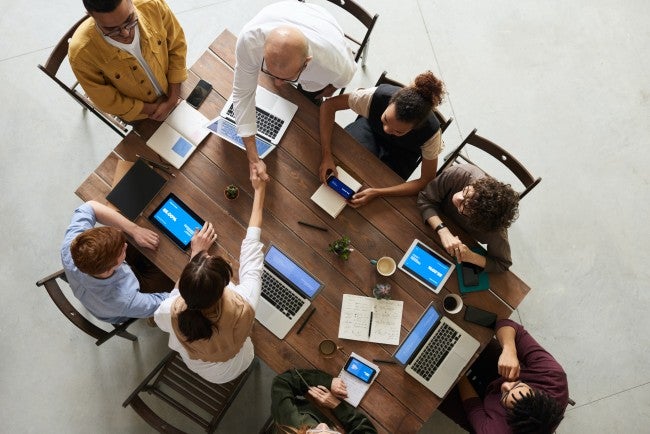 Transformational leadership examples.
It's easy to learn more about transformational leadership by seeing transformational leaders in action. There are many famous examples of charismatic leaders who utilize this leadership in their work. Some of the best examples of transformational leaders include:
Steve Jobs. Steve Jobs is known for being one of the most iconic transformational leaders in the world. People who worked for Jobs said he was constantly challenging everyone to think beyond what they had accomplished, that he always pushed for and wanted more. He encouraged them to think about products people didn't even know they needed and go for them at full speed. He used leadership to help transform his organizational structure, improve job satisfaction, and use products to change the world. Apple is well known for innovation and that is largely due to the way Jobs encouraged employees and used transformational leadership to allow everyone to use creativity.  

Jeff Bezos. Jeff Bezos is seen by many as a great transformational leader. His leadership style Involves always pushing employees and staff to think about new products and possibilities. Amazon has taken e-commerce and delivery to an unprecedented level due to his transformational and innovative style. 

Barack Obama. Barack Obama is well known for running the White House with transformational style. He encouraged everyone who worked for him to be open about their ideas and thoughts for improvement. He wasn't afraid of change, and encouraged it for everyone who worked with him. He made sure he was approachable for employees so they could come and communicate to him their creative thoughts and ideas. This helped him use innovation in government to make important changes for the future of the country.
Transformational leadership education.
In order to become a great manager who utilizes transformational leadership, you'll likely need a degree. A degree in business management or an MBA can be critical helping you get the skills and experience you need to become an effective leader. In a degree program you'll learn the critical hard skills you need for leadership—things like finance, communication, marketing, and strategy. You'll also learn more about leadership styles and techniques, and gain an understanding of how to help employees thrive under your management. Transformational management style and leadership behavior is something you can learn about with your degree, along with day-to-day strategies and task-oriented concepts that can help you thrive.
A degree is a critical first step to getting the credentials and the skills you need to become a great leader. If you want to use the transformational leadership style and lead an organization to innovative success, start by enrolling in a degree program that can help you get there.
Advantages and disadvantages of transformational leadership.
There are many pros and cons when it comes to transformational leadership, and it's important to carefully evaluate them, your work environment, and your employees before deciding if this is a good leadership style for you. 
Some pros of transformational leadership include:
Ability to communicate new ideas

Solid balance of long-term goals with short-term vision

Opportunity to create good collaboration

Ability to establish trust

Chance for increased innovation and creativity

Happy employees who feel seen and valued
Additionally, some cons of transformational leadership include:
Poor fit for bureaucratic structures

Potential for employees to drop the ball and not complete tasks

Loss of focus on immediate needs

Not a good fit for employees who need guidance and supervision
For many leaders, transformational leadership is a great way to increase the potential for a company and solve problems. If you find the transformational leadership style interesting and exciting, earn a bachelor's or master's degree in business so you can be prepared with the right credentials and skills for success.