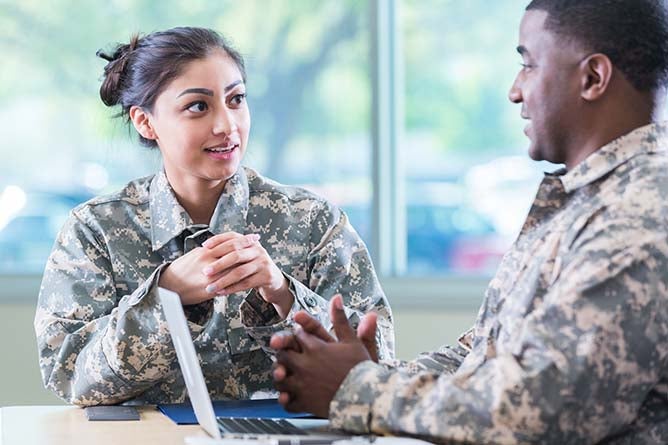 The appearance of U.S. Department of Defense (DoD) visual information does not imply or constitute DoD endorsement.
The military is a lot like civilian society: You can find businesspeople, financial experts, and managers among the soldiers in the armed forces. Service members with leadership and business skills are valued in the military, as they can help complex organizations run efficiently. Although there are no military jobs that specifically require a master's in business administration, earning an MBA or a similar advanced degree that combines leadership and business acumen could advance your military career by positioning you for success in a number of key roles.
Achieving success in the military.
First Lieutenant Nathan Siebach, a logistics officer in the U.S. Army, earned his MBA from WGU, and he says that prepared him for the leadership and business challenges of his current role.
"Education has always been important to me, and the military also encourages people to get their education," Siebach says. "If you want any kind of management role, having a master's degree in some form of management or MBA is a huge benefit."
Leadership has long been second nature to Siebach, and his MBA has honed this skill even further. He's a leader outside of his job too: Siebach created an organization called Everyday Heroes that visits children in schools and hospitals, teaching them that they can be heroes by doing good deeds and serving their communities.
Siebach acknowledges that earning an advanced degree while serving on active duty was a challenge. He was concerned that he wouldn't have enough time and that he wouldn't have access to the resources he needed while he was deployed.
But WGU's online format made getting his MBA easier.
"It took some effort," Siebach says, "[but] WGU's program, where I could do things on my own time, made it [work]."
Advanced military careers.
Like Siebach, many service members turn to higher education to advance their careers and gain skills to help others in and out of uniform. Here are four military jobs in which earning an MBA can prepare you for success.
1. Business operations and management analyst.
Business operations and management analysts in the military apply their business expertise to improve military operations, Today's Military says. They study current operations, identify problems, and make recommendations to the brass about solutions that can help improve business efficiencies. These professionals are typically educated in business, management, or finance. Because an MBA trains you in each of these areas and emphasizes business strategy and development, it's the perfect foundation for this kind of advanced military career. With an MBA, you could move through the ranks and eventually run business operations for an entire sector of the armed forces. You could make good money doing so too; Today's Military reports that business operations and management analysts make around $120,000 a year.
2. Financial manager.
According to Today's Military, financial managers direct financial operations, including budgeting, accounting, and cost analysis. Financial managers set financial priorities and establish performance standards, and they report their findings and strategic solutions to senior leadership to maximize resource use efficiency to support military operations. In an MBA program, you'll have the option to specialize in financial management, where you'll learn the ins and outs of micro- and macroeconomics, as well as how to manage finances while managing human capital. Today's Military estimates that financial managers in the military earn nearly $115,000 a year, on average.
3. Acquisitions and contracts manager.
In order to stay competitive on a global scale, the military must keep up with new technologies and continually replenish personnel. Acquisitions and contracts managers lead these procurement programs. According to Today's Military, these officers develop acquisition programs, analyze purchase requests, analyze costs and expenditures, evaluate contract proposals and administer contracts, and evaluate the performance of contractors. Acquisitions and contracts managers should be meticulous and skilled negotiators and decision-makers. An accredited MBA program can help you develop these skills through experiential training and coursework on accounting for decision-makers. Acquisitions and contracts managers pull down nearly $115,000 a year, on average, according to Today's Military.
4. Logistics officer.
Military logisticians manage the back end of military operations, ensuring that soldiers and support staff are in the right place at the right time. They plan and organize operations and create contingency plans. Logistics officers work in conjunction with other organizations to make sure missions go off without a hitch, per Today's Military, and that all personnel arrive back home safely and successfully. This is a critical role that requires professionals to be strong problem-solvers and effective team members—skills that you'll develop during an MBA program. Logistics officers usually make more than $100,000 per year, according to Today's Military.
Your career doesn't come to an end when you join the military. On the contrary, as Siebach's story shows, entering the military can be the start of a long and fulfilling career. By earning an advanced degree from an accredited university, you can take your career to new heights.