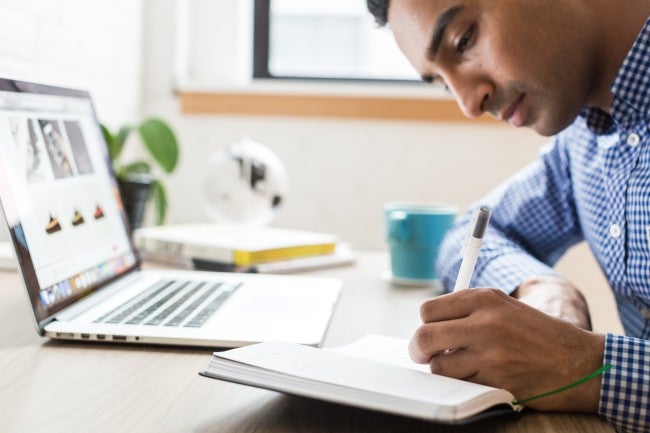 Health information technology or "health IT" is a broad, exciting, ever-evolving field that spans multiple professional disciplines, including business, project and people management, IT and systems support, and health information management. A registered health information technician (RHIT), often referred to as a medical records technician, is the first step on the path to becoming a health information manager. While not directly involved with patient care, this registered health information technician role is vital to the health care system because RHITs organize and manage valuable health information data—and lots of it. Data is to health info technicians what patients are to doctors. It's at the center of everything they do. 
What does a health information technician do?
Whether it's managing medical records (paper or electronic), maintaining clinical databases, or recording data for analysis, the role of a health information technician is almost entirely data driven. Successful RHITs must also be knowledgeable about medical procedures in addition to being proficient in using data systems. According to the Bureau of Labor Statistics (BLS), here are some of the general responsibilities of this important behind-the-scenes role in health care:
Review patient data and medical records to ensure all data is accurate, complete, timely, and appropriate. Quality control is a big part of the job. 

Organize and maintain patient data for clinical databases and registries. This can include electronic health records, software, and more.

Track patient outcomes for quality assessment purposes.

Use classification software to code and categorize health information and medical records for insurance reimbursement and data analysis purposes. 

Electronically record data for collection, storage, analysis, retrieval, and reporting.

Maintain confidentiality, security, and accessibility of medical records, including prescriptions and treatment histories.
Health information technician salary and job outlook.
As reported by the BLS in 2019, the median annual salary for a health information technician was $42,630. This technician role entry-level position in plentiful demand and with opportunities for growth in both salary and role. Your salary level will greatly depend on the location where you work—many health information roles put technicians in large hospitals where they can expect a higher salary. Your salary level will also be impacted by your years of health information experience and your education level.
The job outlook for health information technology is also exceptionally good. Attributing a steadily increasing demand for health services as the general population ages, the BLS projected an 8% growth rate for health information technology job from 2019 to 2029—notably higher than the average growth rate of 4% for all other occupations.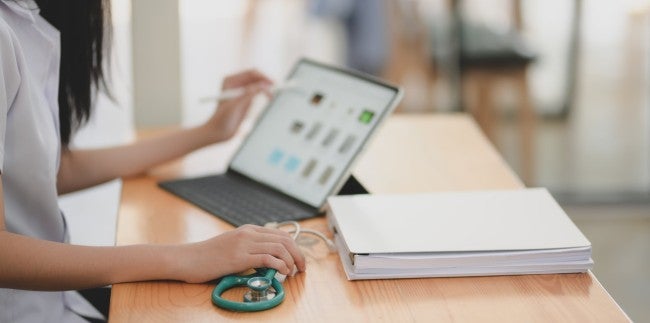 How can I become a health information technician?
To become a health information technician, you'll need to earn at least a bachelor's degree in health information management, or a similar health field, and pass an exam from the American Health Information Management Association (AHIMA), the leading national certification organization for this profession. Administrative and clinical experience in a healthcare setting will serve you well in this role. And as you continue to gain experience in the field, you might want to consider pursuing a master's degree to propel your career (and your salary) to management-level status. 
A bachelor's in health information management prepares you with the knowledge and skills you'll need to become an outstanding health informatics professional. This includes several health IT certifications that will put you at a competitive advantage. Because with these on your résumé, you're bound to stand out more to potential employers. 
Registered Health Information Administrators (RHIA) exam. WGU's program is accredited by the Commission on Accreditation for Health Informatics and Information Management Education (CAHIIM-accredited). Completion of this degree qualifies you to sit for the RHIA exam and become a credentialed health information administrator. 

Certified Professional Coder (CPC). Students who complete the Medical Coding Career Accelerator Program (MCCAP), which includes industry-recognized medical coding certifications, will earn a Certified Professional Coder (CPC) credential—the most recognized medical coding certification in the healthcare industry.

CompTIA Project+ certification. This certification is part of your program coursework, at no extra cost. WGU has a 92% pass rate for graduates of this program—a solid indication that the program's classes will prepare you for a thriving, meaningful career.
Skills and attributes of a health information technician.
Health information technicians need a wide range of complementary skills to help them land their first job, perform well in their current job, and qualify for advancement. If you've got the following attributes, chances are you've found the perfect career fit.  
Well organized. Organizational skills are a must in health IT because of the high volume of data, record-keeping, and other information you'll be juggling on a daily basis. 

Detail oriented. Data and details go hand in hand. In healthcare, even the smallest of details can impact a patient. 

Have excellent communication skills. As a HIT, you are more than likely to work in an environment where you need to constantly communicate and coordinate with medical teams and insurance providers. So good spoken and written communication is highly essential to perform the job effectively and efficiently. 

Tech savvy. This might seem like a given, but it can't hurt to reiterate this key attribute. For instance, maintaining patient records requires knowledge of software systems that you'll need to be able to understand and work with well in order to succeed.

Industry knowledgeable. To perform their jobs well, HITs need to know the terminology and processes that come with the territory. 

Analytically adept. HITs are trained in analyzing medical records and patient diagnoses, among other situations that require a critical eye. 

Good at problem solving. Health IT is a fast-paced field that often requires you to think on your feet. You'll be constantly challenged to come up with solutions, which initially might sound daunting, but it's actually a big part of what makes this career so exciting. 
The healthcare information technician is an increasingly critical role that's expected to grow significantly within the next decade. As a healthcare information technician, you'll feel good knowing that you are helping deliver the crucial data healthcare providers need to function optimally. Today's health information technicians are tomorrow's health information managers. Find out how WGU can help you take the first step on this meaningful, promising career path. Get started today!