Great teachers have a tremendous impact on individual students as well as on institutions and communities for generations. This helps explain why teaching is increasingly pursued later in life as a second career (or even a third). If you want to switch professions and are ready to dedicate your time, knowledge, and experience to better your community, there are few options better than becoming a teacher.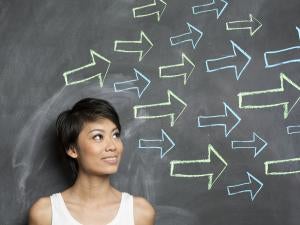 Of course, in order to do so, you'll need to fulfill a few requirements first — and like many career shifters you might need information and guidance. As a nationwide institution, WGU's Teachers College outlines six clear and concise steps all students (regardless of where they live) must complete in order to become a certified teacher.
1. Bachelor's Degree: Regardless of state, all teaching certifications require a bachelor's degree, like those offered by WGU's Teachers College. Aspiring teachers who already have a bachelor's degree in a non-teaching discipline can complete a post-baccalaureate teacher-preparation program or earn their MAT degree.
2. Background Check: To protect the safety of students in the classroom, all aspiring teachers must pass background checks, including students at WGU. Background checks will also be conducted by school districts and individual institutions when a candidate applies for teaching positions, so aspiring teachers should be aware of this expectation. 
3. Examinations: Aspiring teachers in the WGU Teachers College will need to pass exams covering basic skills and content (or subject matter) knowledge and pedagogy, as well as a Praxis Exam, which assesses their academic skills and subject-specific knowledge. The total number of exams in each category may vary depending on where aspiring teachers both live and want to teach. 
4. Preclinical Experience: Preclinical experiences are designed to prepare future teachers for in-classroom teaching; at WGU, this includes planning activities and lessons as well as observing classrooms. 
5. In-Classroom Student Teaching: Referred to as "Demonstration Teaching" at WGU's Teachers College, after teachers have completed their preclinical experience, they will gain full-time, supervised, in-classroom experience for a minimum of 12 to 20 weeks. This experience helps teachers apply their skills and knowledge to real classrooms. Demonstration Teaching is completed at a school near where the student lives, and WGU's faculty and staff help students find and secure in-classroom placement. Students entering a teacher-preparation program at WGU should plan ahead and expect to be able to take time off work or other obligations in order to fulfill their in-classroom Demonstration Teaching requirements.
6. Additional State Requirements: WGU's Teachers College is committed to helping student teachers satisfy any additional requirements necessary to teach in their state. 
Because it is so crucial to be informed about all of these requirements before undertaking a teaching degree program, WGU works to ensure all future teachers know what they need to do to become certified in their state. 
Earning a teaching degree online from a respected institution like WGU is one way aspiring teachers get into classrooms of their own faster. According to the 2017 Online College Student Survey from Aslanian Market Research and Learning House, Inc., 25 percent of respondents said they're studying online because they want to transition to a new career.
Career shifters are already balancing responsibilities, priorities, and expectations before starting a new degree program, and many are employed part time or full time. Formerly, the only options these students had were evening or weekend classes, which were feasible (but not always convenient) only for those with 9-to-5 schedules; those without traditional schedules were often out of luck. However, online degree programs like those offered by WGU's Teachers College allow students to complete their coursework when it's most convenient for them, regardless of their schedule or other obligations. 
In addition to flexibility, accessibility, and convenience, online teaching degree programs are often more cost-effective than traditional degree programs. For example, at WGU, students pay a flat tuition per term rather than per course or credit, and students complete courses as soon as they are able to prove they know the material, rather than waiting for the end of a defined semester. As a result, students can complete more courses in a term than at other universities with semester credit limits, and the more courses they complete in a term, the less expensive their degree will be overall. WGU's tuition for teaching degree programs is about $6,400 per year (an average of $3,600 less than schools with comparable programs), so a teaching degree from WGU is a cost-effective decision regardless of the timeframe in which a student completes the program. This cost-effectiveness, combined with the unmatched quality of the programs is why the National Council on Teacher Quality named WGU's Teachers College the #1 "Best Value" in teacher education nationwide in 2015.
An online degree program at WGU is one of the best choices an aspiring teacher can make. It is a decision that ensures a strategic and productive path to the classroom for an aspiring teacher, rather than a daunting and lengthy one. WGU degree programs are flexible, cost-effective, regionally accredited, nationally recognized and respected, and personalized. The degrees offered by WGU's Teachers College promise prospective students a practical path to a promising, fulfilling career as a teacher.