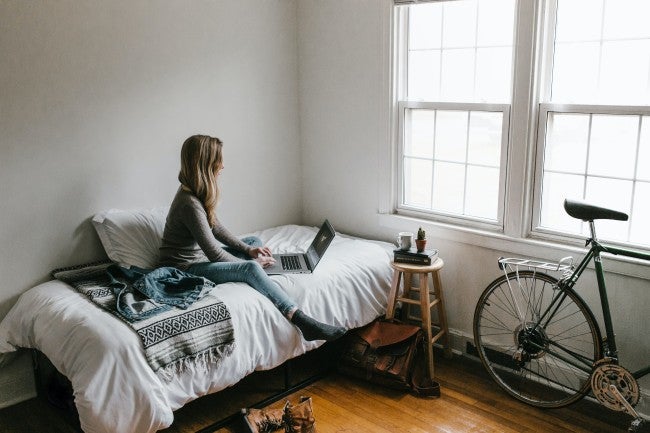 Many prospective students are interested in how long it will take to get an online degree. Uprooting your life to move to a college campus and dedicating several years to higher learning can be quite difficult. For some, it can seem nearly impossible. However, for those who are motivated to earn their degree in a way that works for them, there are many options to earn a degree online on your timeline. There is a wide range of online degree options that can help such individuals achieve the degree they need to pursue the career they want in life. 
Online degree programs provide both traditional and non-traditional students opportunities to earn a higher degree without disrupting their lives or livelihoods. In fact, 15.4% of all students in postsecondary education are enrolled exclusively online. The popularity of these programs can partly be attributed to the flexibility they afford students of all walks of life. Parents, part-time students, professionals with full-time jobs — there are online programs suited to a wide variety of individuals.
This guide will describe how courses in such programs are typically structured and provide advice to utilize such programs to the fullest extent, earning an online degree and moving closer to your career aspirations as soon as possible. Read on for a comprehensive look at how you can earn an online degree on your timeline.
Look for competency-based education.
If you want to get an online degree, look for competency-based programs. These allow a student to work through the course material at a pace that best suits their needs, moving through courses as soon as they have the ability to demonstrate essential masteries. Students can advance in such courses by demonstrating mastery of specific information and skills — in fact, seat time is irrelevant. 
It's important to understand what this term means. Competency-based education differs from traditional education by allowing students to move through courses as quickly as they can master the material. If they need to spend more time learning a certain subject, they can. If they already have knowledge or understand a concept easily, they can move through a course more quickly. 
This model goes hand-in-hand with online education. Rather than moving through a set list of classes, competency-based education allows students to move through as many courses as they're able during the semester, completing competency assessments to demonstrate their learning. This is accommodating to most learners, as it gives each the flexibility needed to complete coursework on their own schedule.
Select the right online program for your career goals and learning style.
Consider which programs allow you to leverage your prior learning, skills, and work experience. These are prime candidates in which you can likely earn a degree more quickly. It's also important to find a program that matches your learning style, as there are a few different types of online program structures. We've discussed competency-based programs above, but there is also the consideration of synchronous versus asynchronous courses:
Synchronous: Classes occur on set schedules, and students are expected to be online at a fixed time in order to participate. Instructors may provide a link or advise students to download an application to view a lecture or participate in class discussions.

Asynchronous: Coursework can be completed on each individual student's own timeframe. Instructors provide material — including study materials and assessments — that can be accessed at the leisure of the student. Students may be given a set time to "meet" with the instructor online, but classwork can be completed at any time of the day.
If you already have many obligations, asynchronous learning is preferable. If you struggle with independent learning, you may find a synchronous online class more helpful to your studies. Weigh the pros and cons of each in order to choose the right online courses for you.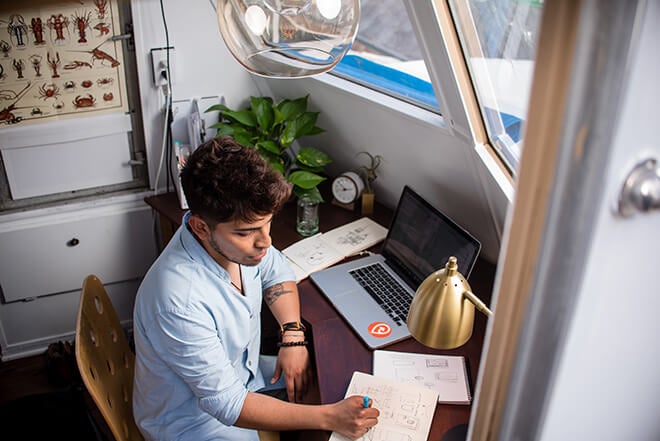 In addition to comparing programs in regards to structure, it's wise to compare tuition costs. This information should be freely available at your chosen program's website, though you can also get this information by contacting the school's bursar or financial aid office. For competency-based education programs at WGU, students only pay per six-month term, not per credit. No matter how many courses you complete during a given semester, you won't pay more. This means that graduating faster will cost less! 
At an online school, you may still be eligible for financial aid in the form of scholarships, grants, and loans. There are some basic eligibility criteria to be mindful of when applying for financial aid. You must be:
Qualified to attend postsecondary school and able to demonstrate financial need;

A U.S. citizen (or eligible non-citizen) who is registered with Selective Service;

Enrolled in an eligible program (at least half-time for Direct Loan funds);

Able to maintain satisfactory academic progress.
The process for applying for financial aid as an online student is largely the same as for traditional students, though it's important to ensure that your school of choice is approved to offer federal aid. WGU is an accredited online university and approved by the U.S. Department of Education to offer such aid. The university has even been recognized by the American Association of University Administrators for significantly reducing student debt.
It's prudent to complete the FAFSA online as early as possible, as well as reach out to your prospective school's financial aid office for any further guidance. Note that your enrollment status — whether you're a full-time or part-time student — can have a substantial impact on the amount of financial support you may be eligible for.
Prepare for the format of online degrees.
Preparing for an online degree is quite different from preparing to attend a traditional brick-and-mortar school. You must make an effort to learn about the school and research the technological requirements of the program. You may be required to attend a virtual orientation online, which can provide some vital information. WGU offers Enrollment Counselors and Program Mentors who will be there for you every step of the way to ensure you're ready for your courses.
In addition to brushing up on tips for studying online, getting knowledgeable about your class and study needs ahead of time can help you achieve academic success, and ultimately earn your online degree more quickly. Before starting coursework, it's vital to create a strategy for acclimating to the format of the online program you're enrolled in. 

Learn the technical skills online students need.
By opting for an online education, the ways in which you will be engaging with coursework will often be quite different from those of a traditional student at a physical campus. While online learning has become increasingly accessible over the last decade, there are some necessary technical skills students need in order to complete online courses, in addition to self-discipline. Students should be able to:
Communicate effectively online via email, instant messaging applications, and video chat;

Browse the internet effectively, including conducting effective online research; 

Use common office applications, such as the Microsoft Office Suite, to create effective and organized content;

Operate any other project or class management software used in your program of choice.
If acquiring these skills seems difficult, know that there is online support available to learners who want to improve their technical prowess. These sites provide guidance, resources, and tools to individuals in order to help them function in the modern digital world and achieve academic success:
In addition to these resources, be sure to reach out to your school for any further guidance; many have resources to help students acclimate to the tools they will be expected to use for coursework. WGU offers a variety of learning resources to students, including e-textbooks, library services, and web-based tutorials.
Maximize study time effectively.
Seeking an online degree requires persistence, self-motivation, and time management skills. You'll need to delegate time not only for assignments, but for an adequate amount of study as well. In a competency-based program, this will vary depending on your familiarity with the subject matter. As a result, you must be able to accurately assess your understanding of the material, then plan accordingly. 
In order to maximize your study time, start by setting clear and measurable study goals. Study for a predetermined amount of time, then assess your learning. It can help to break down larger chapters or broader subjects into smaller, discrete segments, focusing particularly on key points. Your instructor may include study guides in your class materials, and the information on these is particularly important. 
Establish a good work space.
The freedom of being able to study wherever you like can lead students to follow some poor study habits. It can be easy to go overboard with the flexibility of online programs by attempting to complete coursework while traveling, but doing so can be ineffective. Researchers have also long known that studying in bed tends to make the quality of your schoolwork (and your sleep) markedly worse. Avoid studying in spaces like these; instead, make efforts to create an ideal workspace.
Instead of trying to do academic work under such circumstances, it's vital that you establish a good workspace. You need to complete your studies in an environment that is comfortable and conducive to productivity. Eliminate distractions (including turning your phone off) and, if necessary, turn on some white noise or ambient music. By creating a space that is optimized for productivity, you minimize the chances of distractions negatively impacting your academic performance.
Check for in-person requirements.
While some programs can be completely finished online, others may involve some in-person requirements. Attending any mandatory meetings in person, going to a designated testing center for key assessments, completing course-mandated internships — there are numerous potential in-person requirements to be mindful of. 
Some fields are more likely to include in-person requirements than others. In the WGU Nursing program, approximately 60% of the coursework is completed online, while 40% is completed in person, including nursing clinicals with partnered medical facilities. This is typical of online nursing degrees, so keep such requirements in mind when choosing a program to enroll in.
Utilize resources for online support services.
Often, the most valuable source of resources and online support services is found in the school itself. Even if you are enrolled exclusively online, many schools offer services to help with any technical, academic, or financial concerns. These may include (but are not limited to):
Libraries, including online libraries

Tutoring services

Online learning communities

Academic advising

Financial aid

Career services
Every school offers different support services. Be sure to explore what your college offers in terms of resources and tools. By leveraging these services, you improve your chances of succeeding in school.
Check if previously earned credits transfer.
If you've earned any college credits in the past, or if you intend on transferring credits from an online program to another school in the future, it's important to check if your credits can be transferred. This requires consulting enrollment advisors at your schools of interest.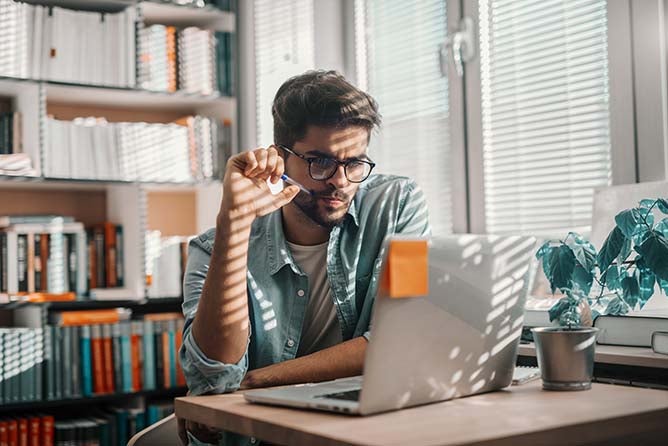 Can an online degree help you complete your degree on your schedule?
For those looking to complete college on their schedule, there are numerous benefits of using online programs to do so. When it comes to mid-career changes, seeking to open new doors to advancement in your current field, or getting a graduate degree, online programs can be a natural fit. Because learners in each of these situations most likely already have past experience and learning, they are well-suited for completing coursework at an accelerated rate, as in the models described above. 
However, while online programs are generally flexible, getting a degree on your schedule requires a great deal of effort and commitment. You'll need to be ready to give the time and financial dedication in order to find success in your program.
Getting a degree can be a life-changing choice that improves your career options, earnings potential, and career satisfaction in a multitude of measurable and immeasurable ways alike. If you have the level of commitment and time required to earn your online degree, you may be able to dramatically improve your career outlook sooner than you think.