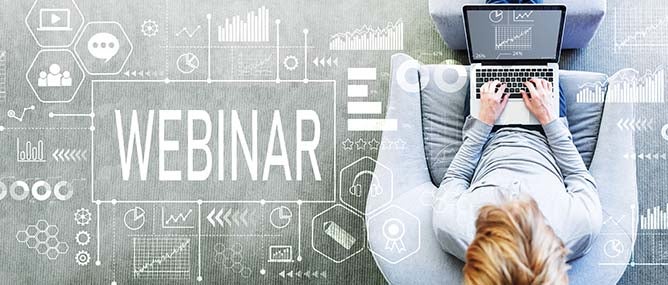 Technology has pervaded every aspect of our lives, including how we communicate. Tech-enabled communication is commonplace, particularly in business and education, and web conferences have become the go-to communication method when in-person meetings aren't practical. Indeed, 87 percent of remote team members feel more connected to their teams when using video or web conferencing, according to Gigaom. If you're hoping to land a job in this digital age, now is the time to brush up on your skills in this ever-advancing mode of communication.
Further Reading: Stress in college students for 2019: (how to cope).
Thankfully, a few tips, tweaks, and tactics—along with some persistence and practice—can transform you from a web-conferencing beginner to a tech-enhanced communicator.
Test your equipment.
The starting point isn't the conference itself—your setup is just as important as your delivery. Let's face it: you might think you know how the conference will go, but the vision and the reality are frequently quite different.
Before you attend a meeting, group discussion, or presentation via web conference, test out your conferencing equipment—and do it a few times. Make sure that your camera and audio are working, and adjust your equipment according to where and how you'll be sitting for the meeting. Be sure, too, to test audio and video quality, your internet connection, the stability of your conferencing software, and the battery life of your equipment (especially laptops, desktops, and smartphones). Use a speed checker, such as Ookla, to ensure you have enough internet bandwidth and speed to conduct a smooth meeting.
Make sure to familiarize yourself thoroughly with the equipment; use your own whenever possible. The last thing you need is to discover that the presentation you stored in the cloud or on an external drive isn't compatible with the laptop or operating system you're using right before the presentation begins. (It's a more common problem than you might think.)
Polish your presentation.
If you're giving a presentation, rehearse it ahead of time. Web conferencing programs generally let you see your notes and slides as you move through your presentations. Let these tools help guide your presentation, and practice how you'll use them. Prepare two-way conversation prompts and activities in your presentation, too. One of the benefits of web conferencing is the ability to engage with your audience; taking advantage of this and getting your viewers involved can keep your presentation lively.
The good news is that you've likely developed your communication and presentation skills in your degree program. Many business programs—such as Western Governors University's bachelor's in business management program, for instance—help you hone these skills and give you hands-on practice so you'll be prepared to hold effective web conferencing meetings in your career.
Establish a professional setting.
Preparation isn't just a technical matter. As you prepare for your web conference, make sure that you and your background look professional, especially if your web conference is for an interview, a presentation, or a client-facing meeting. Dress to impress, as though you were giving an in-person presentation, and arrange your background to look as much like a real-life meeting room as possible. You'll have to set all this up ahead of time, but it's better to be early and prepared than late and panicking—or, worse yet, have your audience see parts of your home that you don't want them to see.
Address the camera.
Once you're perfectly prepared, it's time to conduct your meeting or deliver your presentation. Many of the traditional strategies for in-person conferences also apply to web conferences: maintain an upright but relaxed posture, use appropriate hand gestures, project your voice with volume and enthusiasm while speaking at a moderate pace, and so on. These practices remain essential to keeping your audience listening and your meeting on track.
However, there are two critical differences. You'll need to get out of the habit of looking people in the eye and into the practice of maintaining eye contact with the web camera's lens. This might feel weird at first, but you'll get used to it with practice. You'll also need to gauge distance differently. The ideal distance between you and an in-person audience isn't the same as the ideal distance between you and a web camera. You'll generally have to sit closer to your computer screen than you might think necessary—and closer than you would sit to someone in an in-person meeting. Test out this distance beforehand during your preparation and readjust it as needed.
Get feedback.
To really get the most out of your web conference, check in with your audience for regular feedback—not every few minutes (that would be too much), but every once in a while—to gauge the video and audio quality and to make sure your audience understands you. Did you convey your overarching message effectively? Did the audience experience an informative and engaging conference? What could be improved for next time? The responses to these questions should guide you as you continually strive for mastery in delivering your content through web conferencing.
So now you know how to improve your web conferencing skills. What's next? It's time to apply the three Ps: practice, practice, and practice! Put your newfound skill set to the test by presenting to small audiences at first and work your way up to larger ones as your competence and confidence build. In time, you'll be a web-conference presenting maestro—and your meetings will never be the same.